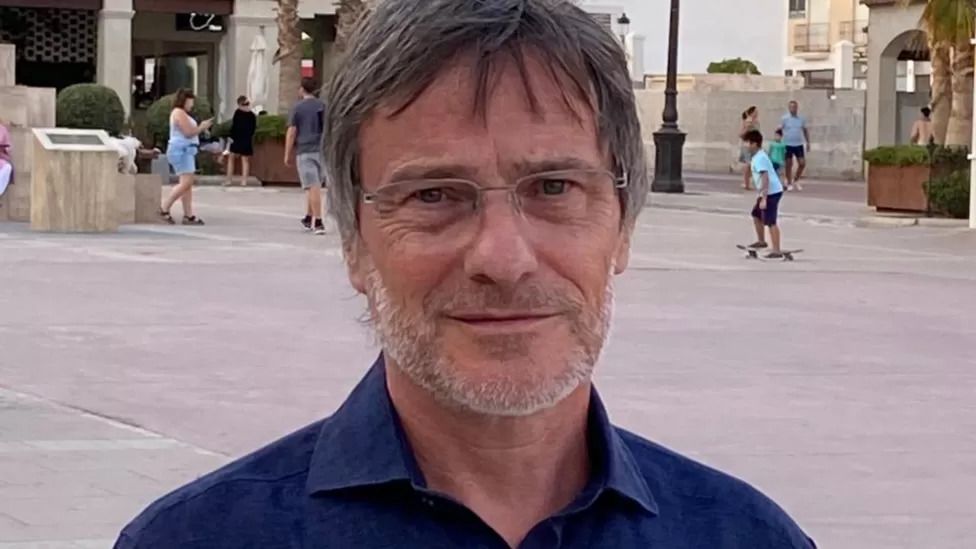 Ofsted unfit for purpose, says ex-inspector
A school leader who quit as an Ofsted inspector this week has told the BBC he felt his role could cause "more harm than good".
Dr Martin Hanbury's decision comes after head teacher Ruth Perry took her own life ahead of a report downgrading her school to "inadequate".

Teachers in the National Education Union are also being urged to refuse to do inspections for England's regulator.

Ofsted said most school leaders found them "constructive and collaborative."

The Department for Education said Ofsted has a "crucial role to play in upholding education standards and making sure children are safe in school."

Mr Hanbury, who did not inspect Ms Perry's school, told BBC Radio 4's PM programme that regulating schools was important but said the current system was "scrutinising" schools without giving them support.

"At certain points I have felt that what I'm offering the school isn't really helping it to improve," said Mr Hanbury, who also runs Chatsworth Multi Academy Trust in Salford.

"To an extent, and with some people, you're conscious that you're causing perhaps more harm than good."

Asked whether he worried that any of his 33 inspections had made teachers ill, he said: "Yes, I worry about it."

He called the one-word grading system "totally unfit for purpose", adding: "It's a very simplistic way of describing a really complex system. It's like trying to measure a cloud with a ruler.

"An inadequate school is very rarely inadequate in everything it does and, equally, an outstanding school is never outstanding in everything it does."

His comments came after Dr Mary Bousted, joint general secretary of the NEU, urged senior school leaders not to serve as Ofsted inspectors in a speech at the union's conference.

"Refuse to be part of an inspection team until we have an inspectorate which commands respect, which supports schools to improve," she said.

Senior leaders at the NEU conference told the BBC they believed their counterparts became inspectors to get more information about questions that could be asked about their own schools.

One former head teacher said she had pulled over in her car to cry after narrowly avoiding being downgraded.

On Wednesday, NEU members voted to campaign to discourage participation as Ofsted inspectors.

They also want a freeze on all inspections until a mental health impact assessment on teaching staff is carried out, and for data on work-related suicides to be collected.

School leaders are likely to discuss similar motions at the National Association of Head Teachers' (NAHT) conference this month.

Paul Whiteman, general secretary of the NAHT, stressed in an interview with the BBC earlier this week that Ofsted inspectors had a legal right to access schools, and that members would not be encouraged to refuse their entry.

But he said it was a "watershed moment" when it comes to changing the inspection system and that - if steps were not agreed with Ofsted - the NAHT would consider taking action.

That could include encouraging members not to serve as inspectors, or to "no longer co-operate" with inspections.

This week, school bosses of 242 academies told the BBC that said Ofsted must rethink how it does inspections.

Ofsted said they were "first and foremost for children and their parents - looking in depth at the quality of education, behaviour, and how well and safely schools are run".

"We always want inspections to be constructive and collaborative and in the vast majority of cases school leaders agree that they are," it added.

The Department for Education said that inspections were crucial in upholding standards.

A spokesperson said: "They provide independent, up-to-date evaluations on the quality of education, safeguarding, and leadership which parents greatly rely on to give them confidence in choosing the right school for their child."

Sir Michael Wilshaw, who led Ofsted from 2012 until 2016, told the PM programme that it had been a "force for good" over the years, but added: "There is a groundswell of opinion building up that Ofsted is getting some things wrong."

Describing it as an "urgent issue", he called on Education Secretary Gillian Keegan to meet with Ofsted and unions to "work out what is going wrong, if someone is seriously going wrong" and make any "necessary changes".