"It's still gut-wrenching now to think that I'm going to withdraw my care, but I have to fight for fairer pay."
Neil Evans has worked in the NHS for more than 20 years as an A&E nurse.

He will be one of 17,000 Royal College of Nursing (RCN) members striking over pay on Thursday in all but one health board in Wales.

The Welsh government said it would need extra money from the UK government to fund pay rises - which Westminster said are unaffordable.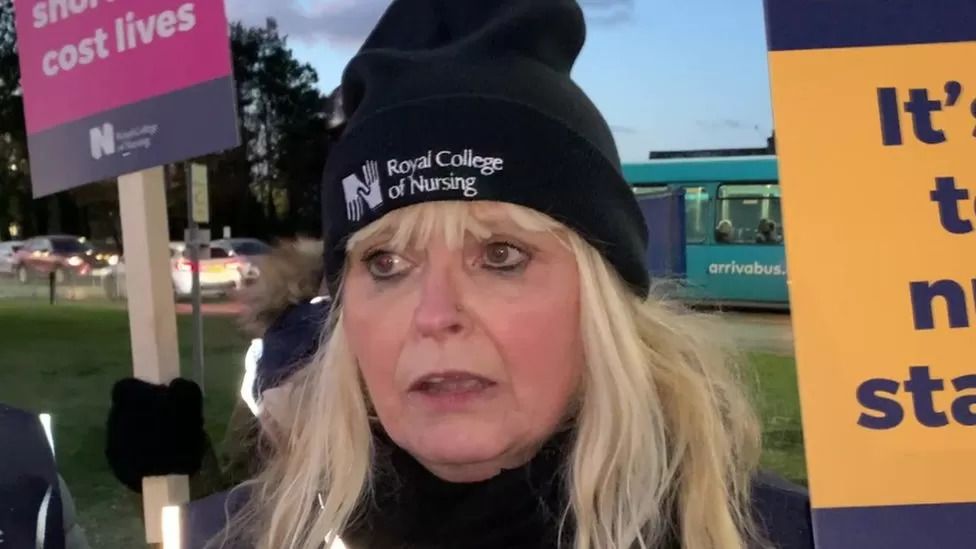 Nurse practitioner Sue Williams said nurses would rather be with their patients
Nurse Practitioner Sue Williams, who was on the picket line at Ysbyty Gwynedd in Bangor on Thursday morning, said it was a "very very emotional day, a really sad day".
"We do not want to be on the picket line...but we have no other choice and enough is enough really."
With thousands of appointments and procedures expected to be affected across Wales, Mr Evans said he was acutely aware of the impact of industrial action.
"It's not an easy decision," said the 51-year-old from south Wales. "I really did have to wrestle my conscience.
"I grew up in the era of the miners' strike. I'm from the valleys where coal was king. I've seen the hardships those people went through.
"But I have to do it. I have to fight for nurses."
Some services are exempt from strike action and will run as normal, including chemotherapy, dialysis, intensive care - adult, paediatric and neonatal - and emergency care.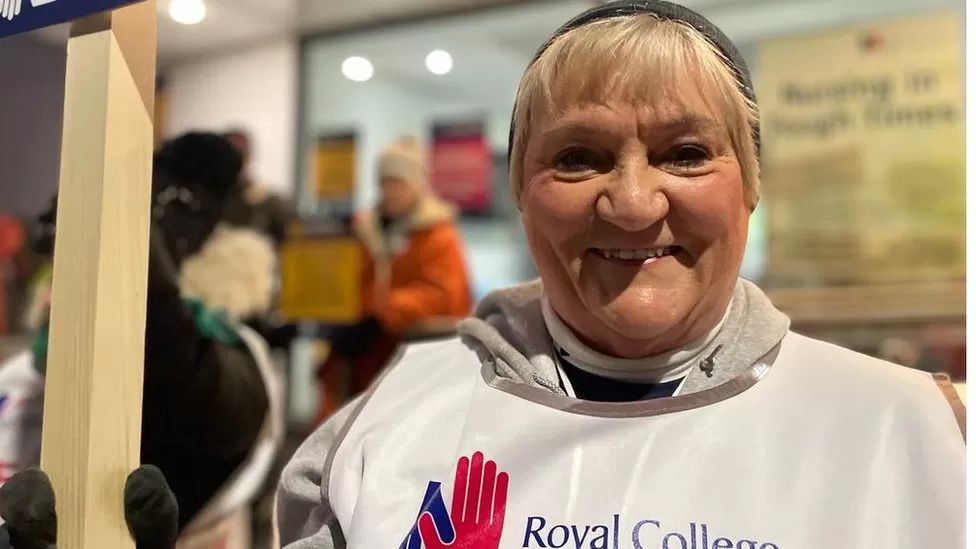 Sarah Hill says she is fighting for the future of nursing and for patients

Sarah Hill who works in women's health joined the picket line in Cardiff on Thursday and said she was fighting for patients as waiting lists are getting longer and longer.

"Pay rises are important to us... people think we get paid more than the government are telling them but we don't. We start off on £25,000 a year," she said, adding it takes seven years to get to the top of that pay band.

But strike committees at local levels will be discussing further exemptions, down to treatment for individual patients, particularly those receiving care at home.

The RCN has called for a rise of 5% above the RPI inflation rate, which is currently above 14%. No UK nation has offered a pay rise close to that. The Welsh government offered between 4% and 5.5%.

Latest data shows the inflation rate was 10.7% in November, down from 11.1% in October.

'Relying more and more on bank staff'

Bodies representing NHS staff have long talked of recruitment and retention problems, but those issues were exacerbated following the pandemic.

With a backlog of more than 500,000 patients in Wales waiting for planned care, and lengthy delays for emergency care, those pressures have continued to intensify across the country.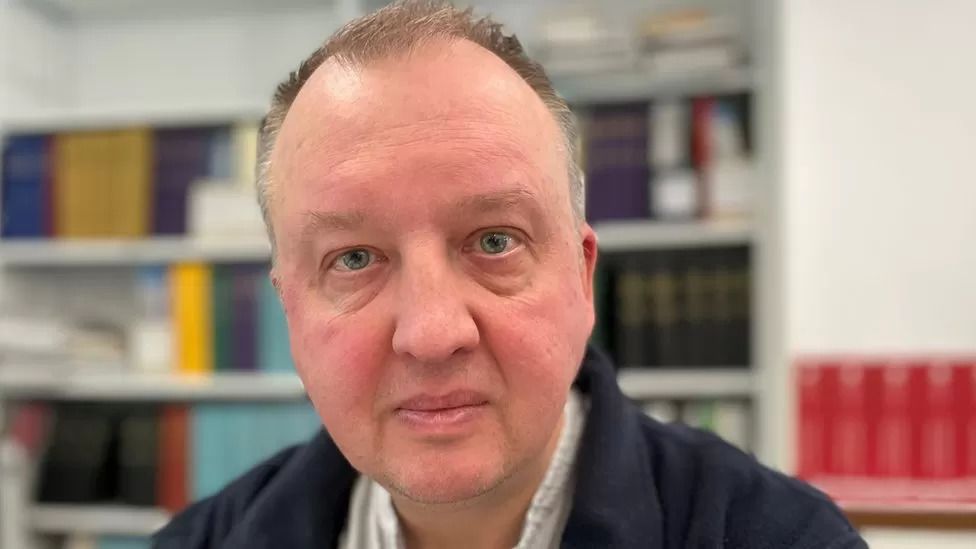 Neil Evans is one of thousands of nurses striking in what is a tough decision, he says

Mr Evans said the result is "emotional injury" for nurses who can see the impact on patient care, but with too few staff available for shifts.

"We are relying more and more on relief staff - agency and bank staff," he said.

"They have their place in the department, but whereas it used to be the exception it's now the norm."

While agency staff cannot reap the benefits of pensions, sick pay and annual leave, they can earn a higher rate than those on substantive NHS contracts.

Mr Evans described it as "gut-wrenching", but said "far more nurses than ever" had turned to agency work on top of their regular shifts "because of financial constraints".

He said the strike was about more than pay

"It's about getting the numbers back into the healthcare system, taking the pressure off the staff and letting us do what we were trained to do," Mr Evans explained.

What do the public think?

David from Barry, who was due to have a pace maker fitted on Thursday, said the cancellation of his operation was "a great deflation" for him.

"It's the fact that years and years of worry and fears and hope all come together and crystallise themselves in this one date. So it wasn't just a matter of a cancelled date. It's the fact that lots and lots of mental energy had gone into it."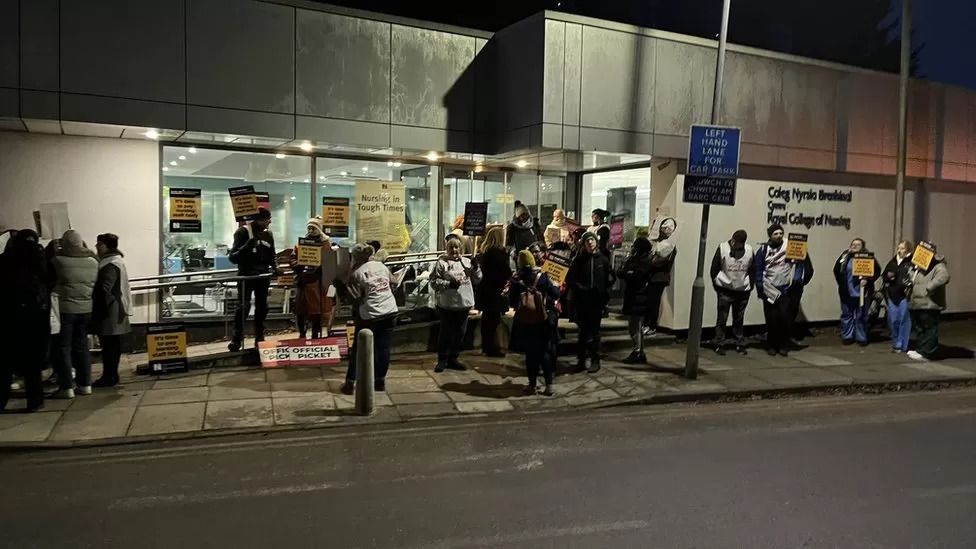 Nurses gathered outside Cardiff hospital early on Thursday morning

He said he had sympathy with nurses' financial situation but felt it was wrong to strike but to do it this close to Christmas "horrifically cruel", he said.

Chief officer of the Community Health Council North Wales, Geoff Ryall-Harvey which represents patients, said he believed there was sympathy for nurses.

"They (the general public) recall that nurses put their lives on the line and died during the pandemic," he said.

He was at the offices of Betsi Cadwaladr health board, the biggest health board in Wales on Wednesday and said everything possible had been done to mitigate the effects of the strike.

He has advised patients to attend their appointments unless they have been told otherwise.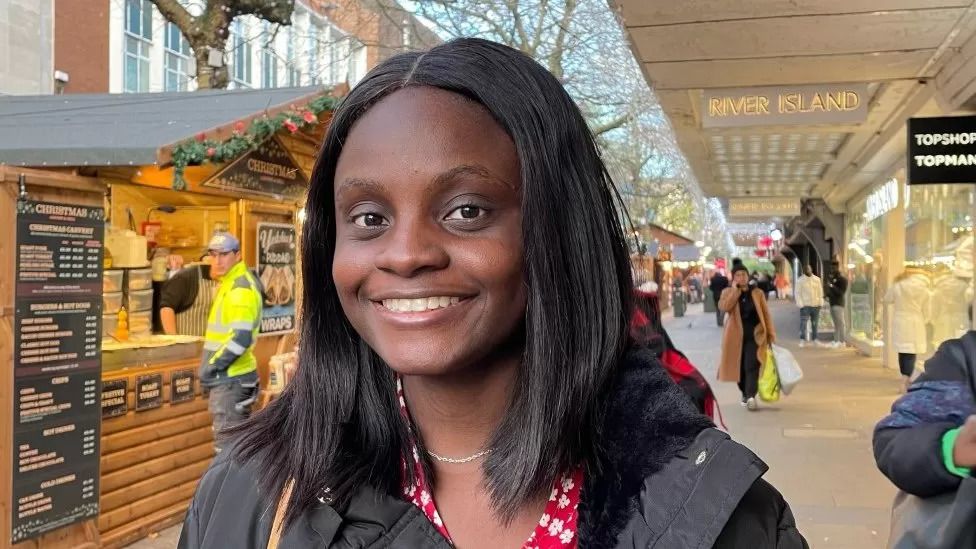 Inioluwa Longe says she sees how hard her nurse friends work

Inioluwa Longe, from Swansea, said: "I have friends who are nurses and I see how much they actually work.

"With more demand for the NHS there's not enough staff to deal with the demand so if they need to work harder, they should be paid more."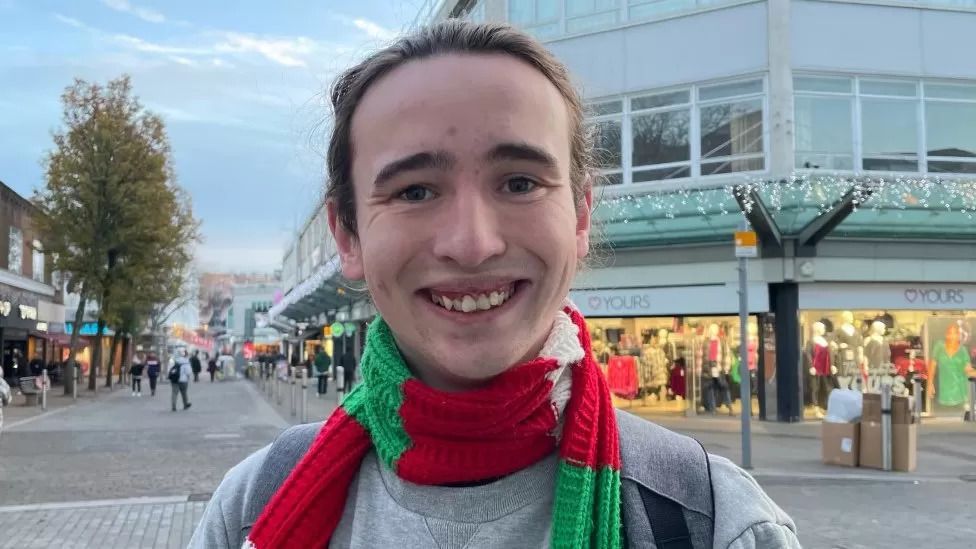 Rhys Jeffrey supports the nurses' decision to strike

Rhys Jeffrey, also from Swansea, said he was "entirely on their side".

"It's utterly unprecedented but I am massively for strikes and unions so I fully support them because if the working conditions aren't right for them, then that's the only thing they can do."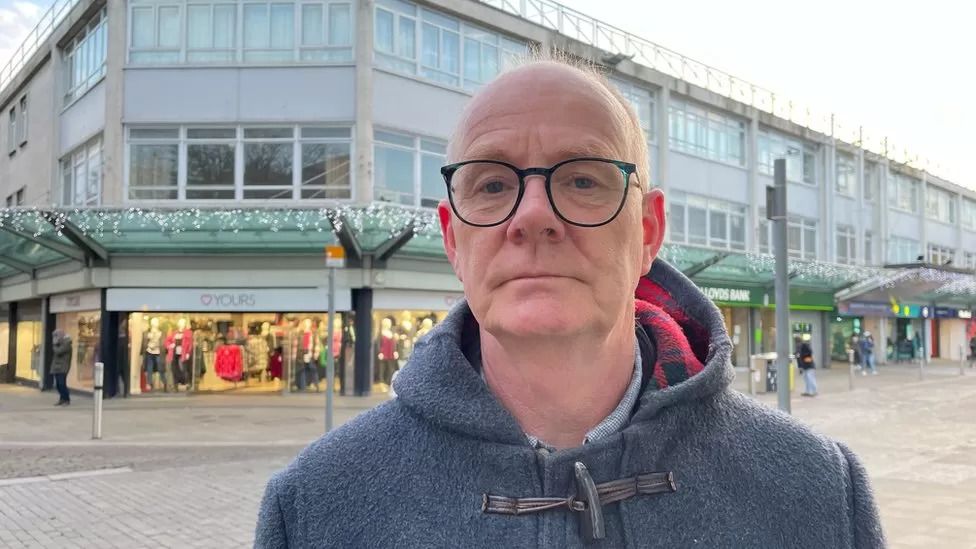 Melvin Williams says the fact nurses are striking shows how bad the situation is

Melvin Williams said: "I think they need to be paid more.

"I think the government need to sit down and listen to their concerns and stop lying when they say nothing can be done about it.

"There's always concerns but I think it shows something that the nurses are being forced to strike after all these years. It shows how bad the situation is."

The head of the NHS in Wales, Judith Paget, said the biggest impact of the strike would be seen on routine care.

She said: "I know my NHS colleagues are doing absolutely as much as possible to try and recover some of the lost activity from Thursday.

"But the longer it goes on the greater that impact will be."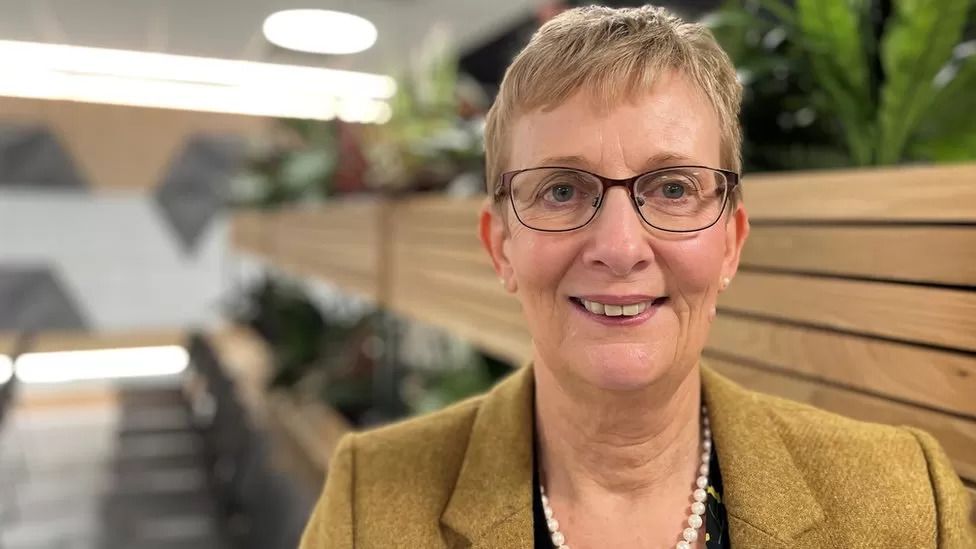 Judith Paget says staff are doing their best to recover activity from Thursday's strike

She advised those patients who need urgent care to seek it as usual, directing people to the 111 and 999 services depending on severity.

"I think people should do what they would do on a non-strike day: if they've got urgent and emergency care needs the services that they would use will still be there," said Ms Paget.

"And if they need surgery, the theatre will be open and they'll have the surgery they would need, if it's life saving and an urgent requirement."

Health Minister Eluned Morgan said she believed all public sector workers should be paid fairly for what they do and that the Welsh government would continue working with bodies to "deliver the best possible outcome" with the funding available.