A secondary school has been criticised over "misogynistic and sexist" advice to female students on school uniform.
Open Academy, Norwich, asked girls not to wear "very short skirts" or coloured bras to avoid receiving "unwanted comments or attention".

One parent said it perpetuated the idea that girls were to blame for being sexually harassed, and an expert said the advice was misogynistic and sexist.

The school said there was "no excuse" for "unwanted attention".

The uniform guidance was written by the school's safeguarding lead and sent out in a newsletter to parents.

It said there was "an increasing number of very short skirts in school" and warned they "can lead to others being able to see things they don't want to".

Female members of staff would ask students to "pull them down to a reasonable and safe length", it added.

The letter also asked parents to "speak to your girls about the colour of the bra they are wearing under their shirt".

"I would recommend wearing a white bra or crop top so that it is not visible through their shirt when they remove their blazer," it said.

It added: "If any of our students receive any unwanted comments about their dress we encourage them to come and speak to us so that we can ensure this is dealt with appropriately.

"We want to keep all of our students safe in school and hope that you can help us by ensuring they are in appropriate uniform."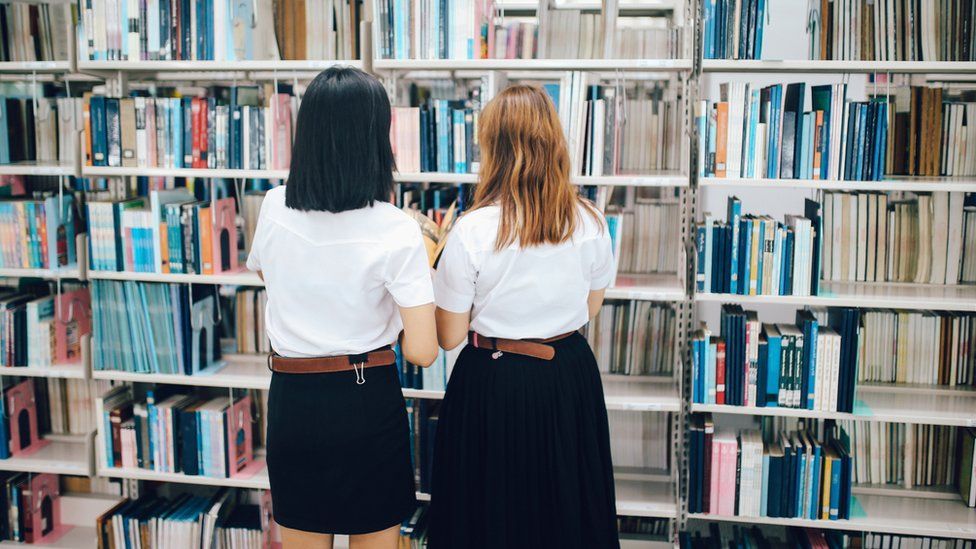 The safeguarding lead said the school did not want students to receive any unwanted comments or attention

One parent, who did not want to be named, said it was "fine to have uniform guidance and rules" but she did not agree regarding the particular items mentioned in the letter.

"By highlighting bra colours I think they are putting the onus on the female students and perpetuating this culture that women and girls are to blame for being sexually harassed and assaulted because of the clothes they are wearing, rather than educating people that it's unacceptable to mention bra colour or whatever anyone else is wearing," she said.

Dr Jessica Taylor, director of consultancy and research firm VictimFocus, said: "What is dressed up as safety advice for girls, or uniform rules about skirts and bras, often intersects with traditional misogyny.

"Why are short skirts an issue if we don't sexualise girls' bodies? Why are coloured bras under white shirts an issue if we don't objectify girls' breasts? Why are short skirts and coloured bras an issue if boys are not sexually harassing their female students?

"Instead of dealing with the toxic sexualisation and objectification of girls in their schools... we find ourselves giving out misogynistic advice and creating sexist rules that only teach girls to blame themselves."

In a statement, Open Academy said: "We would like to be clear that whatever a student is wearing, there is no excuse for them receiving any unwanted attention or harassment and in hindsight we could have made this fact clearer in the guidance we issued."