Nicola Sturgeon has described the crisis that has engulfed the SNP in recent weeks as her "worst nightmare".
But the former party leader said the police investigation into the party's finances did not influence her decision to stand down as first minister.

Ms Sturgeon said she "could not have anticipated" what happened in the weeks since she resigned.

She also said she had not been spoken to by police, and intended to stay on as MSP for Glasgow Southside.

Her husband, Peter Murrell, was arrested earlier this month as officers spent two days searching their Glasgow home as part of the ongoing investigation.

Mr Murrell, the SNP's former chief executive, was later released without charge pending further inquiries.

The party's treasurer, Colin Beattie, was arrested almost two weeks later before also being released while further investigations are carried out. He has since resigned as treasurer.

Speaking to journalists as she appeared in public at the Scottish Parliament for the first time since her husband's arrest, Ms Sturgeon said the police investigation meant she could not go into any detail about recent events.

She said: "There are many questions that I would want to be able to answer and in the fullness of time I hope I will answer, but it would be wrong and inappropriate for me to go into any detail of what the police are currently investigating.

"I understand the view that some people might have, that I knew this was all about to unfold and that's why I walked away.

"Nothing could be further from the truth. I could not have anticipated in my worst nightmares what would have unfolded over the past few weeks."

Asked if she has been questioned by police, she said: "No".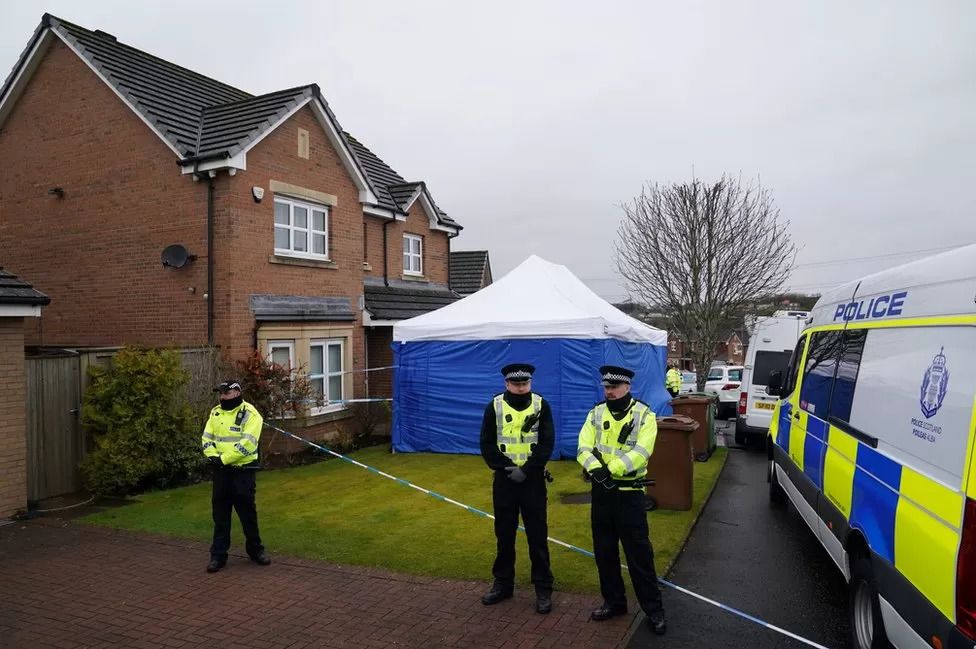 Police searched the Glasgow home of Ms Sturgeon and her husband Peter Murrell over two days earlier this month

She also said: "Clearly the events of the last few weeks have been difficult - and I use this word advisedly and deliberately - in some respects very traumatic."

When she was asked whether the investigation played a part in her decision to stand down, she said: "No, it didn't.

"The police investigation was under way, it was known about, so there was no secret in that but the reasons I stepped down as first minister were the reasons I set out in Bute House in the middle of February.

"If you are saying to me, back then or at any time until it happened, could I have anticipated what happened almost three weeks ago, the answer is no I did not and could not have done."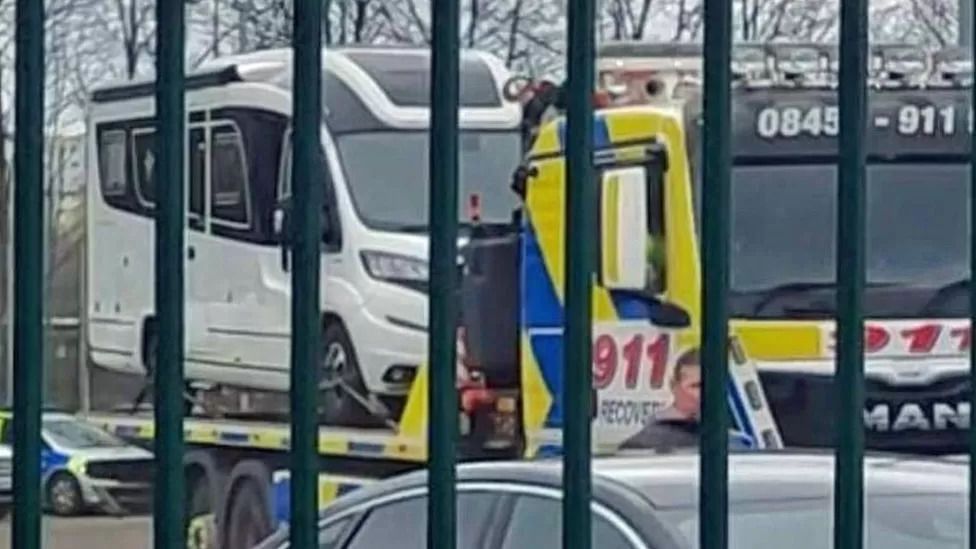 The seized motorhome was removed from outside the home of Ms Sturgeon's mother in law

Ms Sturgeon was also asked whether she was surprised when the police arrived on her doorstep, replying: "I think you can probably take the answer to that as yes."

She said she would "continue to get on with doing my job" and that she hoped to be in a position at some stage "where I can talk more openly about all of these different issues, the detail of them, and how that has all been".

Ms Sturgeon was speaking shortly after Mr Beattie, who served as SNP treasurer for a total of almost 20 years, said he did not know that the party had bought a luxury motorhome.

He later clarified that he found out about the purchase via the 2021 annual accounts.

The Niesmann and Bischoff vehicle was seized by police from outside the home of Mr Murrell's 92-year-old mother in Dunfermline on the same morning that he was arrested.

Neighbours have been quoted in the media saying that the motorhome, which can retail for more than £100,000, had sat outside the house since being delivered there in January 2021.

When he was asked by reporters whether he knew about and had signed off the purchase, Mr Beattie replied: "No I didn't know about it."

Mr Beattie was not SNP treasurer in January 2021, having lost an internal vote to Douglas Chapman the previous November after 16 years in the role.

He was reappointed when Mr Chapman quit in May of that year after saying he had "not received the support or financial information" that was needed to carry out his duties as treasurer.

The Daily Record said it had been told by party sources that the motorhome was intended to be a "battle bus" ahead of the last Scottish Parliament election in May of that year but was never used.

The party had generally hired vehicles to use during previous election campaigns.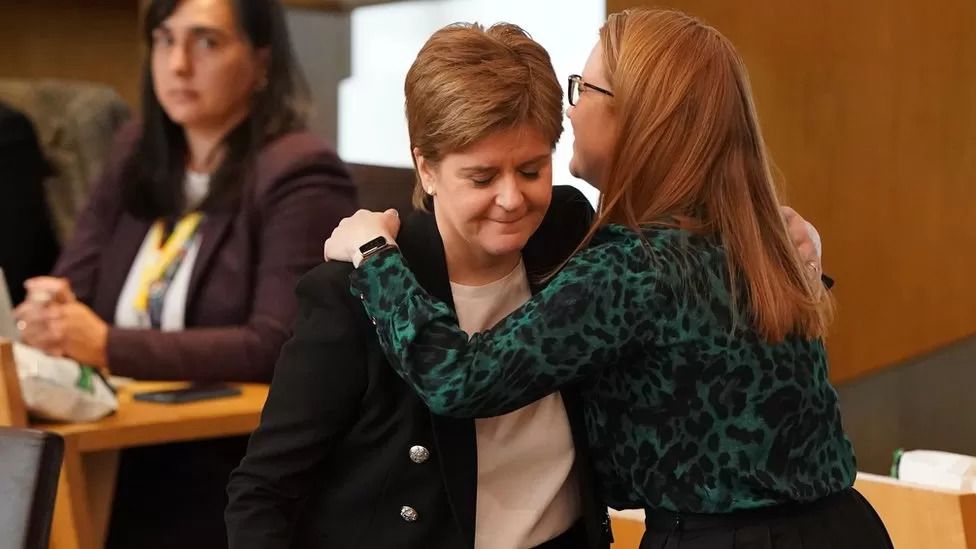 Nicola Sturgeon returned to the parliament on Tuesday

The SNP's Westminster leader Stephen Flynn was also asked about the motorhome as he spoke at an Institute for Government event in London and said he only became aware of it "when it was printed on the front of a newspaper".

Ms Sturgeon's successor, Humza Yousaf, has previously said he only discovered the party owned the motorhome when he saw a warrant outlining property that the police wanted to confiscate.

Police Scotland launched its Operation Branchform investigation in July 2021 after receiving complaints about how more than £600,000 of donations raised by activists for a future independence referendum campaign were spent.

Questions were raised after accounts showed the SNP had just under £97,000 in the bank at the end of 2019, and total net assets of about £272,000.

Last year it emerged that Peter Murrell gave a loan of more than £100,000 to the SNP to help it out with a "cash flow" issue after the last election.

The party had repaid about half of the loan by November of that year, but Mr Yousaf admitted last week that it still owed money to Mr Murrell.

The party's auditors quit last September, with the party facing a race against time to file its accounts with the Electoral Commission by 7 July. It has still not found a new auditor.

The SNP's Westminster group, which was also left without an auditor and has not yet found a replacement, faces losing £1.2m in public funding if fails to file its accounts by 31 May.