Northern Ireland Protocol disputes can be resolved in "a couple of weeks", the EU's chief Brexit negotiator has said.
Maroš Šefčovič said "political will" is needed as he once again outlined EU proposals to cut checks.

The remarks come as a Department for the Economy report suggests that the protocol creates a mixed picture for attracting manufacturing investment.

The protocol gives Northern Ireland manufacturers unique access to the UK market and the EU single market.

Mr Šefčovič's comments are being downplayed by some in Brussels after technical talks resumed just over a month ago.

His remarks appear to be largely based on hopes that the UK could sign up the EU plans for easing controls on good travelling from Great Britain to Northern Ireland to as little as "a couple of lorries" per day.

Mr Šefčovič was addressing a meeting of MPs and MEPs in Westminster.

"Is it too much to do this?" he asked.

"Cannot we find pragmatic, technical solutions to make these things work?

"I believe that it could be done and if there is political will I am sure that we can sort it out really within a couple of weeks."

He suggested that Brussels needed to be sure that officials at Northern Ireland ports would stop lorries where risk analysis showed certain items, such as "poisoned shrimp" or "dangerous toys", may be on board.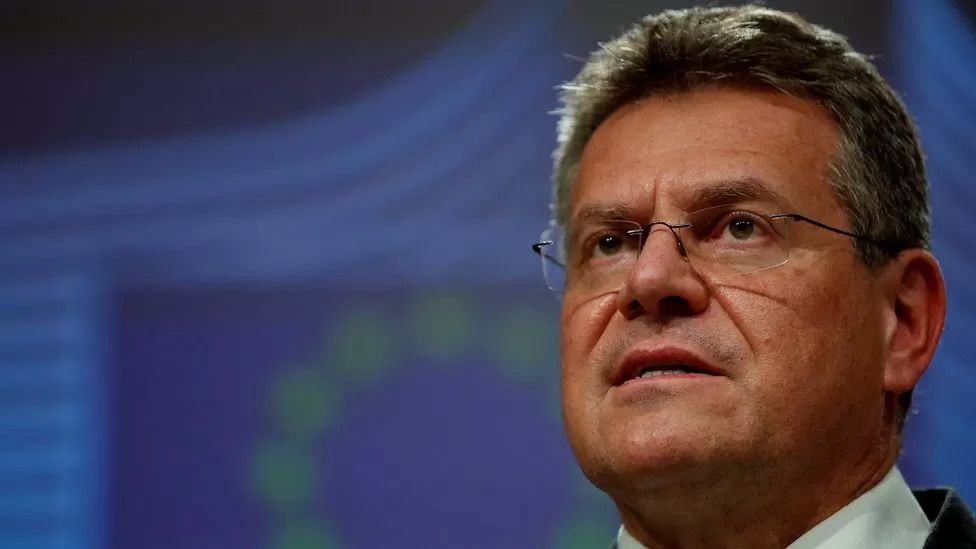 Maroš Šefčovič said "political will" is needed to deal with the protocol
The department's report found the protocol arrangements may make Northern Ireland attractive for manufacturers who want to serve both UK and EU markets.
It cautioned this depends on the volume of components a Northern Ireland manufacturer needs from Great Britain.
The protocol keeps Northern Ireland aligned with the EU's single market for goods as a way to maintain a free-flowing goods border with the Republic of Ireland.
That also means Northern Ireland manufacturers have better access to the wider EU than companies in other parts of the UK, with no requirement for new post-Brexit paperwork and checks.
Cost and complexity

However, goods being sent from Great Britain to Northern Ireland require a range of controls and checks which add cost and complexity.

Last year, the Department for the Economy commissioned the investment consultancy Wavteq to analyse the potential impact of these arrangements.

The department has now published a summary of Wavteq's findings but has not released the full report.

"NI has maintained access to the EU single market for goods and, at the same time, remains in the UK customs union," it found.

"A foreign investor setting up in Northern Ireland can continue to trade with both the EU and UK without additional checks."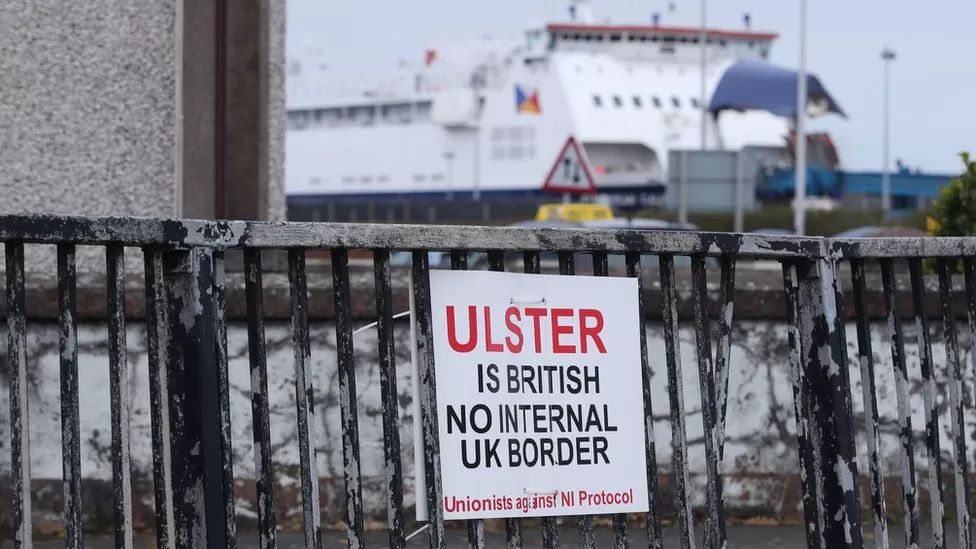 Many unionists are opposed to the NI protocol

The report continued: "However, there are now customs checks on goods travelling from GB to NI and it is a key source for NI supply chains.

"The overall impact of our new trading relationships may be more positive for foreign investors seeking access to both the GB and EU markets with less regulatory obstacles to trade in goods.

"The overall impact may be less positive for NI based companies dependent on GB supply chains."

It adds that individual investors will need to weigh up "complex decisions" about how and where to invest.

Separately the UK's Europe minister has said the government is neither "expediting" or "halting" the Northern Ireland Protocol Bill.

Leo Docherty told the same meeting of British and European politicians: "We're just letting it go forward."

The bill was introduced under Boris Johnson's premiership and initially driven forward by Liz Truss.