The city which has more empty shops than anywhere in the UK is trying to make a comeback.
The once vibrant music scene, which hosted the likes of David Bowie and Elton John, is no more and the cinema which closed just five years after opening hangs over the shopping centre vacant.

So how can Newport regain its glory days of the past at a time when the price of everything - well nearly everything - is soaring, and - let's face it - when it can just be easier to shop online?

Well, they're pinning their hopes on young people's consideration for buying local, shopping with the environment in mind and love for posting locations that'll add something to their Instagram feed.

And giving Newport market, which first opened in 1854, a glow-up could well be part of the answer.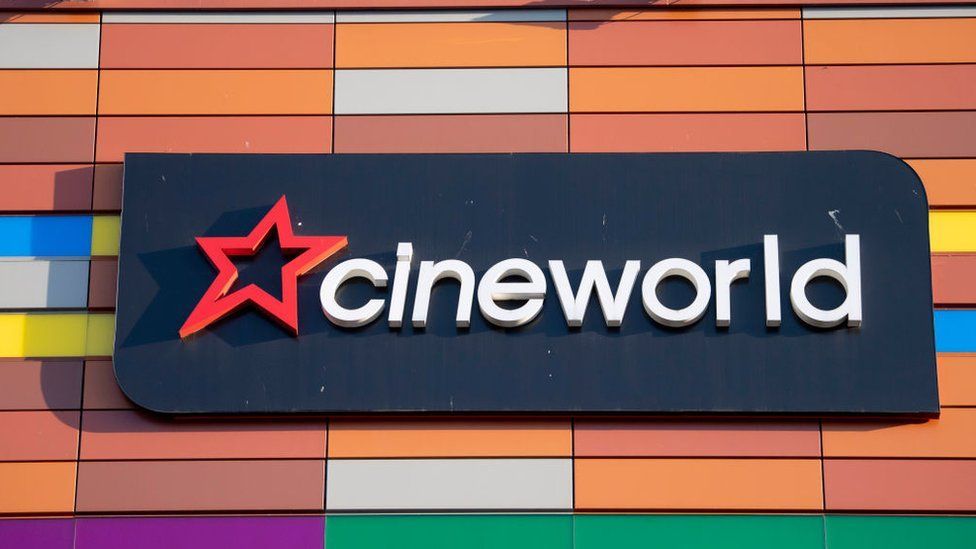 Cineworld in Friars Wales hasn't reopened since the pandemic had its affect

The market is being pitched to a younger crowd to capitalise on the trend to live, work and play closer to home.

"If you can offer cool independent clothing brands, a place that reflects sustainability, with some great food and the ability to work there in a cool and innovative office with affordable rates...,

"All that stuff is going to bring younger people in and a different audience," said market developer Simon Baston.

And he believes he's done just that.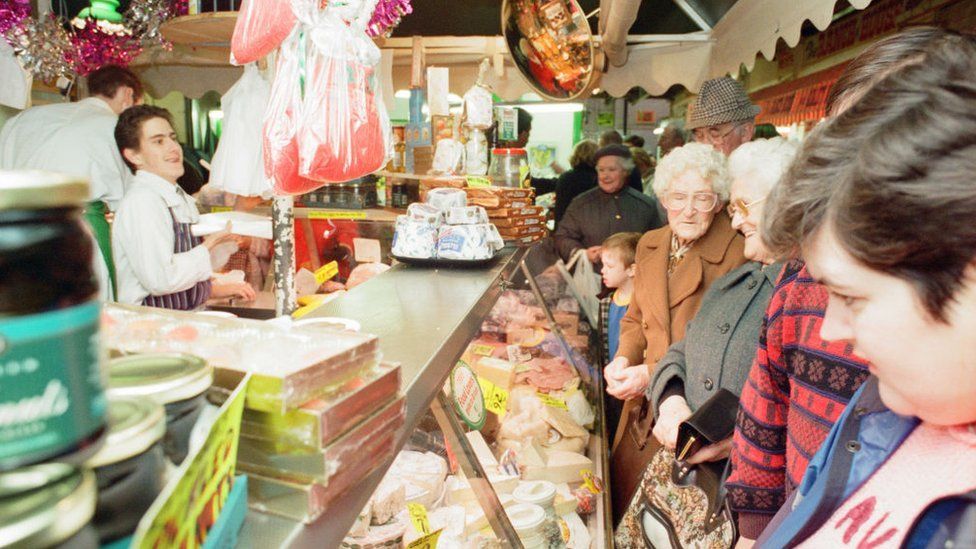 From a traditional Victorian market...

The Grade II listed building, which saw "Europe's biggest indoor market regeneration" this year, boasts some of "Wales' best street food", has about 25 stalls, with work spaces and offices around the centre.

"The reason why a 20 to 45-year-old millennial population like it is because it offers everything under one roof," he said.

He hopes the market could be the start of the regeneration process for Newport which, like many other towns and cities, has been hit hard by the pandemic.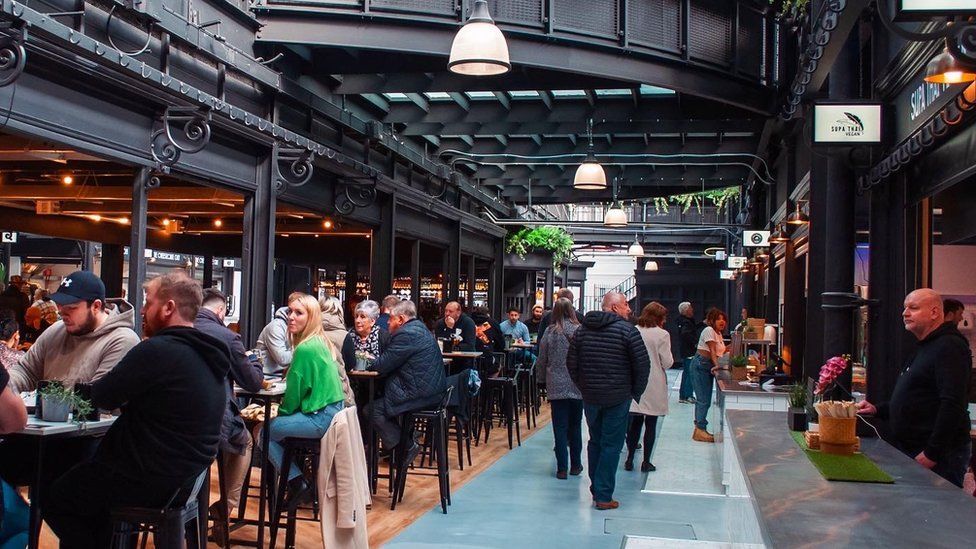 ...to a market worthy of a place on your social feed

For Isabel Godsell, coming into Newport town is a rarity unless she needs to get the essentials.

The 22-year-old from Caerleon said she will either shop online or head into Cardiff because of the "old, dying" city which needs "refurbishment".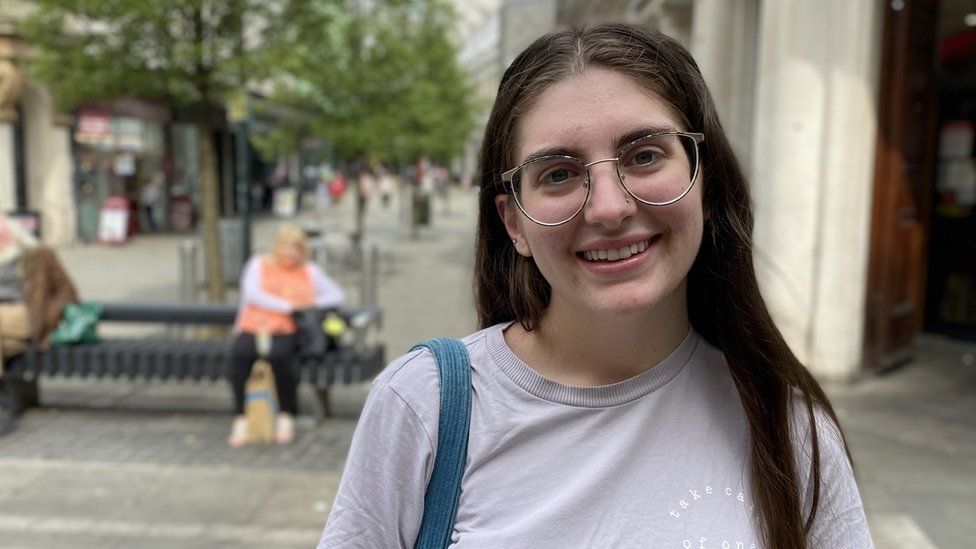 Isabel says the market's food "is very in with the vegetarian and vegan option"

"They're cutting down on youth clubs, young people don't have anywhere to go and, with gangs and crimes on the rise, we need activities which are not just sitting down and eating."

And although she believes the market is "very Instagram-able in the way they've laid it out", she wants to see a better shopping experience for people to feel safer.

"It [Newport] needs an injection of cash flow... past seven o'clock people don't really come out - they just don't feel safe here," she said.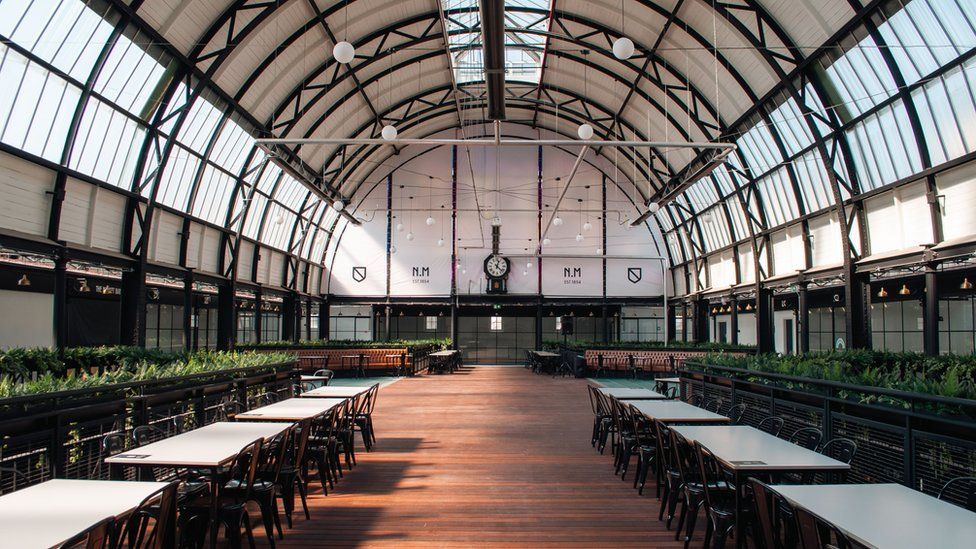 Wedding? Comedy gig? Simon Baston says the market is a multi-use space

"More stuff is starting to come here like Taco Bell and the new market - I think it's getting better and different dynamics are coming back to town," said 19-year-old Lucas Barnes.

However, he'd like to see more shops in town now the pandemic is drawing to an end, with more catered to men.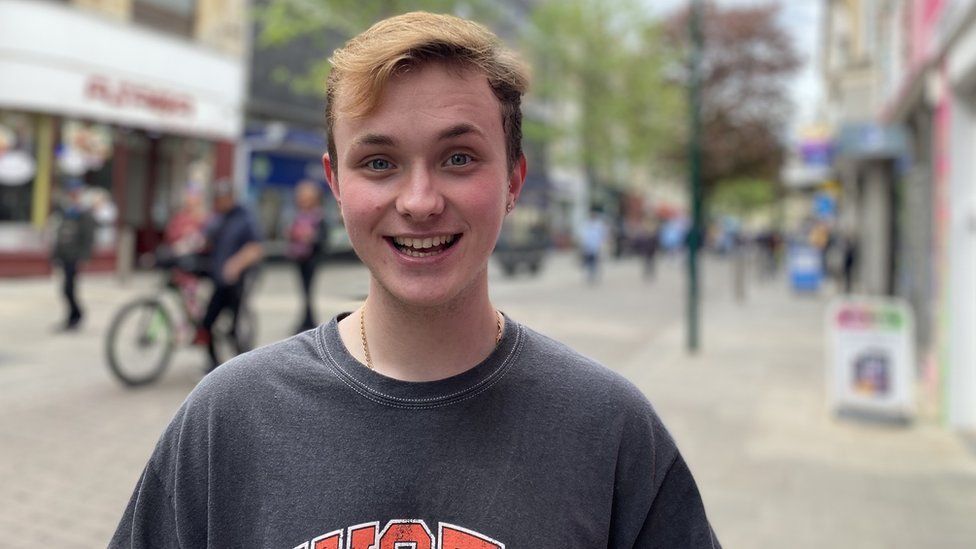 "Newport is very quiet," says Lucas
What's left?

Research released by Centre for Cities revealed Newport is thought to have the most closed shops in the UK - with about one-third of its centre closed permanently.

It found that a lack of high-skilled jobs limited the demand for local businesses and the pandemic and cost of living crisis have left people with less disposable income to spend in shops and restaurants.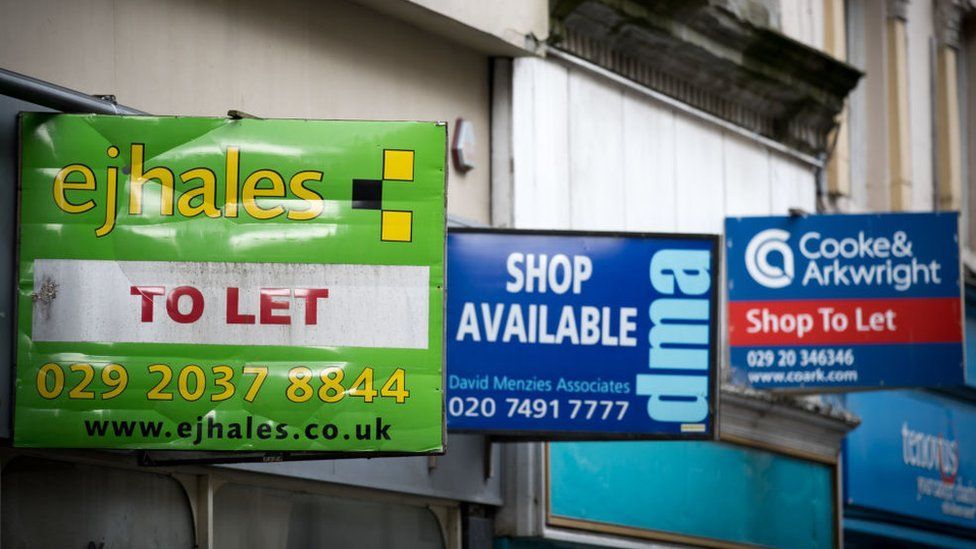 Newport city council says just before Christmas it offered a "generous" package of grants for small and medium-sized businesses

"Young consumers over the pandemic were one of the groups particularly affected by job losses," said retail expert, Dr Sarah Montano.

"So we have to recognise not every young consumer is going to have the income."

The lecturer at Birmingham University said, aside from the practical ways of attracting consumers to city centres, like free transport for under-25s, "it's about thinking of these spaces in a much more multi-dimensional way" which are then "very experiential".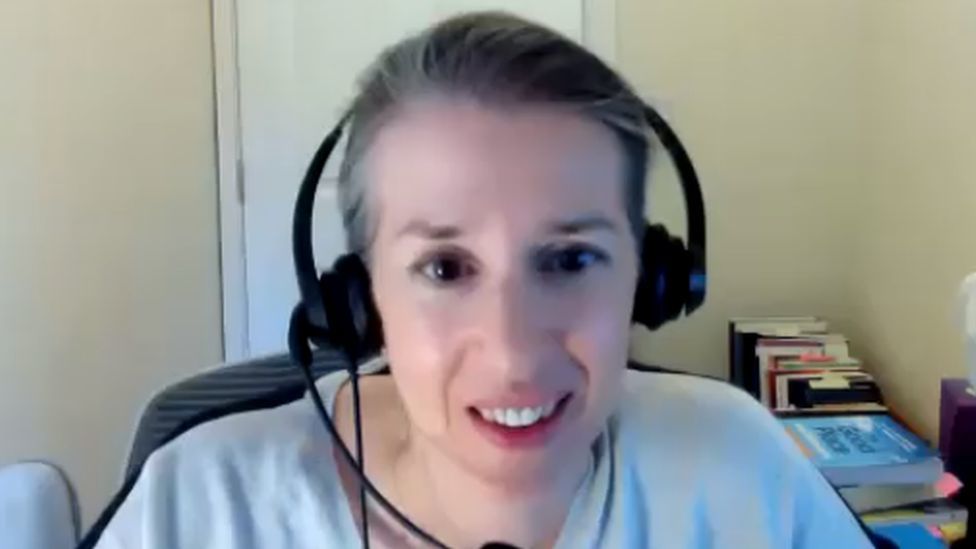 Dr Sarah Montano says the second biggest trend for young consumers is around second-hand shopping

She also said retailers have a responsibility to "think how they can be in city centres".

"Often they'll say, 'Well I'm not opening a four story departmental store because it's not going to be viable'. Well, I accept that because lots of people are shopping online, but can you have one story then?"

Dr Montano said having a different shop on each floor would give "a reason for consumers to keep coming back".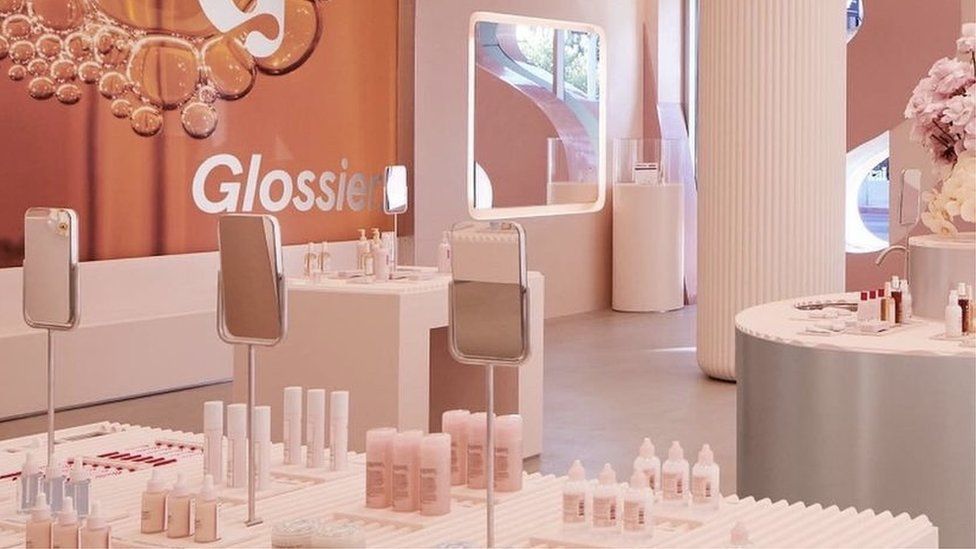 Is this what shops will have to look like to keep people coming back?

"There are brands that young consumers are going into store - Glossier is a good one, it's a really playful space, very pink and gold.

"But where's the next Glossier because the next Glossier is somewhere, and it could be in Newport.

"So how can the council say, 'Come in, try this space, see what happens', and think about what subsidies, rent discounts they need to do… and it could be fun."

The glory days

Newport hasn't always been full of empty shops.

"It was thriving when it was a town," long-time collector of Newport's history, Peter Brown said.

"Newport was the third richest place in Wales at the start of the century.

"The glory days were the industrial revolution - a lot of the Irish came here, the churches began to fill up and it just exploded in Newport because of the old town dock."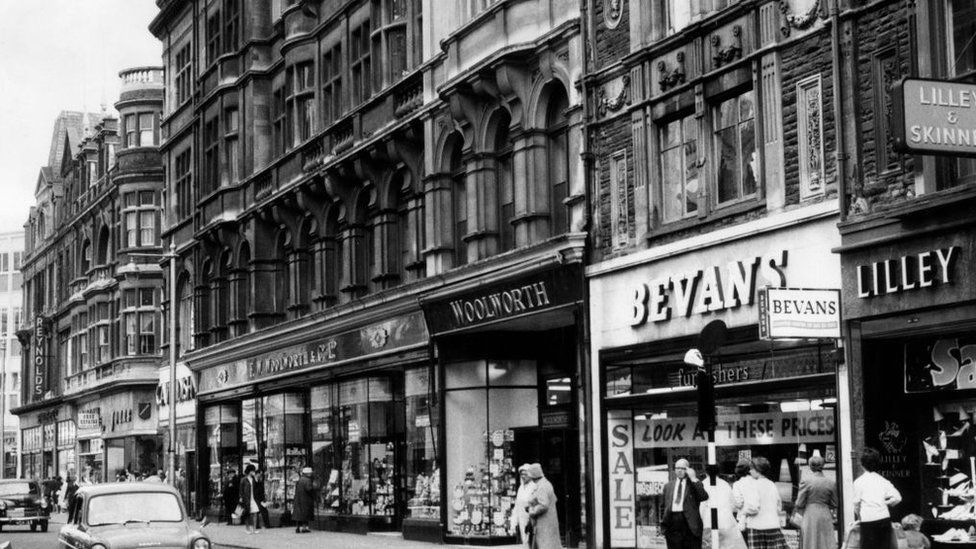 Commercial Street on 28 August 1962

The town became known for its accessible, modern docks as trade flourished in the early 1900s. That continued when the Alexander Dock was opened in 1875, becoming the largest dock in the world at the time.

"The town was buzzing in the 50s, 60s and 70s - you couldn't go anywhere unless there were crowds," Peter said.

"But now we've developed a record of seeing the most shut up shops."

For Peter, reopening shops and and "taking a chance" on Newport will get it back to its glory days of the past.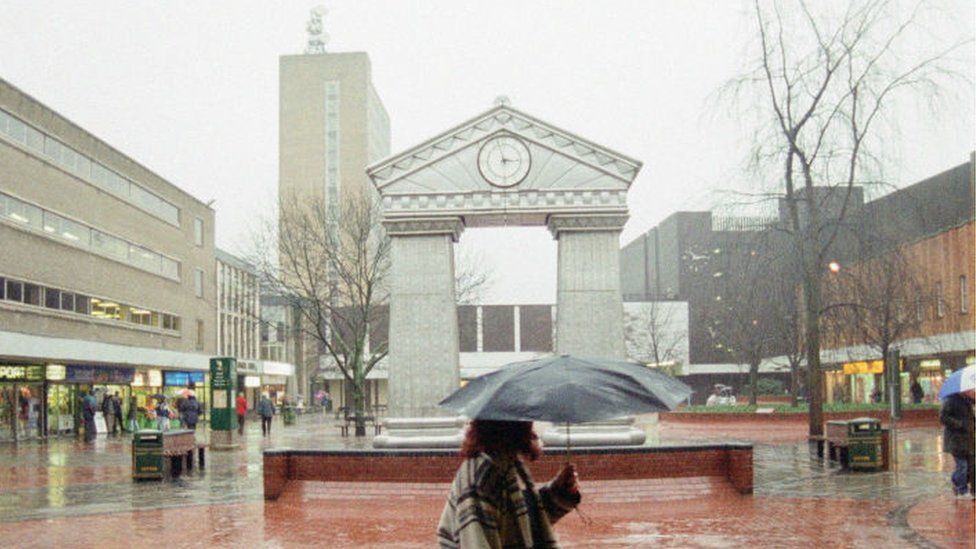 Do you know where Newport Civic Clock has moved to now?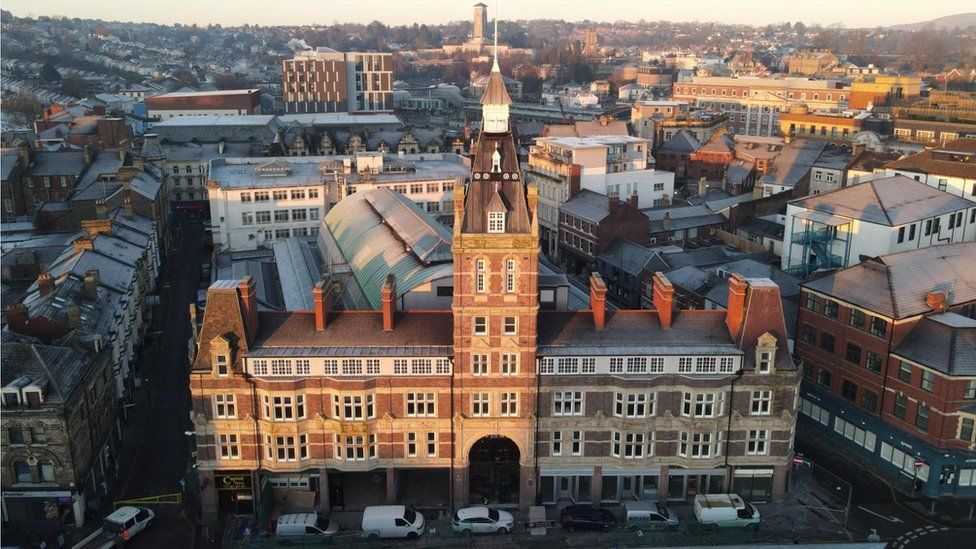 Newport Market has plans to keep expanding
So what's next for Newport?
"We have long recognised that a different mix of uses in the city centre, rather than a reliance on retail alone, was vital," said chief executive of Newport city council, Beverly Owen.

"In this financial year, our unique city centre rates scheme will give eligible businesses a 25% reduction on their rates bill on top of the Welsh government's rate relief."

She said Newport Market, and the opening of future venues will "usher in a new era" for the city.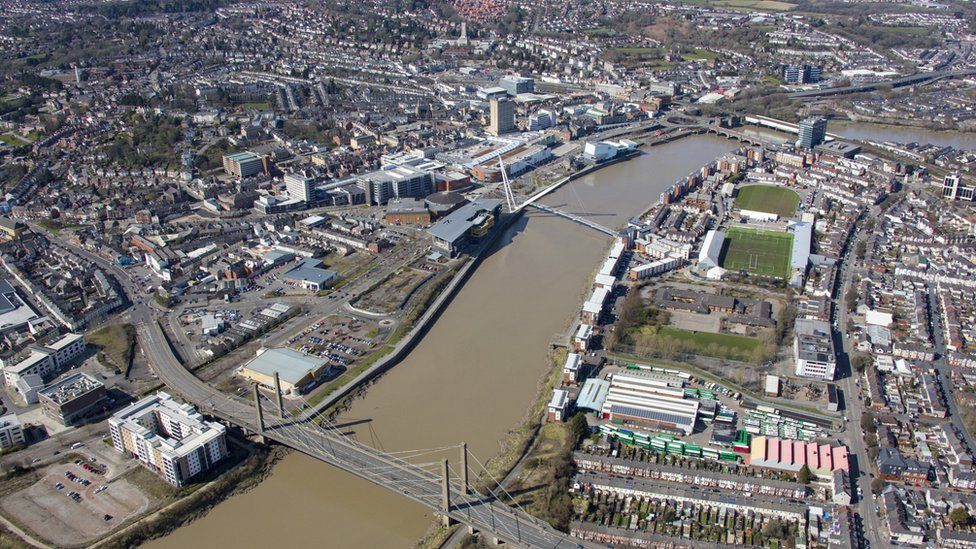 Newport city centre has undergone much change in the past decade and is set for more

She said the council's survey in May 2021 showed the vacancy rate in the city is at less than 24%, compared to the 33% found by Centre for Cities, citing a "discrepancy" in how the think tank carried out its research.

"The company's assessment did not appear to differentiate between vacant units and units that were being refurbished or redeveloped at the time of the survey," she added.

More than £15m funding will be used to restore the Market Arcade, build a new leisure centre, repurpose the former railway station as an innovative hub and redevelop the four-star hotel and offices, Ms Owen said.

"As the city looks to its recovery, an attractive and successful city centre remains at the heart of our plans."