A new pay offer will be put to teachers within days, the Scottish government has confirmed.
Unions had said any new deal would need to be "significantly" improved to avoid further strike action.

Teachers have asked for a 10% rise, but the previous deal was worth between 5% and 6.85% for most staff.

Education Secretary Shirley-Anne Somerville has told BBC Scotland a fifth offer would now be put on the table.

A series of teachers' strikes have been held across Scotland since November, with more planned for later this month.

If additional Scottish government funds are made available, a meeting of local authority body Cosla will be held on Tuesday afternoon to agree a new offer before it is presented to unions.

Ms Somerville said: "The Scottish government has been working very closely with Cosla and we hope that an improved offer will be made imminently.

"We would hope to have something that Cosla would be able to announce to teaching unions within the next day or so."

The education secretary said she hoped the new offer would be enough to suspend planned strike action.

She also described the new proposal as both "affordable" and "exceptionally fair".

The dispute centres on the pay rise which teachers were due to receive in April last year.

The most recent offer was made before the first strike by the EIS union in November.

'On standby'

Nearly all pupils in Scotland have lost three or four days' worth of education since then.

The next strike action is due to be held on 28 February and 1 March.

The EIS is also planning targeted strikes at schools in a number of areas - including the Glasgow constituency of First Minister Nicola Sturgeon.

Earlier, councillor Stephen McCabe, leader of Inverclyde Council, told BBC Radio's Good Morning Scotland he was "on standby" to attend a meeting of the country's 32 local authority leaders on Tuesday to approve a revised pay offer.

He added: "What that offer will look like I don't know as I am not privy to the discussions which are taking place in government.

"I would hope that we could find a way to last least suspend the strikes, maybe pending further discussions around a two-year deal, but at this point in time I really don't know what the government is going to come up with."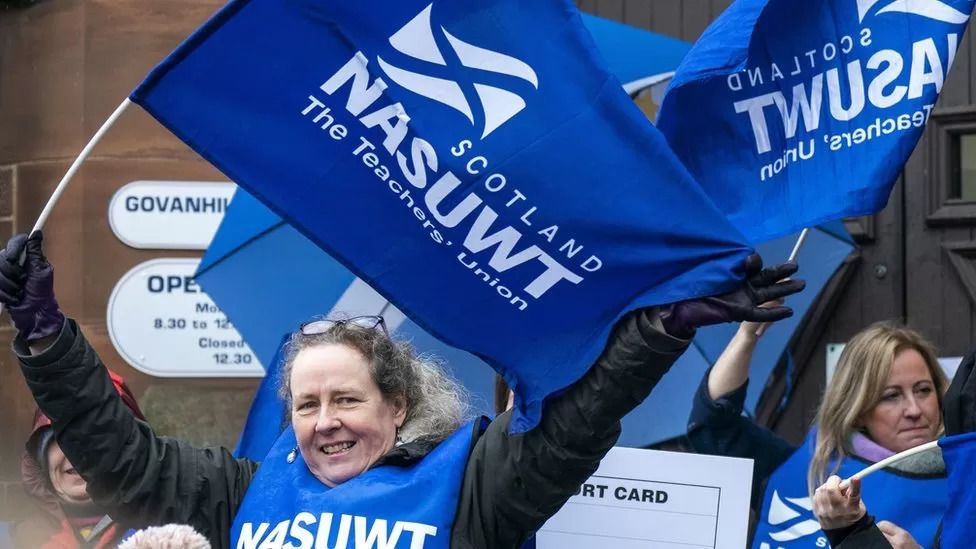 Ms Somerville has previously said the government was committed to resolving the dispute as soon as possible.

She said the government was "progressing work for an improved offer to be put to teaching unions."

The Scottish Conservatives said it was "astonishing" that it had taken the education secretary three months to come up with a new offer.

The party's education spokesperson Stephen Kerr said: "Shirley-Anne Somerville has been asleep at the wheel throughout this entire pay dispute with teachers.

"The onus is on her to finally show the leadership required and ensure that this future disruptive action that is planned can be called off.

"So far the education secretary has been found wanting and her failures have flown in the face of the SNP insisting that education is their number one priority."