The husband of Nazanin Zaghari-Ratcliffe says he is looking forward to the "beginning of a new life" with her as she returns to the UK.
The British-Iranian woman had been held in Iran since 2016 accused of plotting to overthrow Iran's government - which she denied.

Richard Ratcliffe said he was "deeply grateful" she had been released.

He said he and their seven-year-old daughter Gabriella were looking forward to being a "normal family" again.

"We can't take back the time that's gone," he said. "But we live in the future not the past. We'll take it one day at a time."

He said Gabriella had picked out which toys to take to show her mother when her plane lands - and he had promised one of the first things he would do was make her a cup of tea.

Mrs Zaghari-Ratcliffe had been under house arrest since March 2020, when she was released from prison, and she was given her British passport back this week.

Mr Ratcliffe had campaigned tirelessly for his wife's release including staging a hunger strike outside the Foreign Office.

Their enforced separation had been a "cruel experience" in many ways, he said, but had also been "an exposure to such a level of kindness and care" from people across the country.

He said his wife had remained "pretty agitated" in the run-up to her release and that things had been "bumpy" in her final days before she was freed.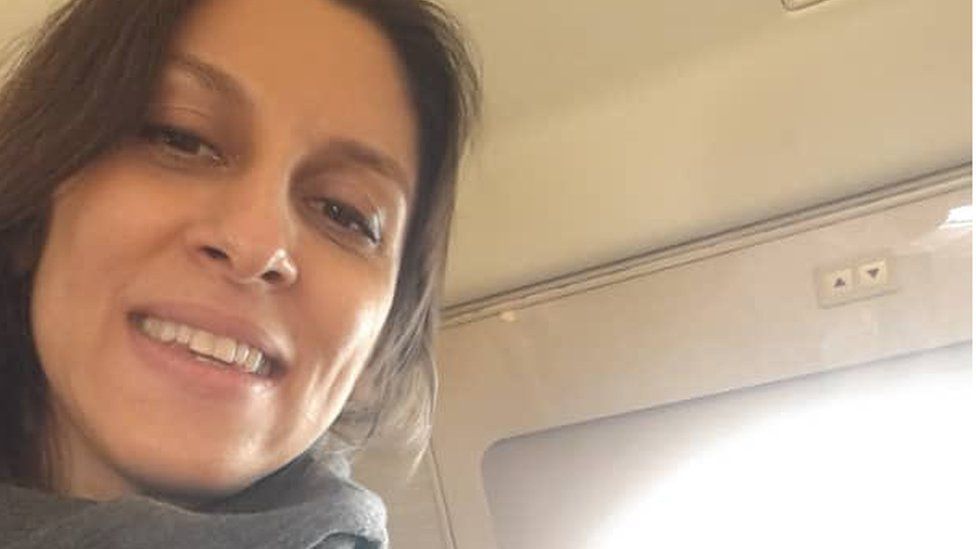 A picture has been released of Mrs Zaghari-Ratcliffe on a plane leaving Iran

Mrs Zaghari-Ratcliffe, 43, is on her way back to the UK along with fellow British-Iranian national Anoosheh Ashoori.

Mr Ashoori was arrested in 2017 and accused of spying, a claim he denied.

Morad Tahbaz, who has Iranian, UK and US nationality, has been released from prison but is not yet allowed to leave Iran.

The British government said it had settled a £400m debt owed to Iran from the 1970s which had been linked to the continued detention of Mrs Zaghari-Ratcliffe and other UK-Iranian dual nationals held in the country.

But Iran's Foreign Minister, Hossein Amir-Abdollahian, said it was wrong to link the payment of the debt to the releases, adding: "These two persons were released on humanitarian grounds."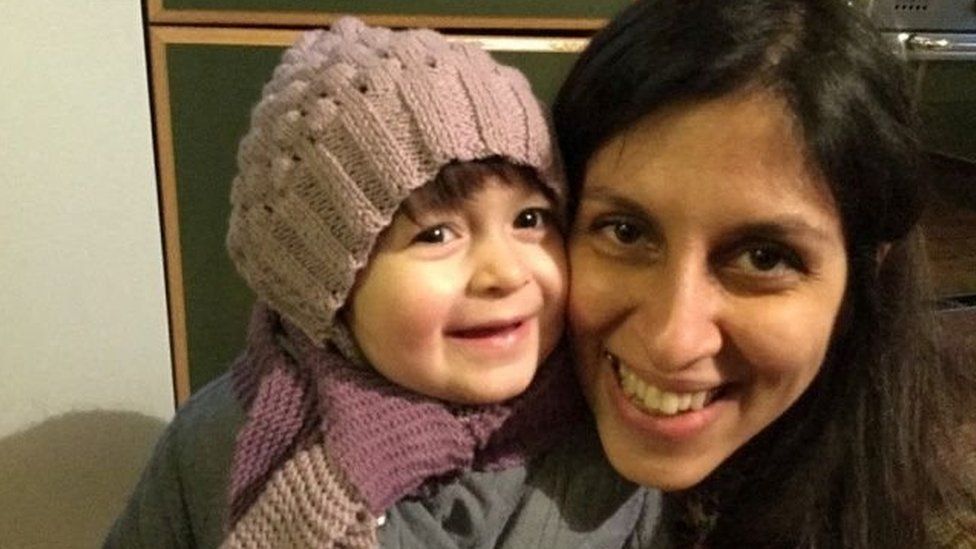 Gabriella was 22 months old when her mother was detained while they were visiting relatives in Iran

Mr Ratcliffe said he had been "kept out of the loop" on discussions about the debt and the situation had been "kept behind close doors".

Speaking to reporters in London about his plans, he said: "There will probably be a couple of days peace and quiet somewhere else, and then back here.

"The first thing she wanted was for me to make her a cup of tea, so we will do.

"I think actually we were looking at the house and it needs a bit of tidying, so there might be a bit of tidying, perhaps directed by mummy when she comes back."

A photograph has now been released by MP Tulip Siddiq of Mrs Zaghari-Ratcliffe on a plane back to the UK, having flown via Oman. She is due to land on Wednesday evening.

Looking to the future, Mr Ratcliffe said it would be "the beginning of a new life, a normal life".

"Homecoming is a journey, not an arrival," Mr Ratcliffe said.

"I don't think it will just be today, there will be a whole process, and hopefully we'll look back in years to come and just be a normal family and this will be a chapter in our lives, but there are many more chapters to come."

He asked his daughter "do we still quite believe it?" about her return - adding it was going to be "lovely" to finally see her again.

Mr Ratcliffe noted his wife had a "big grin" in a picture released of her leaving Iran.

He said when she is back "we can stop being a moment in history and start being a normal family again".
Richard Ratcliffe speaks to press after his wife Nazanin Zaghari-Ratcliffe's return to the UK was announced