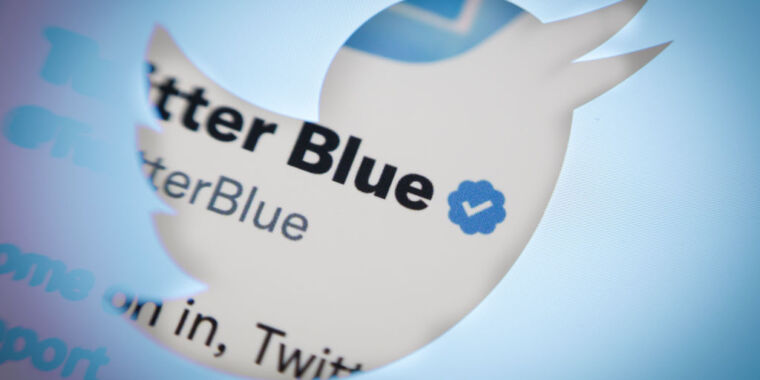 Musk planning to launch other Twitter 2.0 features
It makes sense for Musk to focus on protecting brands from impersonation as a priority in his relaunch of Blue Verified, as Twitter can't churn profits without reassuring advertisers. But Musk also has other big ideas, and he has told his dwindled team of engineers that he will require long hours from them to help evolve the platform.
The Verge obtained a recording of a meeting Musk held Monday, reporting that Musk's new vision of Twitter 2.0 is a service where private messages are totally private. To Musk, that means all direct messages are encrypted, so he plans to work with Signal. According to Musk, Signal is "potentially" interested in helping Musk make sure that: "I can't look at anyone's DMs if somebody has put a gun to my head."

Signal, however, told Ars that the company has not been in any official talks with Musk.

"Signal has not been working with Twitter on this effort," Meredith Whittaker, president of Signal, told Ars. "We do believe that more private communications are a net good, and we are interested to see how Twitter tackles the complexity of creating usable, encrypted DMs across the web and mobile."

In addition to encrypted DMs, Musk wants to add encrypted voice and video chat features.

"We want to enable users to be able to communicate without being concerned about their privacy, [or] without being concerned about a data breach at Twitter causing all of their DMs to hit the web, or think that maybe someone at Twitter could be spying on their DMs," Musk told Twitter staff.

For anyone keeping track, this means that in addition to launching potential paid features—like sending a celebrity a DM or viewing exclusive videos from content creators—basic fixes—like improving Twitter search—and bold ideas—like turning Twitter into the next PayPal—Musk is also hoping to make Twitter a go-to messenger for users. He'll do this, he told his team, by diverging from other messaging services and making it so Twitter users do not have to share actual phone numbers to communicate.

"You don't have to give someone your phone number," Musk told employees.

It seems that, ideally in Musk's world, Twitter handles would become each user's entire online identity—something obviously worth paying $8 monthly for, just as soon as he figures out this whole impersonation thing.