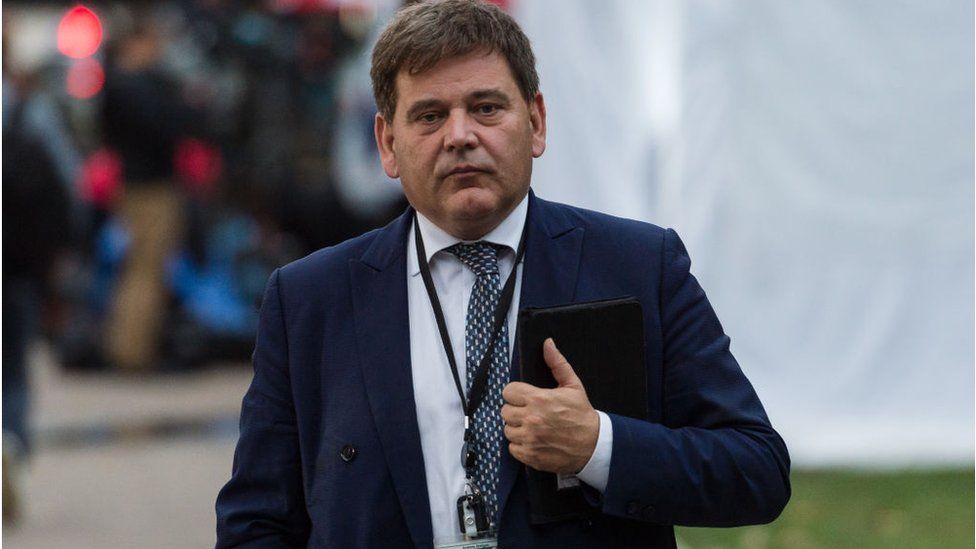 MP watchdog investigates Conservative Andrew Bridgen over donation
Conservative MP Andrew Bridgen is being investigated by the parliamentary watchdog over claims of lobbying and failing to fully declare interests.
Last month, The Times said he accepted £5,000 through his local Conservative association from a firm after having raised its tax issues with a minister.

The paper said Mr Bridgen contacted the minister following a trip to the firm's teak plantation in Ghana in 2019.

The MP told the BBC the trip and donation had been "fully declared".

He said the accusations being investigated by Parliamentary Standards Commissioner Kathryn Stone were a "repeat of the allegations made in an article by The Times" and that he had "never personally received any money from Mere Plantations or anyone associated with them".

Mr Bridgen also has an advisory role with the company, Mere Plantations, which the BBC has been told is unpaid.

According to his declaration to the Electoral Commission, Mr Bridgen's trip to Ghana in August 2019, paid for by Mere Plantations, was worth £3,300.

Speaking to The Times, Mr Bridgen said the aim of his trip was to see the company's plantation so he could "write a letter to Inland Revenue saying this is not a tax scam".

Following his trip, Mr Bridgen contacted Africa Minister Andrew Stephenson to raise concerns about problems the company, which is UK registered, was having in being recognised by HMRC.

In October 2019, the company made a donation to Mr Bridgen's local North West Leicestershire Conservative Association, which is also registered on the Electoral Commission website.

A Mere Plantations spokesman said there was "nothing inappropriate", adding: "We haven't paid Andrew Bridgen anything."

Asked about the £5,000 donation, he said: "We made a donation to help them with the election, simple as that, all perfectly recorded, all perfectly dealt with, all perfectly above board."

MPs are allowed to lobby the government on behalf of their constituents, however there are rules in place to ensure they do not take advantage of their position for reasons other than the best interests of the people who elected them.

MPs have to declare any jobs they have or that a member of their family has that could influence their opinions.

They are not allowed to take money for raising issues in the House of Commons or with ministers.

MPs are not allowed to lobby for any person or organisation within six months of receiving any money from them as a donation.

Following the lobbying row involving Owen Paterson, the government asked the standards committee to draw up news rules banning MPs from working as political consultants.