Teachers in England will strike on Thursday 27 April and Tuesday 2 May after members of the UK's largest education union rejected a pay offer.
Teachers were offered a £1,000 one-off payment this year, and a 4.3% rise next year. Starting salaries would also rise to £30,000 from September.

The results of the NEU ballot found that 98% of members were in favour of turning the deal down.

The education secretary said it was "extremely disappointing".

The National Education Union (NEU) described the offer as "insulting" and said it has "united the profession in its outrage".

Speaking at the annual conference in Harrogate, Joint General Secretaries Mary Bousted and Kevin Courtney said the offer was "not fully funded" and did not deal with the shortage of teachers in schools.

In a ballot over the government's pay offer, 191,319 NEU members voted to reject the deal with a 66% turnout.

After hearing the announcement, delegates at the conference chanted "come on Gill, pay the bill".

Education Secretary Gillian Keegan said the NEU's decision to reject the pay offer "will simply result in more disruption for children and less money for teachers today".

"The offer was funded, including major new investment of over half a billion pounds, in addition to the record funding already planned for school budgets," she said.

Ms Keegan said pay will now be decided by the independent pay review body, which will recommend pay rises for next year. This means the £1,000 payment for this year will not happen.

During a visit to Rochdale, Prime Minister Rishi Sunak said the news of new strike dates was "extremely disappointing" following "a very reasonable pay offer".

Ms Bousted confirmed plans to support GCSE and A-level students during the upcoming strike days and said head teachers will make sure those pupils are in class for exam preparations.

Following the vote, Ms Bousted called on ministers to "reopen negotiations" on pay.

On Tuesday at the NEU conference, members will vote on three more potential strike days at the end of June and the beginning of July, but this would have to be approved by the NEU executive.

Teacher salaries fell by an average of 11% between 2010 and 2022, after taking inflation into account, according to the Institute for Fiscal Studies. Most state school teachers in England had a 5% rise in 2022.

The government says it is giving schools an extra £2.3bn over the next two years. Most of the pay rise would have come from this money; schools would have received extra funding for the £1,000 one-off payment and 0.5% of the pay increase for next year.

Luke Sibieta, from the Institute for Fiscal Studies, said schools budgets could only absorb "a small amount" of the pay offer and that some schools are already seeing costs growing faster than funding.

The Education Policy Institute (EPI) says there is "only just enough headroom" to cover the current pay offer.

Natalie Perera, the Chief Executive of the EPI, warned that the current funding "does not compensate schools for the additional support they have had to provide for increasingly vulnerable pupils".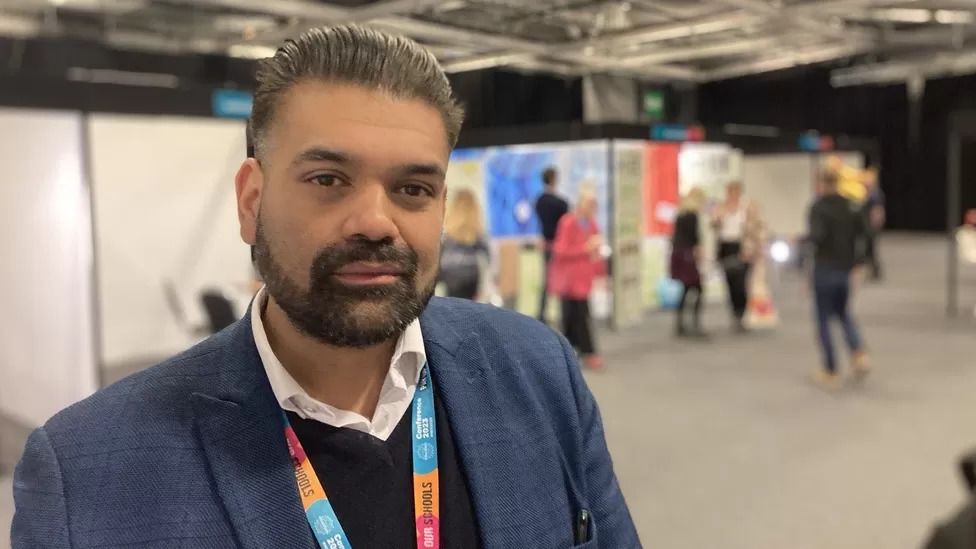 Sanj Beri, a science teacher, said he doesn't take strike action lightly but action is needed

Attending the conference, Sanj Beri, a secondary school science teacher from Nottingham, said the last thing teachers want to do is strike, but that "proper funding for our schools" is needed.

He said his school is struggling to recruit science teachers because people "don't want to do the job anymore" due to "the amount of stress and workload for the pay you get".

Katie Cooke, an NEU member from Tunstall in Stoke-on-Trent, took part in the first teacher strike earlier this year, but says she cannot afford to take part in any more as she does not get paid when striking

"As a single parent... I am struggling with the cost of living, with inflation, and feeding my family. Holidays are out of the picture... all the while I'm in a teaching profession at a reasonably high level."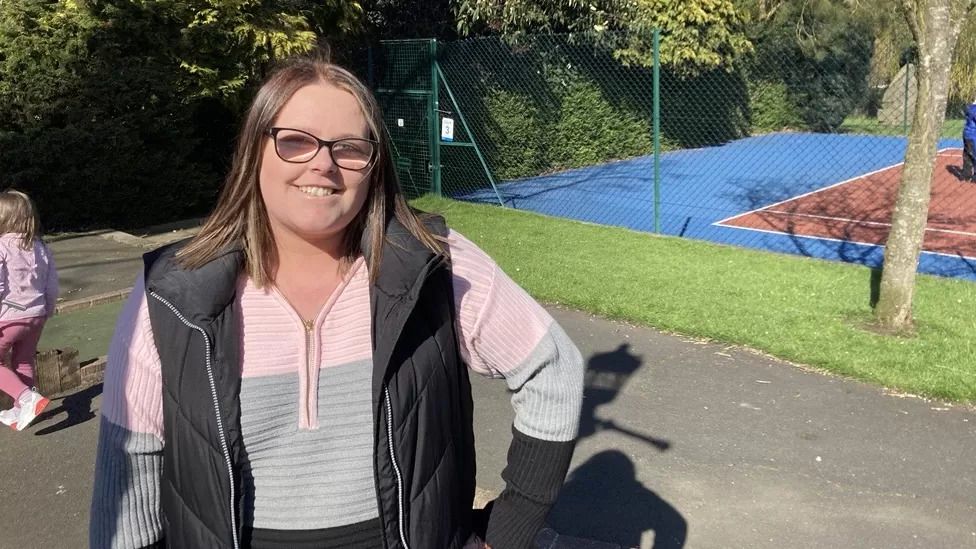 Lauren Jevins, from Harrogate, says she understands the issue with teachers pay but that children "just need to be in school"

Reacting to the news of the forthcoming strikes at a park in Harrogate, Lauren Jevins says she understands the teachers' position but wishes matters could be resolved in a different way, rather than industrial action.

She said taking more time off work to care for her children will mean losing out on money for everyday essentials.

Jacob Matthews is also frustrated at the prospect of more strikes and feels there needs to be a compromise.

"Inflation is nearly 11%, no-one is going to get that kind of pay rise... but I'm a parent, not a teacher and I know it's not as simple as that".

Sir Keir Starmer, the Labour leader, said he was disappointed and wants to see everybody "getting around the table and resolving these issues".

The leader of the Liberal Democrats, Sir Ed Davy, also said the government needs to "get around the table" and negotiate with the teachers' unions.

Devolved issue

The NEU is not the only union which is involved in pay discussions.

Three other unions have also been involved in intensive talks with the government: the NASUWT, Association of School and College Leaders and school leaders' union NAHT. They are in the process of balloting members on the current offer from the government.

School leaders' union, the NAHT, is also asking whether members would take industrial action if the pay offer is rejected. NAHT members voted in favour of strike action in January - but turnout was 42%, below the legal requirement of 50%.

Mary Bousted and Kevin Courtney, from the NEU, also questioned why teachers in England were "worth less" that those in Scotland and Wales. Education is a devolved matter, meaning decisions are made by the separate governments.

In Scotland, the dispute has been resolved after teachers accepted a 7% rise for 2022/23, which will be backdated to April. They have also accepted a 5% rise in April 2023, and a 2% rise in January 2024.

In Wales, the NEU, have agreed on an increased pay offer of 8% for 2022/23, which consists of a 6.5% annual pay rise and a one-off lump sum payment, as well as a 5% pay rise for 2023/24.

But Wales' school leaders' union, NAHT Cymru, has rejected the offer and says funding arrangements remain a major concern for school leaders. Members are continuing to take action short of strikes - which includes refusing to attend evening meetings and only responding to calls and emails between 09:00 and 15:00 BST.

In Northern Ireland, five teaching unions in will also strike for a full day on Wednesday 26 April.