Satya Nadella said A.I.-powered search is the biggest thing to happen to the company in the nine years he's been CEO.
Microsoft CEO Satya Nadella said Tuesday that search powered by artificial intelligence is the biggest thing to happen to his company in the nine years he's been at the helm.

Microsoft invited reporters to its headquarters in Redmond, Washington, for an event that centered around new AI-powered updates to the company's Bing search engine and Edge browser. Bing, which is a distant second to Google

in search, will now allow users to chat in a way that provides more detailed answers to queries.

The updates to Bing and Edge will launch Tuesday on desktop in a limited preview, meaning users will get a finite number of queries to search during the initial period.

Nadella said search is a very profitable business so these developments reflect a big opportunity for Microsoft.

"I've never ever felt this liberated in terms of opportunity in the days ahead," he told CNBC.

Microsoft's event Tuesday follows the company's January announcement regarding a multibillion-dollar investment in ChatGPT-maker OpenAI. The deal marks the third phase of the partnership between the two companies, after Microsoft's previous investments in 2019 and 2021.

ChatGPT automatically generates text based on written prompts in a fashion that's much more advanced and creative than past chatbots. The web-based tool went viral after its debut in November. Tech executives and venture capitalists gushed about it on Twitter, even comparing it to Apple's debut of the iPhone in 2007.

On Monday, Google announced an AI chatbot technology called Bard that will begin rolling out in the coming weeks. Bard will compete directly with ChatGPT.
OpenAI CEO Sam Altman attended Microsoft's event Tuesday and confirmed that Microsoft incorporated some of OpenAI's GPT-3.5 language technologies into Bing to improve its capabilities.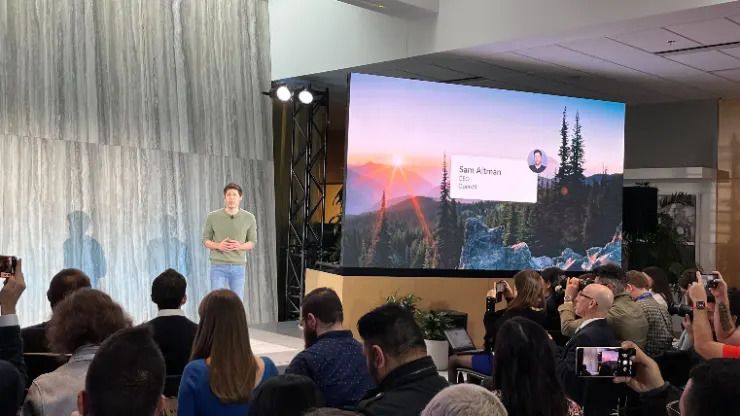 OpenAI CEO Sam Altman at Microsoft's event
"I feel like I've been waiting for this for 20 years, so I'm very happy it's here," Altman said during the presentation.
Nadella was promoted to CEO in 2014 after running the company's cloud business. He presided over Microsoft's expensive and risky move from on-premises servers to cloud infrastructure. It turned out to be a massive boon for a company that largely missed the transition to mobile computing.
Microsoft Azure, the centerpiece of the company's cloud unit, is second to Amazon
Web Services and ahead of Google in the cloud infrastructure market.
"You can only be relevant in technology if you are good enough to see the waves of change and then to reorient your technology and innovation agenda and the business model agenda," Nadella said. "We've gone through some very harsh ones. The last one we went through was obviously the mobile and cloud. We caught one, we missed one."