Sir Mark Rowley has been named as the new commissioner of the Metropolitan Police, taking over the role vacated by Dame Cressida Dick.
Sir Mark, 57, served as head of the Met Police's counter-terrorism unit between 2014 and 2018, before leaving to take a role in private industry.

Dame Cressida stood down as commissioner in February following a series of scandals.

Sir Mark said he was "deeply honoured" to be appointed as commissioner.

In a statement, he said: "Our mission is to lead the renewal of policing by consent which has been so heavily dented in recent years, as trust and confidence have fallen.

"We will deliver more trust, less crime and high standards for London and beyond, and we will work with London's diverse communities as we together renew the uniquely British invention of 'policing by consent'."

Sir Mark will serve an initial five-year term, with an annual salary of just under £293,000.

In 2018 he was knighted after leading the national police response to the Manchester Arena bombing, the Westminster Bridge attack and the London Bridge attack.

Sir Mark began his police career as a constable in the West Midlands force in 1987, after graduating with a degree in mathematics from Cambridge University.

Between 2008 and 2011, he was the chief constable of Surrey Police, before joining the Met to become the assistant commissioner for specialist crime and operations.

Since leaving the Met Police, Sir Mark worked on security and policy projects including carrying out a review with the Commission for Countering Extremism.

He first applied to be commissioner in 2017, losing out to Dame Cressida.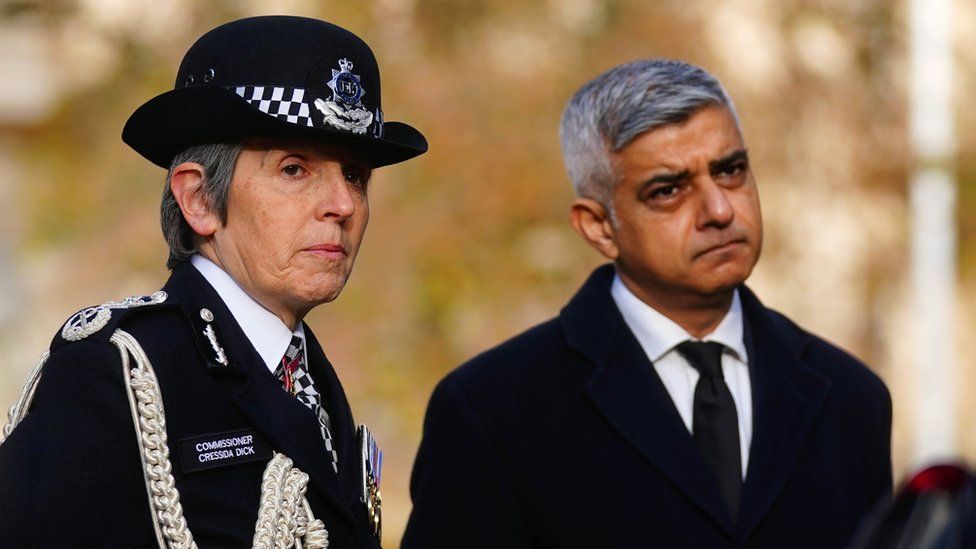 Dame Cressida Dick resigned after Sadiq Khan criticised her handling of racist, misogynist and homophobic messages shared by a group of officers

The Met's first female commissioner resigned five months ago after Mayor of London Sadiq Khan said he had lost confidence in her leadership.

The final months of her tenure were marked by a series of scandals, including the murder of Sarah Everard by a serving policeman and Dame Cressida's handling of racist and homophobic messages shared by a group of officers at Charing Cross police station.


The challenges facing Sir Mark Rowley as the UK's top police officer are enormous. One element of the package, counter-terrorism, will be the easiest for him to return to, thanks to his years of work in that field.

The harder job is rebuilding trust in the Metropolitan Police which has been rocked by a series of scandals.

Like his predecessor, Dame Cressida Dick, he is academically thoughtful about the challenges of modern policing - but one of the key differences between the two of them is that Sir Mark has regularly thought not just about how to police - but how to communicate policing in order to build and maintain trust.

His first priority will be to come up with an action plan to get the force out of a form of special measures imposed by national inspectors of policing standards. That close oversight is known in the jargon as "engage".

But to win the trust of Londoners, Sir Mark knows he will have to find new and more effective ways of engaging with them too.

Home Secretary Priti Patel said of the new appointment: "I look forward to working closely with Sir Mark.

"This will be a challenging period, but with a focus on tackling neighbourhood crime and delivering the basics of policing, Sir Mark is committed to tackling the significant challenges confronting the force and to making London's streets safer by driving down crime and bringing more criminals to justice."

His appointment was broadly welcomed by former Met Det Supt Shabnam Chaudhri, who said Sir Mark had "a mountain to climb" to rebuild trust in the force, but added it was "really good" he had recently been working outside of the Met, which meant he was "completely fresh and untarnished".

Former shadow home secretary Diane Abbott said it was "disappointing that Priti Patel and Sadiq Khan decided to bring back Mark Rowley from retirement".

The Hackney North and Stoke Newington MP said of Sir Mark: "He spent much of his career in the Met. No evidence that he is a reformer. Missed opportunity."
Sir Mark Rowley spoke to BBC Breakfast in April 2022 about the challenges facing police