The owner of a model village has revealed how Banksy used diversion tactics to leave a spray-paint calling card at the venue in secret.
A miniature stable signed by Banksy was placed at Merrivale Model Village in Great Yarmouth, Norfolk, on 6 August.

The tiny shack has since been taken off site to protect it.

But the attraction's owner says Banksy's team has requested it be placed on show for the public, which he will honour.

Frank Newsome said he was in a state of shock after the famed artist confirmed the model stable was one of 10 artworks left in Norfolk and Suffolk during his so-called Great British Spraycation.

"I'd convinced myself it wasn't genuine," he said.

"Now it's worrying me about how to keep it safe."

Security measures, Mr Newsome explained, were in place, and the stable he said he had been keeping in Perspex would be on display on Sunday and then again from Tuesday onwards between 11:00 and 16:00 BST.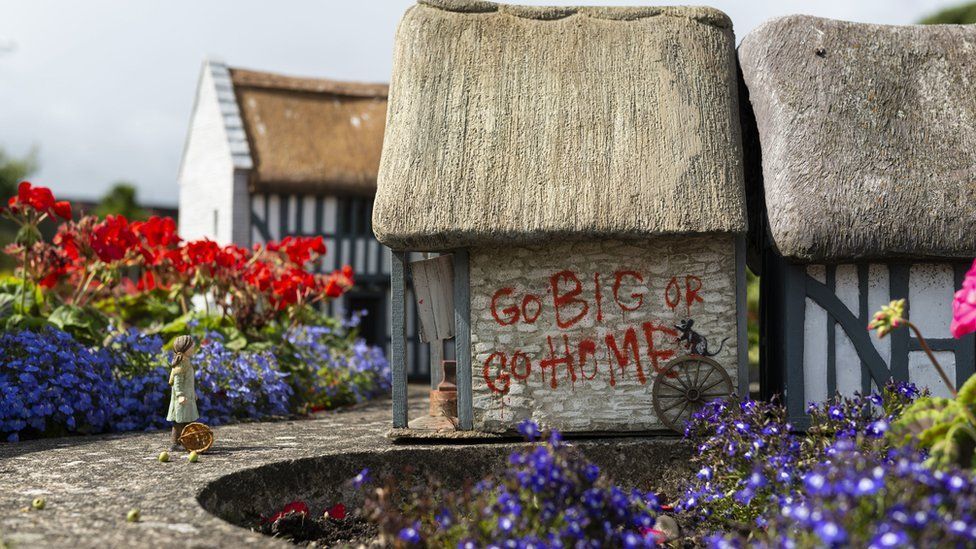 Mr Newsome revealed how the artist's caper got under way when the venue was visited last week by a group of people who refused to have their photograph taken as part of the ticket system.

"One lady got talking to a member of staff and asked to see the model repair room and that got [the employee] out the way," he explained.

"Then some other guys set up a drone and the staff asked them to take it down and they said they wouldn't, then that got the attention of everyone.

"It was a diversion tactic, they hid in plain site, but apparently that's what Banksy does.

"He is so clever. He had everything planned to a tee."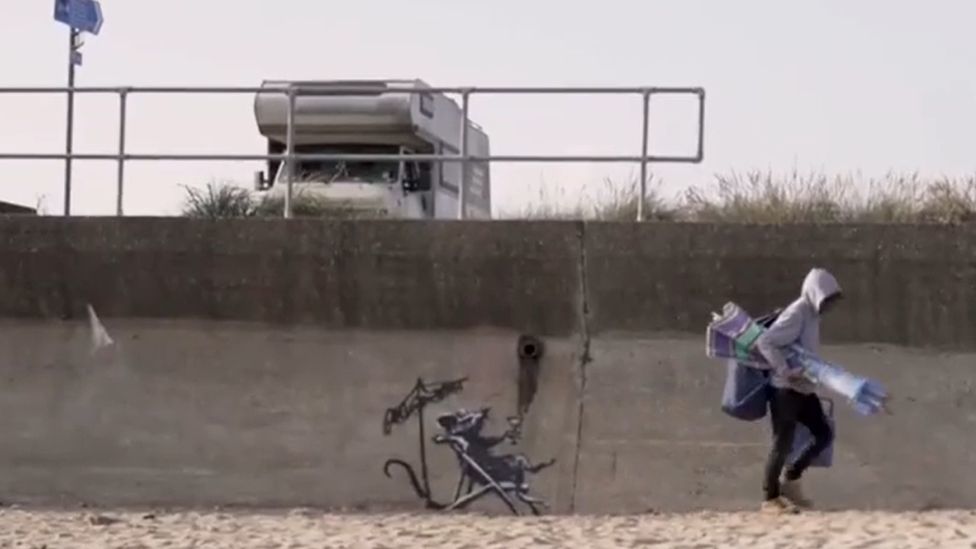 Prof Paul Gough, principal and vice chancellor of Arts University Bournemouth, said Mr Newsome and other owners of locations decorated by Banksy would come under "a lot of pressure" to sell the artworks.

"All sorts of private organisations will be offering several hundreds of thousands of pounds and some people do hold off but some can't withstand that pressure for very long," he said.

Mr Newsome said in the short-term he wanted to keep the model "as it was intended - for the public to enjoy and appreciate".

He added: "But in the long-term we've got to make the right decision, we don't want to jump into anything.

"We are a family business and we will need to sit down together about it."