Paul McCartney's daughter talks to us about her documentary charting the history of the world-famous music studios
The only time I have previously had the privilege of strolling across the most famous zebra crossing in the world and into the most famous studio in the world, it felt like stepping into a museum: to the extent that they even had the original, stand-up sixties ashtrays set up in Studio Two. Ashtrays into which john Lennon and Paul McCartney would once – well, more than once – have tapped their Gauloises Bleus while recording with the Beatles.

"They will have them here, but they're not in the studio," smiles Mary, the daughter of the latter, sat in the Gatehouse Room of Abbey Road – the studio about which she has made a documentary –when I ask her if this is still the case. "They're probably trying to discourage people lighting up in the studio these days."

This is understandable because although it has been open since 1931 – having originally been built as a nine-bedroom Georgian townhouse in 1831 – Abbey Road is still a studio that is in full time use. "So many people have passed through here and made such significant pieces of music," says the singer Celeste, who walked through its famous doors for the first time last year, "and that encourages you to elevate your performance."

View of Studio 1 in Abbey Road Studios
This quote comes from one of the many gushing interviews McCartney has squeezed into the 90 minutes of If These Walls Could Sing, which charts the history of Abbey Road. She's also bagged chats with – deep breath – Elton John, Kate Bush, Liam and Noel Gallagher (not together, sadly), Roger Waters and Dave Gilmour (ditto), Cliff Richard, Kanye West (yes yes, we'll get there), Jimmy Page, Ringo Starr and – of course – her father, who even busts out a bit of Blackbird on the acoustic guitar, his foot tapping on a piece of cloth just as it did when he originally recorded it, archive footage of which his daughter cuts to as he plays.
"I was like, 'Look, your guitar's here and I'm going to ask about Blackbird and if you feel like it, just pick it up and play it. But you don't have to'," she says. "I had no guarantee it was going to happen. It just shows: one thing I've learnt over the years is that if you say to the Beatles or my dad, 'You can't do something', then this glint comes into their eye. You can tell that's why they were so innovative. They're like, if you say we can't do it then we're definitely interested in doing that now."
I wonder if she gets as awestruck as anyone else would seeing a Beatle replicate such a famous Beatles moment, exactly as it was, just a few feet away from her, or whether it's just… dad? "It's funny, it's sort of two things. Sometimes, like if it's at home, it's just more kind of normal. But I have to say, people laugh at me because when I've seen him perform live they'll ask, 'How was the gig?' and I'm like, 'Oh my goodness, it was amazing, he's so amazing live,' and I kind of am removed. Like, 'Wow, what a performer.'"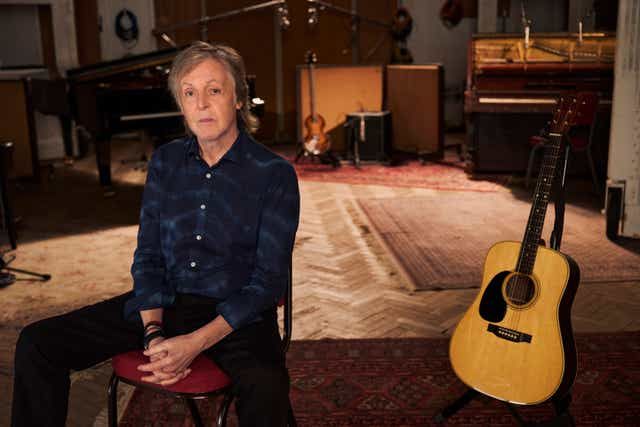 Paul McCartney in Studio 2

McCartney has herself spent a great deal of time in Abbey Road: as evidenced by the photo of her as a baby crawling over the floor of studio two that pops up in the first few minutes of her documentary. "I hadn't seen that picture before," she says. "Someone from dad's archive sent that and I was like, 'Wow, I really have been here a long time."

How long, exactly? When is the first time she can remember? "I imagine I was around five, walking over – because we lived nearby – coming over when mum and dad were recording in Wings. But being that age… I was small and looking at things from a much lower perspective, so I remember Studio Two feeling quite vast. And then going into the canteen and just eating as many snacks as I could."

Given that they spent so much time there – and immortalised it in the title of the last album they recorded together – the Beatles feature heavily in the film. But McCartney, was, she says, conscious of not "swamping the documentary" with her father's old band. And she has done a fine job.

She has, for example, varying recollections from the Gallagher brothers as to whether or not they were thrown out of the studio for bad behaviour during their hedonistic mid-Nineties pomp ("I liked the fact that they slightly contradict each other. It sort of seems their relationship, they're always going to challenge each other"); some quite breathtaking footage of John Williams recording the Star Wars theme with a full orchestra ("Meeting him was a bit like the feeling of walking into Abbey Road: just this aura of magic and creativity around him"); Kate Bush actually speaking in public ('It's so great to hear her, isn't it?').

In fact, the only musician she wanted to get but didn't was Frank Ocean. "He recorded Blonde here,' she says. "He sampled a Beatles track on it as well, so I thought it would have been a really nice addition. But I understand it. He famously doesn't really do interviews, so I wasn't expecting him to."

She did, however, get Kanye West, who features heavily in a section about his Late Orchestration live album from 2006 that, for obvious reasons, now feels more than a tiny bit uncomfortable. I wonder whether she considered editing him out? And if not, how she feels about having him in the film, post antisemitic outbursts?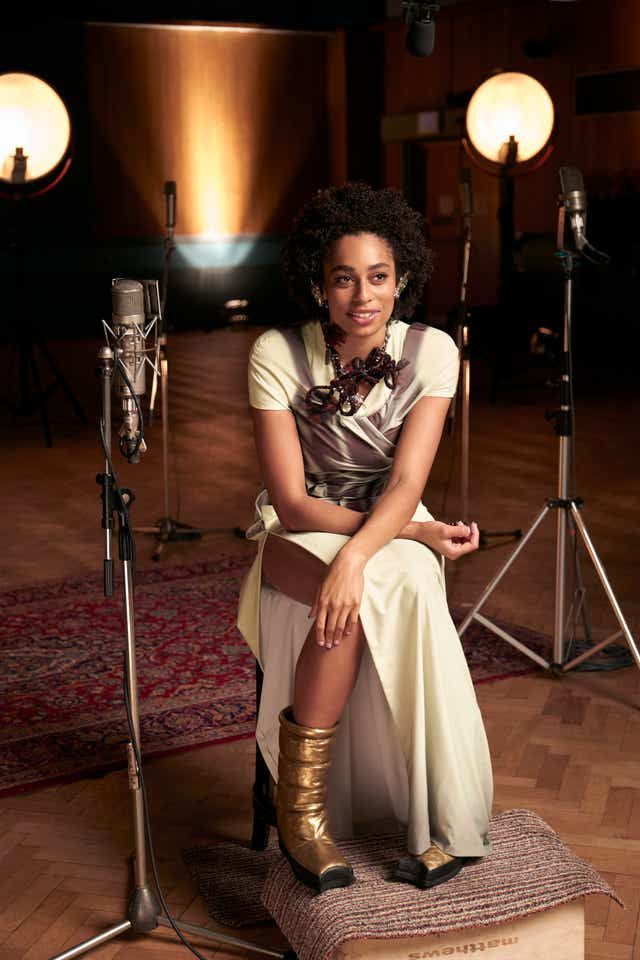 Celeste in Studio 2
"Well, I'm upset by what he's saying now, because I'm vehemently against any kind of inciting any kind of hatred or antisemitism or racism," she says, firmly. "It is upsetting. When I made the documentary – because obviously it was locked and finished quite a while ago – he hadn't started saying these things.
"I've thought about it a lot since then," she continues, "and the interview that's in the documentary is very much of the time when he recorded the album. It's very much him speaking eloquently about the studio and music and creativity. So I think it works. It shows the range of music that has been recorded here. The interview is very much of a time in the past and I think that really comes across to the viewer. It was important to include it at the time."

It's true that the segment nicely bridges the gap between the Abbey Road of the past, the Abbey Road of the present and – hopefully – the Abbey Road of the future. It may be staggering to learn that, at some point in the Eighties, there were plans to demolish it and make way for a car park. But the truth is that, in 2022, you can record studio quality albums in your bedroom and, for many ostensibly successful artists cashing cheques from Spotify worth mere pennies, stepping into the hallowed confines of Studio Two for weeks at a time likely remains an impossibility.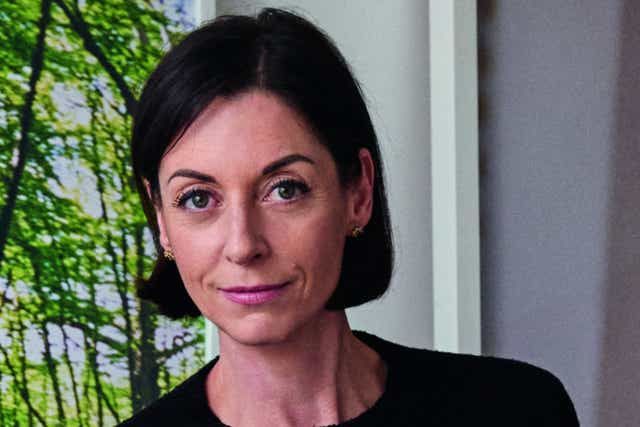 Mary McCartney
Abbey Road are aware of this. The Gatehouse, where McCartney is currently sitting, is one of two ultra-modern, smaller studios opened in 2017 and aimed squarely at younger musicians. And the director of If These Walls Could Sing, meanwhile, takes great comfort from the fact that it was "actually was challenging for me to get the studio space booked."

During all her interviews she did in fact, she says, "ask, 'Why is there a place for a recording studio like Abbey Road?' And it comes down to the fact that, yes, you can record anywhere with technology now – in your bedroom or wherever you want – but ultimately to come somewhere, close the door, shut out the outside world and be in a studio where you can just fully focus on creating, I think that's the reason Abbey Road is so important."