People's inability to afford essential hygiene products is leaving many too ashamed to go to work, a charity says.
A report suggests 3.2 million UK adults are affected by so-called hygiene poverty - with 12% saying they have avoided facing colleagues as a result.

Their struggle to buy basic items such as soap and deodorant is having a devastating effect on their daily lives, it says.

Hygiene Bank chief executive Ruth Brock said it was a "hidden crisis".

"It's much more widespread than we feared, it's increasing, and it's disproportionately impacting the most vulnerable," she said.

Hygiene Bank works to supply food banks, homeless shelters, schools, and other organisations with items including toothpaste, shampoo, soap, deodorant, nappies, period products and laundry detergent.

The charity began in 2018 after founder Lizzy Hall saw the Ken Loach-directed film I, Daniel Blake, which features a scene where a struggling single mother is caught shoplifting sanitary products.

"I think it just doesn't occur to people in the same way that fuel and food poverty do," said Ms Brock.

"But the truth is by the time you're not switching on your heating or you're going to a food bank for food essentials, you've stopped buying essential hygiene products weeks before."

The charity says a survey it carried out with nearly 2,200 people, in partnership with polling company YouGov, suggests the numbers impacted by hygiene poverty equated to 6% of all UK adults, rising to 13% from lower-income households and 21% of disabled people.

Those experiencing hygiene poverty were most likely to go without shaving products, laundry detergent, household cleaning items, and deodorant, the survey found. A quarter of respondents said they had gone without toilet paper or soap or shower gel, while three in ten women did not buy period products.

Speaking to the BBC, one woman who did not want to be named, said the only supermarket she has within walking distance has removed its own-brand sanitary products - meaning that she is either having to pay "many times more" for premium products or is having to go without as she can't afford to travel to a shop further away.

Another woman the charity has worked with, a single mum-of-two named Elaine, described diluting products to make them last longer and tying up her hair in a certain way to hide the fact she often had not washed it for weeks at a time.

She also suffers bouts of acne from being unable to wash her face and feels the need to keep a distance from people for fear that she smells.

Another person said an inability to keep themselves clean had impacted their confidence so much they had begun avoiding social contact, including by not answering their phone.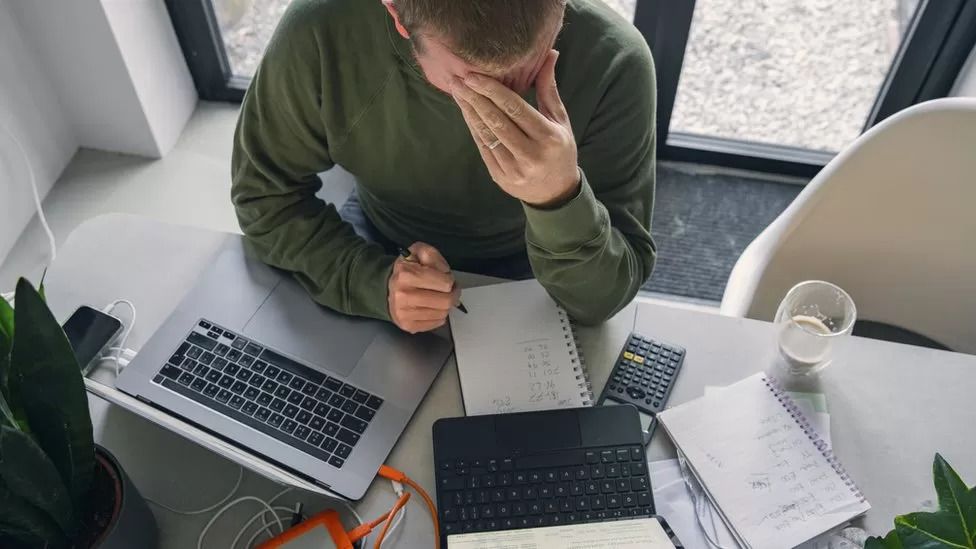 Recent months have seen the cost of living surge

Hygiene Bank's Ruth Brock said that such accounts may "seem counterintuitive" to some people, and added: "But it's so insidious, you kind of cut yourself off."

The report found that 62% of people experiencing hygiene poverty with dependent children said they have had to choose between buying products for themselves or their children.

"Let's face it, who's going to come first in that scenario?" said Ms Brock.

"This is why we have mums telling us about being ashamed to leave the house and not seeing anyone for weeks on end. And mums telling us that they want to be last at the nursery drop off. Because they're too embarrassed and ashamed to see other parents."

She said Hygiene Bank was able to give the children of one family their own toothbrushes for the first time, and they were so happy they had taken them to bed as if they were new toys.

The data in the report draws on surveys conducted between October 2021 and February 2022, before the recent surge in the cost of living, meaning the pressures described are now likely to be even worse, says the charity.

Data from the Office for National Statistics shows that the price of shampoo has increased by 8% just in the last year, while shower gel is up by 11%.

The price of toothpaste has risen 6%, and the price of deodorant is up 5%.

One student, named as Adam, was a college student whose attendance had fallen to 18%, in part because he could not afford basic hygiene products, and whose grades were suffering as a result.

His support worker approached Hygiene Bank in the summer of 2020 and they were able to provide deodorant and shampoo. Adam's attendance rose to 100%, and he is now attending university.

"Hygiene is important enough," says Ms Brock. "But the follow-on effects of making that change for people also mean that they can then start to access their life chances."