A co-pilot helped load luggage on to a 32-hour delayed flight to ensure it was finally able to take off.
Passenger Jenny Cook said the co-pilot, called Simon, was cheered by grateful passengers on the Tui flight to Crete from Manchester Airport on Monday.

He was described as a "legend" by passengers for his "heroic" actions.

Manchester Airport has once again been hit by travel chaos with passengers facing long queues amid cancellations and delays.

Tui has yet to comment on the co-pilot's actions but it has announced it will cancel six flights a day until the end of June "to provide stability and a better customer service".

Mrs Cook, from Warrington, Cheshire, said the pilot on the flight, which was due to depart at 07.55 GMT on Sunday, told passengers they were doing all they could to get the flight in the air but they only had a 40-minute window.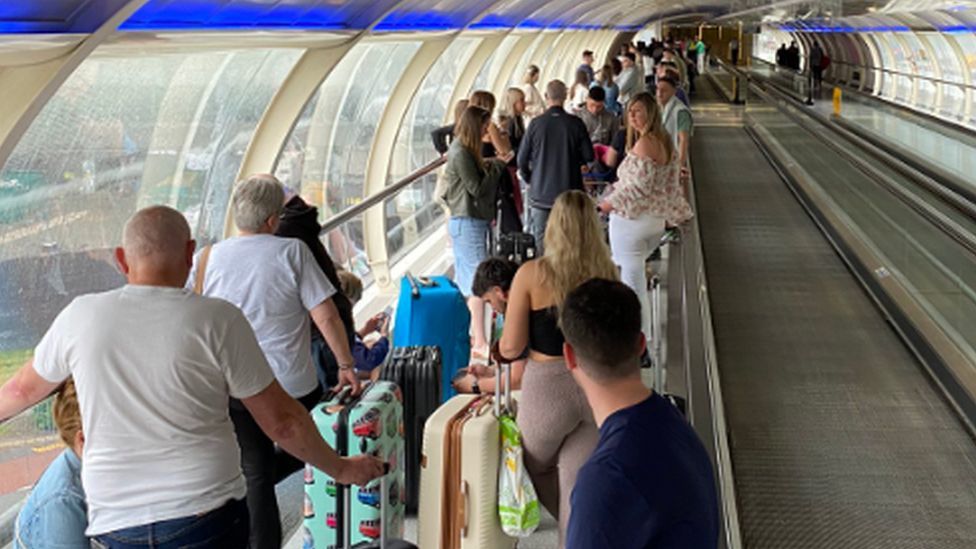 Passengers had to queue for hours on the bridge connecting terminals at Manchester airport

"He said 'even my co-pilot is loading bags' so we looked out of the window and there he was," she said.
"The next thing we knew we were taxing to the runway. We were all cheering.

"Simon had gone above and beyond."

Mrs Cook is now enjoying her holiday in Greece with her husband and daughters, which she said was partly thanks to Simon.

She added: "As a HR director, employee recognition is key, after all the negative press Tui has had recently and the journey we had been on, we were all taken aback on what Simon had done.

"I think Tui need to do something to recognise Simon."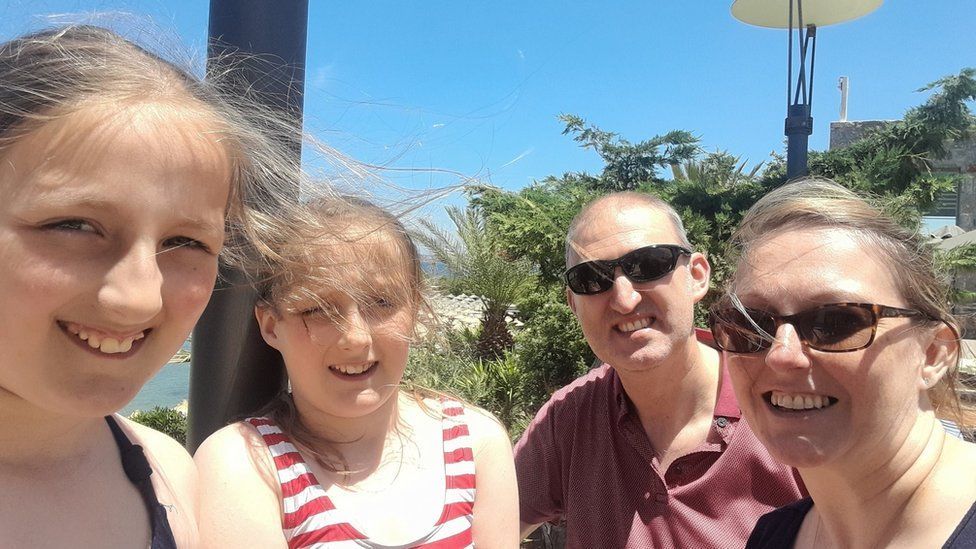 Jenny Cook (right) said the family are now finally enjoying their holiday thanks to the co-pilot

Katherine Cox, from Warrington, who was also on the delayed flight, said: "The crew and pilot on the flight were amazing", adding Simon was the "hero of our holiday".

If it was not for "Simon's heroics we would have missed our air traffic control slot", she added.

Manchester Airport said Tui and Swissport, which provides ground services such as baggage handling, "are experiencing temporary staff shortages, in common with other aviation and travel companies".

A Tui spokeswoman said the firm was aware of videos "showing one of our amazing Tui pilots supporting our operation by loading bags on to one of our aircraft bound for Crete from Manchester".

"Whilst not something our pilots would normally do, this video is one example of the incredible dedication of Tui colleagues who are doing everything they can to get customers away on their holidays," she said.

"We can't thank him enough for his swift and decisive actions."

A spokesperson from Swissport apologised for its part in the delays and disruption.

"We're doing everything we can to address our role in meeting our resource challenges, welcoming over 2,000 new colleagues since the start of the year, and we continue to work with our partners to identify contingency measures and improve baggage and aircraft turnaround times."
Despite a 32-hour delay, the flight crew faced a race against time to leave Manchester Airport