A man has been hit by a car at a pedestrian crossing which campaigners have described as "lawless".
They estimate that hundreds of motorists have flouted the law by turning left at the junction of Leith Walk and London Road since the rules were changed over a month ago.

The vehicles then illegally travel through a pedestrian crossing.

A campaign by local residents has been backed by TV and radio host and cycling campaigner Jeremy Vine.

City of Edinburgh Council said it was now making changes at the junction in an attempt to make it harder for drivers to ignore the turning ban.

Edward Tissiman is a local resident who walks over the pedestrian crossing on his way to work. He said he had filmed dozens of cars ignoring the signs after nearly being knocked down at the junction.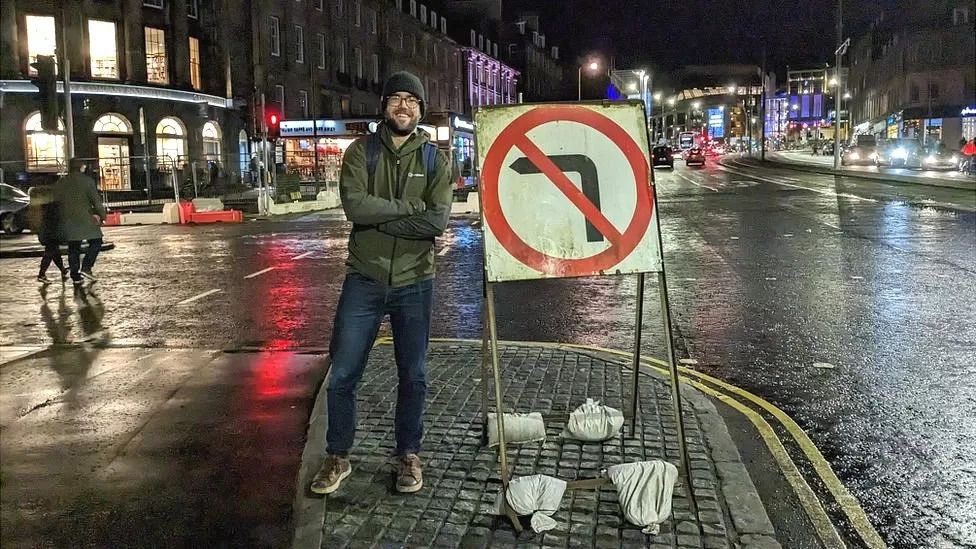 Edward Tissiman says there are nine no turn left signs at the junction of Leith Walk and London Road
The civil servant told BBC Scotland: "I was really shocked and annoyed because you should be able to walk to work without getting knocked over.
"That was a month ago, and ever since I have been pestering the council and police about it to no avail - so that's when I filmed the cars doing it and posted it on Twitter."
The post has now had more than 300,000 views and it has prompted the council and police to hold an emergency meeting.
His post was retweeted by Jeremy Vine, who described the situation as "completely lawless and ridiculous".
"No left turn; these drivers are going when pedestrians have a green man to cross. Nuts."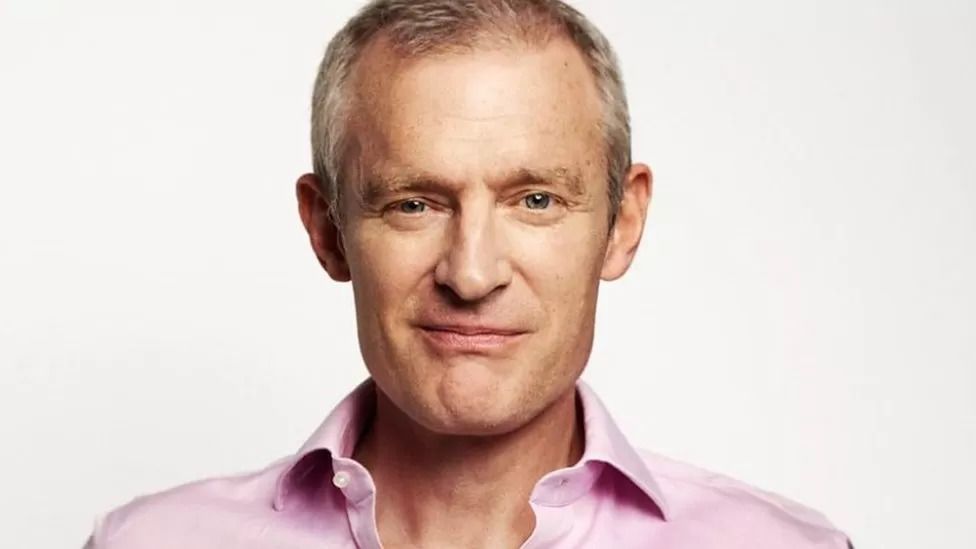 Jeremy Vine is a keen cyclist

Mr Tissiman, 28, said the number of signs at the junction meant there was no reason for motorists to misunderstand.

"While I appreciate drivers get frustrated, you cannot go through a pedestrian crossing, it is lawless," he said.

He said he had spoken to a man who was struck by a car at the junction on Monday evening.

"He told me the car just drove off without checking to see if he was OK," he said.

"Something needs to be done before someone is killed.

"I'm very upset and exasperated about this situation now."

Police Scotland confirmed that officers had received a report of a crash involving a car and a pedestrian on Monday evening.

"There were no injuries reported and the vehicle did not stop at the scene. Inquiries into the circumstances are ongoing," said a spokeswoman.

Scott Arthur, City of Edinburgh Council's transport convener, said he had been down to the site and filmed a motorist driving over the pavement.

He told BBC Scotland: "It was very worrying when I saw her. I could see the driver and her face looked confused.

"She politely put her indicator on as she waited to drive off the pavement onto the road so she knew some of her highway code.

"I'm hoping that was a one-off but it is alarming when you see people driving through the pedestrian crossing."

Mr Arthur said the changes had been designed to improve public transport efficiency and protect pedestrians.

Breaking the law

"These improvements are clearly signed, with seven signs in place on approach.

"Anyone contravening the rules is breaking the law, as well as endangering the safety of themselves and other road users.

"Ignoring the ban on left hand turns is extremely selfish, and I would urge drivers to take heed of the changes and follow alternative routes."

He said the police, the council and the Trams to Newhaven team had considered the issue on Monday.

"They continue to monitor the situation on an ongoing basis and are in the process of installing changes to the junction to make breaking the ban harder," he added.

"They will also optimise the operation of the traffic lights at Picardy Place so that the time to get around the junction and turn right into London Road is as efficient as possible.

"We will continue dialogue with Police Scotland."
Edward Tissiman said he filmed dozens of cars ignoring the no-turn signs after nearly being knocked down at the junction.