Plans to expand London Luton Airport and increase passenger numbers from 18 million to 32 million a year have been submitted.
Luton Rising, the Luton Council company that owns the airport, said it could generate £1.5bn per year and create thousands of new jobs.

But anti-noise campaigners have called the expansion plans "tragic".

An application for a development consent order has been submitted to the government's Planning Inspectorate.

The expansion plans include new terminal capacity, an extension to the current airfield platform and new airside and landside facilities.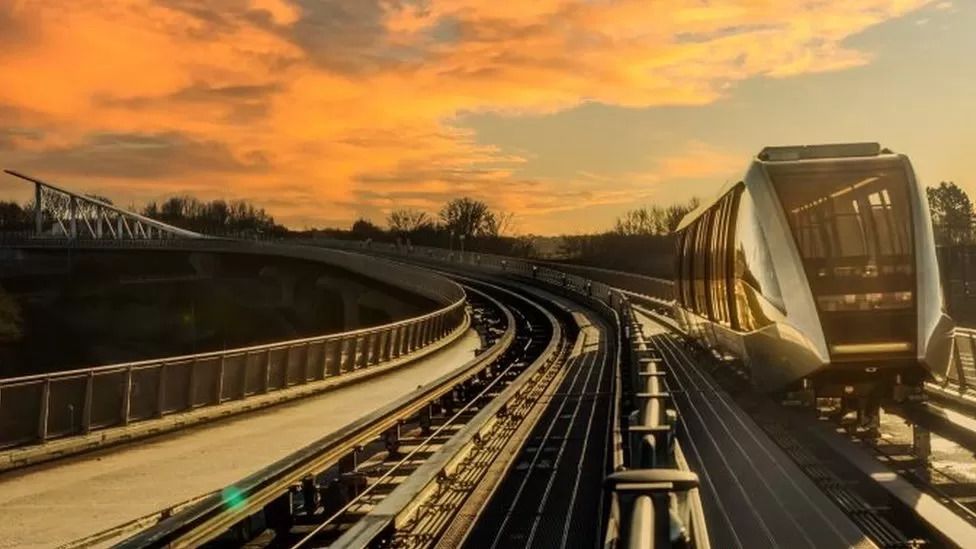 Passengers are due to start using the new DART airport shuttle service in March

A council spokesman said the airport was "one of the largest employers in the area, contributing enormously to the region's economic vibrancy on an annual basis, whilst itself increasing significantly in value as an asset in its own right through successive tranches of investment".

"We anticipate it will provide an additional £14m each year for communities in Luton and the surrounding areas," he said.

"For every additional passenger above the airport's current capacity, it will be able to invest an extra £1 into local communities, helping to tackle deprivation."
'Harm outweighs benefits'

However, Andrew Lambourne, a spokesman for local protest group Luton and District Association for the Control of Aircraft Noise (LADACAN), said: "It's tragic that the councillors who run Luton Rising have been so obsessed with growing the airport they appear to have lost sight of the need for prudence.

"As for the wider area, this proposal would create noise blight across north Hertfordshire, with flights increasingly starting at five in the morning and running on into the early hours, keeping thousands more people awake at night.

"The harms outweigh any possible benefits."

Following the submission of the airport expansion application, the Planning Inspectorate, on behalf of the transport secretary, will have a 28-day period to decide whether or not the application meets the standards required to be accepted for examination, or if further documentation is needed.