Bromley joins other Tory-run councils Bexley, Harrow and Hillingdon to 'examine the legal basis' of the plan
Sadiq Khan is facing a legal fight over the expansion of the Ultra Low Admission Zone as London's "donut boroughs" revolted against the plan.

The Mayor's flagship policy to clean up toxic air is being challenged by the ring of councils surrounding the capital and due to be added to the zone from August 29.

Under the scheme drivers of older or more polluting cars will have to pay £12.50 a day to use their vehicles.

But Bromley council leader Colin Smith said his borough had teamed up with other Tory-run councils Bexley, Harrow and Hillingdon to "examine the legal basis" of the plan.

They were looking at how best to serve the Mayor's office with an official letter "seeking further information to demonstrate the lawfulness of the decision".

Harrow, Hillingdon, Croydon, Sutton, Bromley, Bexley, Havering and Kingston have all expressed they are willing to fight City Hall over the Ulez.
City Hall immediately hit back, insisting the Mayor is "committed to doing all he can to build a greener, safer London for everyone."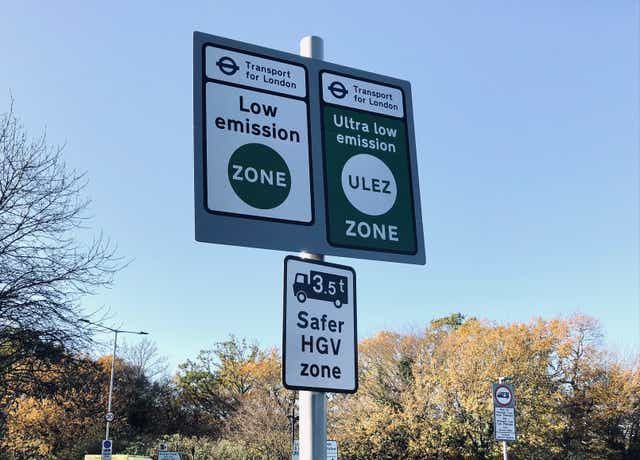 Air supply: The Ulez will expand across Greater London on August 29, 2023
Mr Khan said he was "confident" the expansion would proceed on August 29.
He said it was a "critical step" in tackling the "triple challenges" of air pollution, climate change and congestion.
"We cannot delay. Londoners' lives depend on urgent action to clean up the air," he told Mayor's Question Time.
Expanding the scheme to the suburbs requires installing 2,750 enforcement cameras that read number plates to check non-compliant vehicles.
Sutton and Harrow, this week confirmed they will refuse to sign the "section 8" agreements to allow TfL to install the cameras on roads under council control, which could delay the rollout.
Others are pushing for more time to allow all residents to upgrade their cars to be compliant, arguing outer boroughs have better air quality than some central London areas added to the Ulez in 2019.
Mr Khan has doubled down on his ambition to install cameras even if authorities oppose it. Conservative GLA member Nick Rogers asked the mayor during Question Time: "Would TfL use reserve powers and enforce ULEZ infrastructure onto borough roads against their will?" Mr Khan responded: "TfL will explore all avenues open to them. I do not want to be taken into hypotheticals. TfL is speaking to all boroughs and I hope that leads to a resolution."
Kingston and Surbiton MP Sir Ed Davey said: "Pushing through Ulez without a proper car scrappage scheme or investment in public transport is frankly reckless, especially in the middle of a cost of living crisis.
"I'm particularly worried about people who are strapped for cash already and many elderly and vulnerable people who will find it very difficult to switch cars.
"The case for a delay to sort out such problems is overwhelming."
The Mayor is providing £110m in funding for a new scrappage scheme for Londoners on certain means-tested benefits, disability benefits as well as registered micro-businesses, sole traders and charities.
Independent-run Havering council said it was working with other boroughs on challenging the scheme.
Leader Ray Morgon said: "We have had meetings with TfL [and] are currently in contact with other London councils who oppose the Ulez expansion to understand specifically how they intend to block or challenge the Mayor's decision, along with carrying out our own research."
Mayor of Croydon Jason Perry said City Hall's Integrated Impact Assessment "concludes that the air quality improvements in Croydon from extending Ulez are very small".
"The Council have submitted a detailed response to the TfL consultation making the case against expansion," he added.
Prime Minister Rishi Sunak yesterday urged the Mayor to "properly reconsider" the plans in response to a question from Ruislip, Northwood and Pinner MP David Simmonds .
Labour-run town halls in the capital's suburbs have been more enthusiastic about the scheme.
But several Tory parliamentary seats in the areas impacted, including Chipping Barnet, Finchley and
Boris Johnson
's seat in Uxbridge and South Ruislip, are key Labour targets at the next election.
Sources told the Standard that Mr Khan will likely come under pressure from MPs and candidates over the expansion before the next general election.
Labour-run Enfield council refused to comment, but admitted it had signed the Section 8 agreement authorising TfL to work on its road network.
Waltham Forest deputy leader Clyde Loakes said the town hall had "long argued that the Ulez should encompass all of London".
Chair of Barnet Council's environment and climate change committee Alan Schneiderman, said: "Poor air quality is a major threat to public health.
"The Mayor's decision to extend the Ulez London-wide will help to combat this."
Conservatives in City Hall have accused Mr Khan of providing "false and misleading" information over the expansion plans.
They allege City Hall officials tried to "manipulate" the consultation process to show residents were more in favour of the Ulez than they actually were.
City Hall said the suggestion is "simply untrue".
Asked at Mayor's Question Time whether TfL would use its "reserve powers" to impose cameras on the boroughs, Mr Khan said: "TfL will explore all avenues open to them. TfL is speaking to all boroughs and I'm hoping it will lead to a resolution."
He said Bromley had the highest number of premature deaths from the consequences of air pollution – 204 – followed by 162 in Bexley, 105 in Hillingdon and 118 in Harrow.
A spokesman for the Mayor added: "Around 4,000 Londoners die prematurely each year due to the toxic air in our city with the greatest number of deaths attributable to air pollution in London's outer boroughs.
"The Mayor is committed to doing all he can to build a greener, safer London for everyone.
"He has listened to Londoners throughout this process, which is why he's announced the biggest scrappage scheme yet."