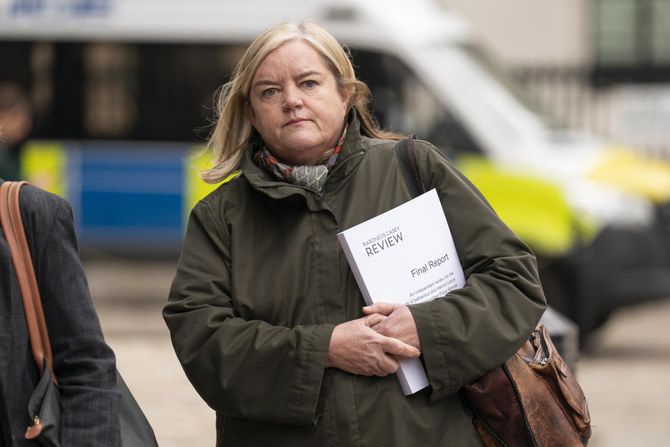 London police force racist, misogynist and homophobic: report
The London police forces, Britain's largest, is institutionally racist, misogynist and homophobic and could still be employing rapists and murderers, a scathing independent review said Tuesday.
The report, written by government official Louise Casey, was commissioned after the kidnap, rape and murder two years ago of a London woman, Sarah Everard, by serving Metropolitan Police officer Wayne Couzens.

But since then, another officer, David Carrick, was also jailed for life for dozens of rapes and sexual assaults stretching back two decades, and several other Met scandals have emerged.

Casey found the shocking crimes had been perpetrated in a pervasive culture of "deep-seated homophobia" and predatory behavior, in which female officers and staff "routinely face sexism and misogyny."

Officers from minorities suffer widespread bullying, while violence against women and girls in the majority white and male force has not been treated seriously enough, she concluded.

Asked if there could be more officers like Couzens and Carrick — who at one point served in the same armed unit protecting MPs and foreign diplomats — Casey said: "I cannot sufficiently assure you that that is not the case."

"It is the police's job to keep us safe as the public," she said. "Far too many Londoners have now lost faith in policing to do that."

Casey's findings come nearly 25 years after the Macpherson Report, which probed Met failures after the murder of black teenager Stephen Lawrence in 1993, also found the force institutionally racist and recommended dozens of reforms.

Prime Minister Rishi Sunak said that what was happening inside the Met was "simply shocking and unacceptable" and that "there needs to be a change in culture and leadership."

But he backed its chief Mark Rowley, who was appointed after Cressida Dick was forced out last April, to "restore confidence and trust" through a draft overhaul unveiled in January.

Rowley called Casey's report "a very upsetting read."

"We have a real problem here. We have misogyny, homophobia and racism in the organization and we're going to root it out," he told Sky News.

The report, which identified "systemic and fundamental problems" within the Met including "inadequate management," made 16 recommendations that would constitute a "complete overhaul."

London Mayor Sadiq Khan, who has responsibility for the force and initiated the review, said he expected all of them to be fully implemented quickly.

"It's in all of our interests to make sure that the police service changes, root and branch," he told the BBC.

Failure to reform could mean the force, which polices more than eight million people over 1,605 square kilometers in the British capital, would be broken up, Casey warned.

"The bottom line is this if an organization can't fix itself then there has to be change," she told BBC radio.

But she noted: "The tougher thing is to ask the organization to change its culture and to do a better job."

The Met had failed to protect its female staff and the public from "police perpetrators of domestic abuse, nor those who abuse their position for sexual purposes," her report stated.

"Time and time again, those complaining are not believed or supported. They are treated badly, or face counter-claims from those they have accused," it said.

The 363-page review also said an "absence of vigilance" meant that "predatory and unacceptable behavior has been allowed to flourish."

Racism also exists within the force, with discrimination "often ignored" and complaints "likely to be turned against Black, Asian and ethnic minority officers."

The Met's investigations of crimes was also criticized, with the review saying that the force relied on "over-stuffed, dilapidated or broken fridges and freezers" to store forensic evidence.

A lunchbox was found in the same fridge as forensic samples in rape cases, and some appliances were so full they were strapped shut.

One fridge broke down, meaning the evidence inside could no longer be used, the report found.