A Spiderman, Shrek and a red postbox featuring the King's new cypher were among the fancy dress costumes donned by some of the thousands who took part in the London Marathon this year.
Whether as a personal challenge or for charity, runners wore colourful, large, and occasionally furry costumes as they ran the 26.2-mile (42km) course.

More than 40,000 runners took on the race from Greenwich to The Mall.

It is the third time the event is being held in October.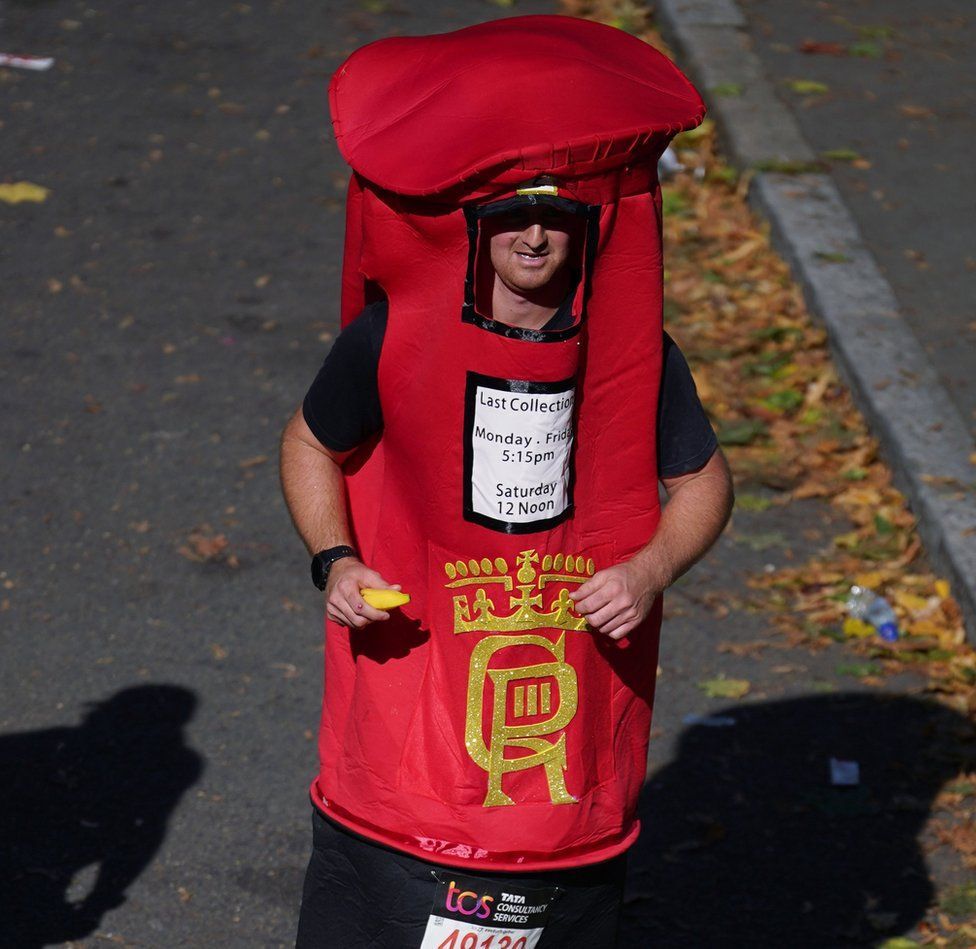 A man took on the race wearing a bright red postbox featuring the King's new cypher

The race moved from its traditional spring spot due to the coronavirus pandemic, but will return in April next year.

The event, which is in its 42nd year, was started by Lionesses Leah Williamson, Ellen White and Jill Scott, from England's Women's Euro 2022 team.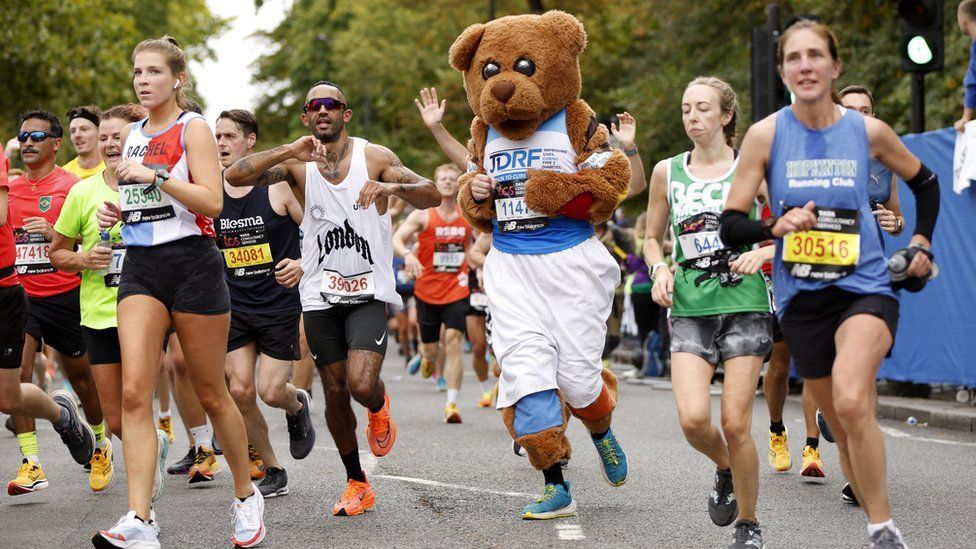 Runners in an array of colourful costumes are taking part in this year's race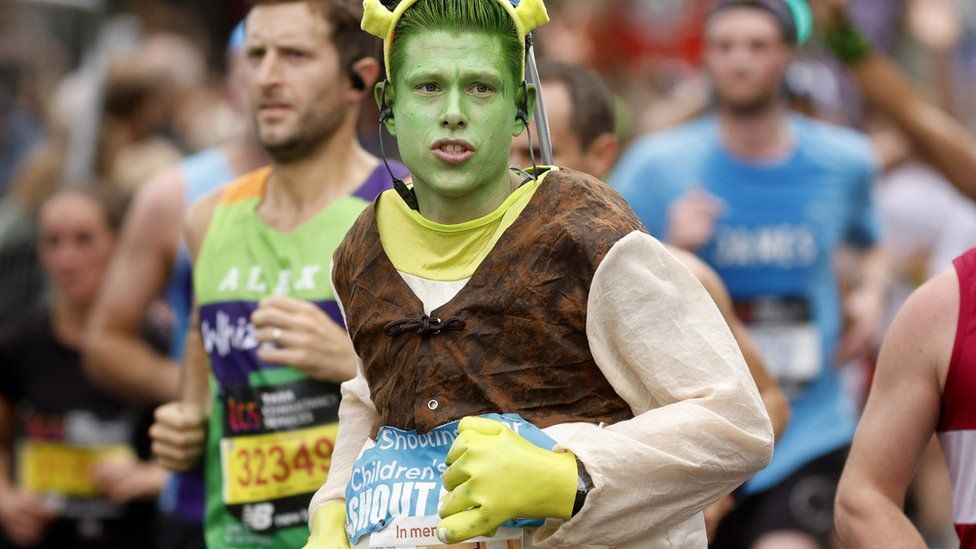 A runner dressed up as Shrek for the race

Williamson sounded the buzzer for the wheelchair races to begin at about 08:50 BST, while White started the women's elite race at 09:00 and Scott pressed the buzzer to send the elite men and everyone else across the start line by 10:00.

Among the famous faces who took part, were actors Cynthia Erivo and Stephen Mangan and reality TV star turned presenter Mark Wright, who was forced to drop out last year due to injury.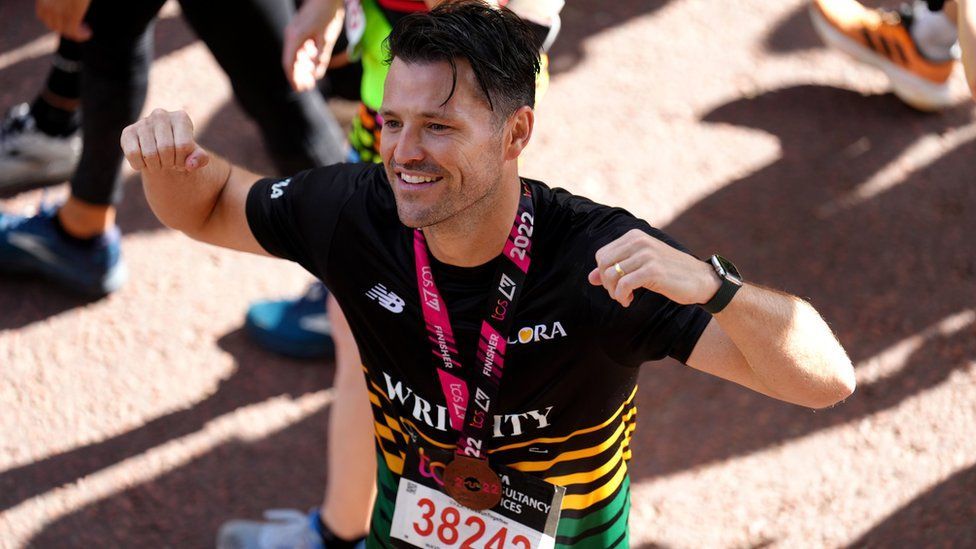 TV star Mark Wright finished his first ever London Marathon

Sir Mo Farah was due to run but had to pull out earlier in the week through injury.

The runners were cheered on by thousands of people who lined the streets to offer water, food, or just shouts of encouragement.

Costumes were not a deterrent for those determined to complete the race.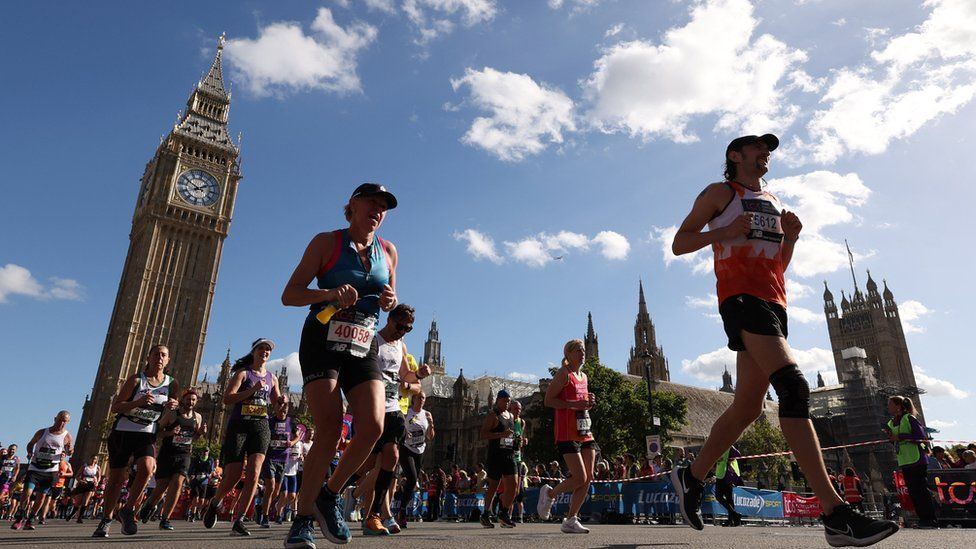 The sun came out as participants ran past Big Ben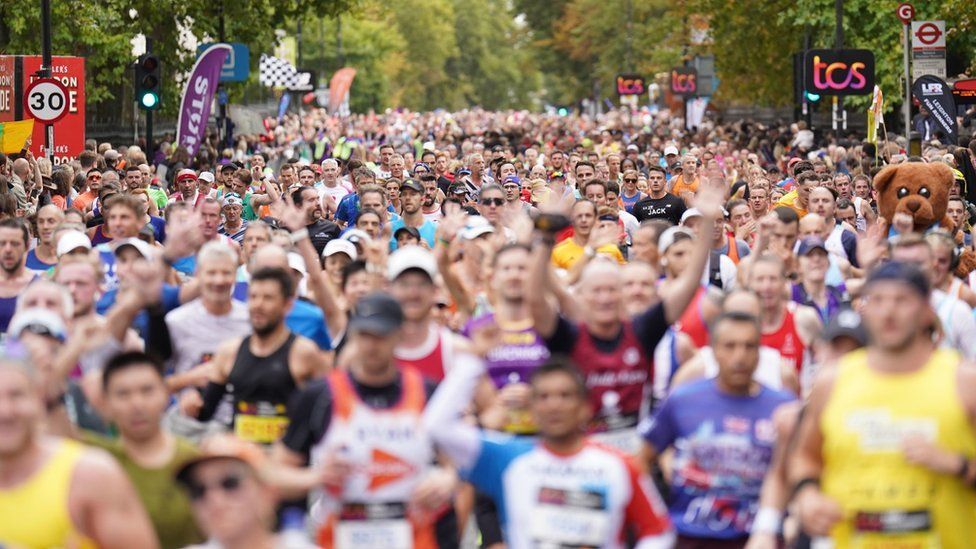 This year's race is taking place in October for the third and final time, after it was moved in 2020 due to the Covid-19 pandemic

The men's wheelchair title was retained by Switzerland's Marcel Hug in a course record time of one hour, 24 minutes and 38 seconds.

He won a sprint finish against American Daniel Romanchuk with Britain's David Weir, in his 23rd London Marathon, coming home in third.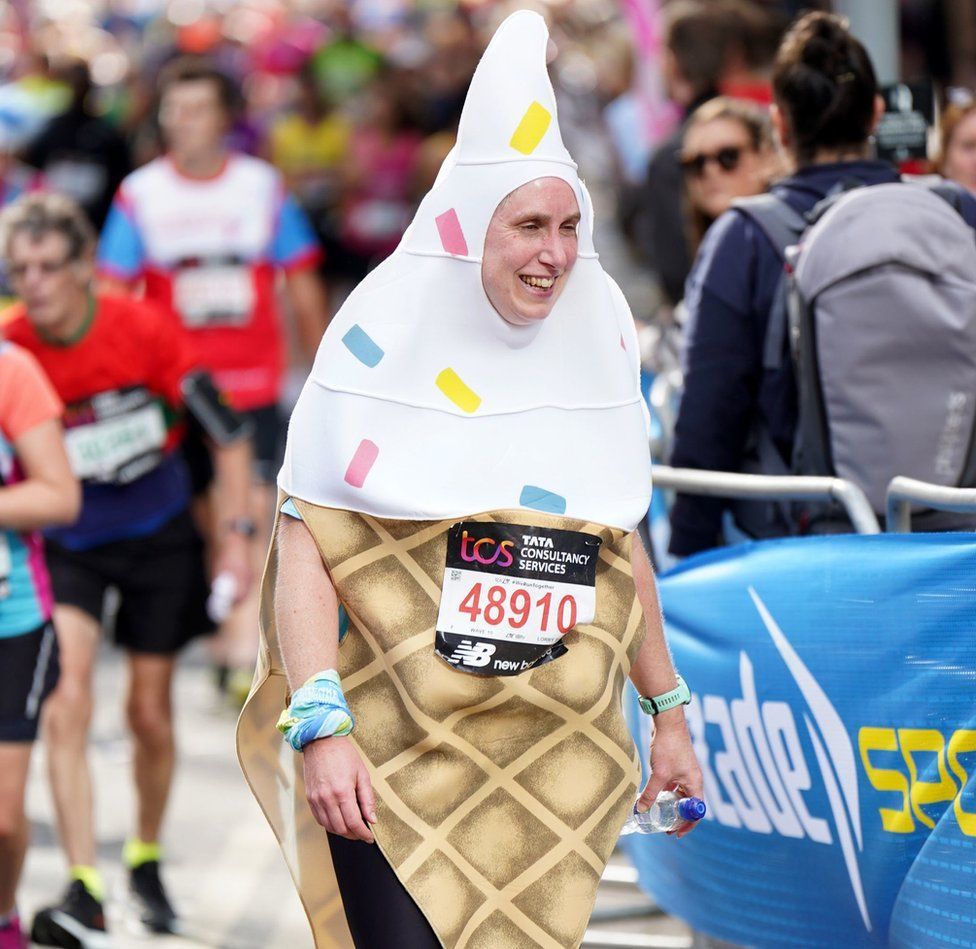 England's David Weir was interviewed after finishing third in the men's wheelchair race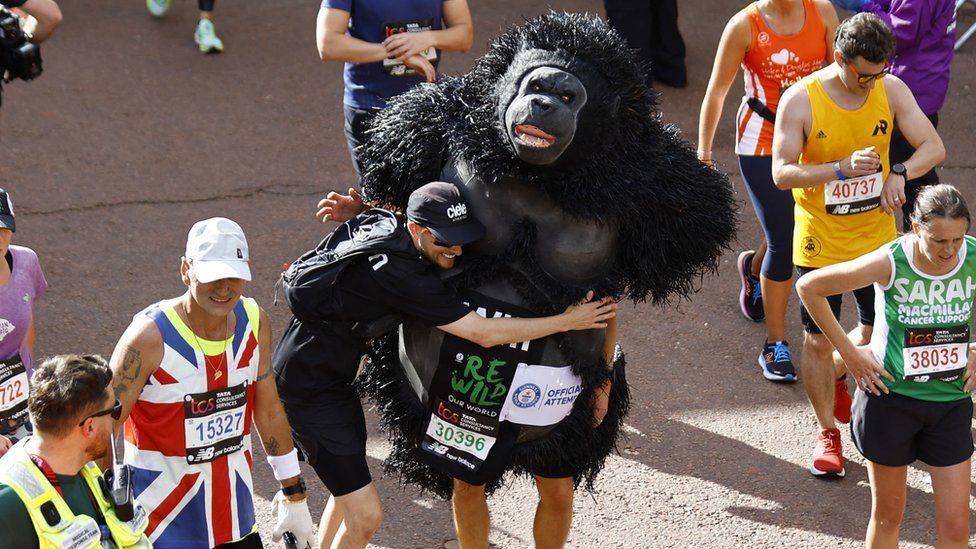 There was no monkeying around for this runner...

Mayor of London Sadiq Khan said: "I want to applaud everyone running today. Having taken part myself in 2014, I know how incredibly challenging and rewarding it can be.

"It's amazing to see tens of thousands of people taking to the streets of London to support good causes."

Catherine Debrunner made it a Swiss double with victory in the women's wheelchair race in one hour, 38 minutes and 24 seconds.

Eden Rainbow-Cooper, 21, claimed another third place for Britain behind Susannah Scaroni of the USA.

Ethiopia's Yalemzerf Yehualaw won the women's race in 2 hours, 17 minutes and 25 seconds, while Kenyan Amos Kipruto won the men's race in two hours, four minutes and 39 seconds.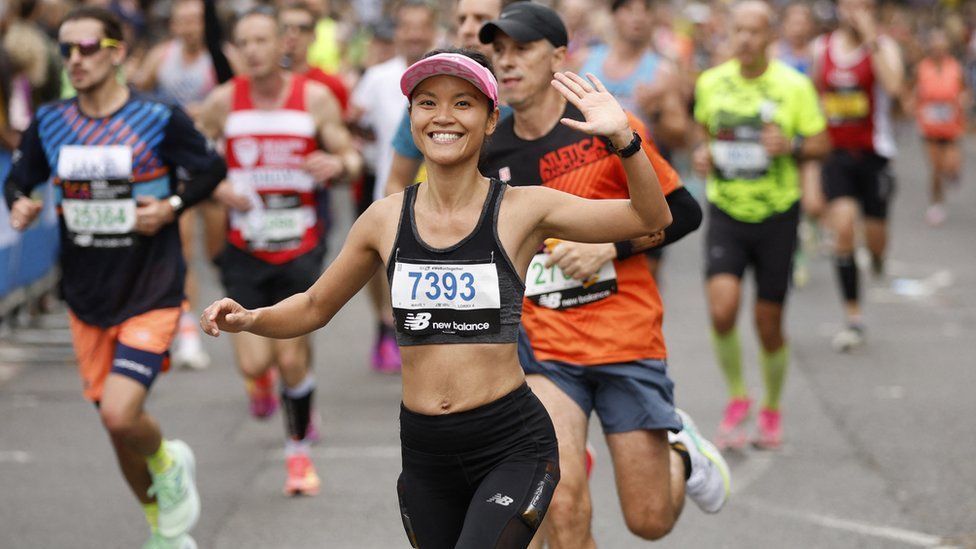 Some 40,000 people took part
London Marathon: Meet the supporters