If you've ever had a weird relationship with your boobs, new podcast Boobshare might change that
"What do you mean I'm a double FF? I'm only 11!"

The Marks & Spencer bra fitter stared back at me pretty emotionlessly. I didn't quite know how to feel. Well, I did. I felt many things: shocked, ashamed, confused - and I swiftly came to the conclusion that I was a circus freak.

This was only exacerbated by my flatter-chested classmates, who would bombard me with questions, like "Does your back hurt?" or "They are massive, I've only seen ones like that on telly, can I touch them?"

I'm a petite woman. My body and frame was, and still is, small. I knew I was a child and felt very much like one, but somehow and almost instantly, I knew I wasn't allowed to be one anymore. I possessed something that could be deemed objectively desirable by people decades older than me. I become hypervisible.

This led to an internalised fear around the way I looked - I was conscious of my boobs come across as 'threatening' or 'overwhelming', so wanted to mitigate their existence as much as possible. I would go into my dad's wardrobe and find the biggest, baggiest hoodies. I'd take group photos with my arm firmly across my chest. I wanted somehow to squash them, or distract people with my best smile - anything to disguise them; anything to feel like they didn't exist.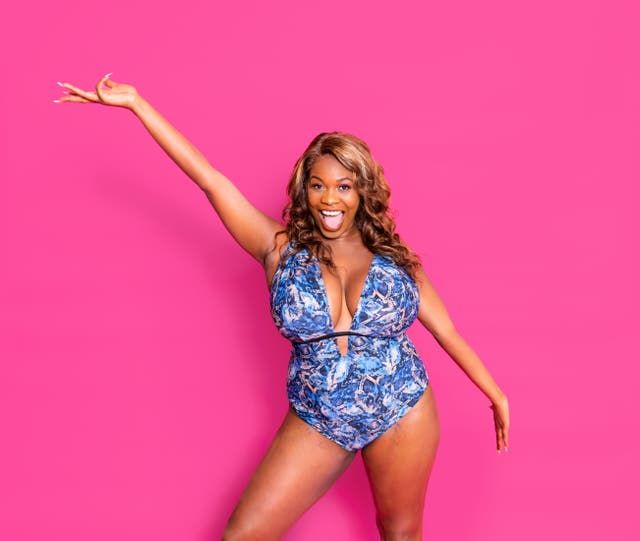 Adedeji took a long time to be comfortable with her own boobs

In Britain, we have historically had a fairly comical relationship with boobs. They're the butt of a joke first, and sexy second. I mean, no one thought Page 3 girls were truly offering insights on the current political climate. Whether it was Geri Halliwell's nip slip at the 1997 Brits or the more intentional Carry On reveals from the late and great Barbara Windsor, having tits instantly became comedy. That meant that from the age of 11, I became something to laugh at.

I was given names such as "Bazookas", "Jackie big tits" (Thank you, The Kooks), or was shouted at by men in passing cars to "Get them out for the lads". My breasts became the ultimate punchline. And no matter what I tried, somehow it was my fault. They were out there for everybody to comment on, but at the same time couldn't be "too threatening" because by default I was "drawing too much attention" to myself.

And I'm not the only one. Six months ago, during the height of the pandemic, I was shocked by a statistic from breast cancer awareness charity CoppaFeel! As I talked to people, from Giovanna Fletcher to Candice Brathwaite to Rosie Jones, I started to realise that we'd all at one time or another had a weird relationship with our boobs - and it was almost political.

Giovanna felt ashamed of her chest and completely disengaged from it until she became a mother; Candice spoke about instantly experiencing the sexualisation of black women's bodies from when her chest began to grow. Rosie Jones talked about disability and not having her boobs out when she performs because she worries about public perception. We all had different experiences with our chests but we all agreed everyone needs to get much more mate-y with their mammaries.

My relationship with mine was tough at first, but as I grew older, and started to come to terms with navigating adulthood, I realised that so much of the internalised shame and misogyny I felt towards myself was projected onto me by other people, and not things I truly felt. And as soon as that penny dropped (courtesy of me looking in the mirror after a few mojito's) everything changed. I began to step into who I truly was: yes I'm Jackie, who happens to have big boobs, but I'm a good friend, a good listener, a complete oversharer who talks to strangers, but my boobs are also special because they are on me, not the other way round!

And this is why my new podcast Boobshare is perfect for every person who may be in an "it's complicated" phase of their relationship with their chest, or even their body as a whole.

None of us is the same. We all have a unique, and sometimes pretty tough, relationship with our bodies. And I mean everyone; you, me and the Queen (probably). I also think when we look at celebrities, it's hard to see them outside of what they do - most things are curated, so how does your favourite celeb really feel about their boobs and their body? You might pretend they're not there, heck, maybe you can't stop touching them! But now the time has come for a true, unfiltered discussion around body image and specifically, boobs.

That statistic from Coppafeel! tells me that Black British women are twice as likely to be diagnosed with advanced breast cancer than white women. So it feels even more crucial for me to be hosting a podcast that tackles something that is considered taboo and risky. Because if not me, then who?

I remember after the bra fitting, I was nervous to look in the mirror. It felt like something innocent in me had vanished. But now, I'm creating an audible space so that those who have boobs know that, regardless of what they hear or what size they have, they're desirable, safe, worthy and yes, still a valuable person beyond what grows unbidden from their chest. Because our boobs, pecs, snakebites, tits, mammaries - whatever you want to call them - are essential parts of us and knowing more about them can save lives and self-esteem.