Labour leader Sir Keir Starmer has said winning the next election is more important than party unity.
Rows with left-wingers angry over the direction he is taking the party have dominated Labour's annual conference.

But Sir Keir told the BBC Labour had to change to avoid losing a fifth general election in a row.

He said he came into politics "to go into government to change millions of lives", not "lose and then tweet about it".

In an interview with BBC political editor Laura Kuenssberg, the Labour leader called on "every single Labour Party member and supporter" to have the same focus on the ballot box as he did.

On Sunday, Sir Keir succeeded in getting the party conference to back changes to the way the party selects leadership candidates, which angered many on the left who saw it as an attempt to marginalise them.

Another row exploded on Monday when shadow employment minister Andy McDonald resigned from his job, claiming Sir Keir had made the party "more divided than ever".

Mr McDonald said he had been ordered by the leadership to argue against increasing the minimum wage to £15 an hour, as demanded by the left of the party and the majority of members at conference, and this had made his position "untenable".


"Most of the people here are actually interested in winning an election. I can feel it," said a member of Labour's shadow cabinet rather jubilantly.

It might sound deeply strange that a senior politician would feel the need to make such a remark about the members of their own party.

But over the past few years it has sometimes felt like Labour was spinning round in smaller and smaller circles of rage, so consumed with its own angst that it forgot its purpose - to win elections.

Laura Kuenssberg asked the Labour leader what was more important to him - winning or unity?

"Winning," said Sir Keir. "Winning a general election."

He was then asked why he did not seem to inspire Labour members in the same way his predecessor Jeremy Corbyn did.

"Two years ago we were here in Brighton at Labour party conference and within a few short months we'd crashed to the worst general election results since 1935," he said.

"I am not prepared to let that happen and if that means tough decisions to change our party, which is what I did on Sunday, I am going to take those tough decisions."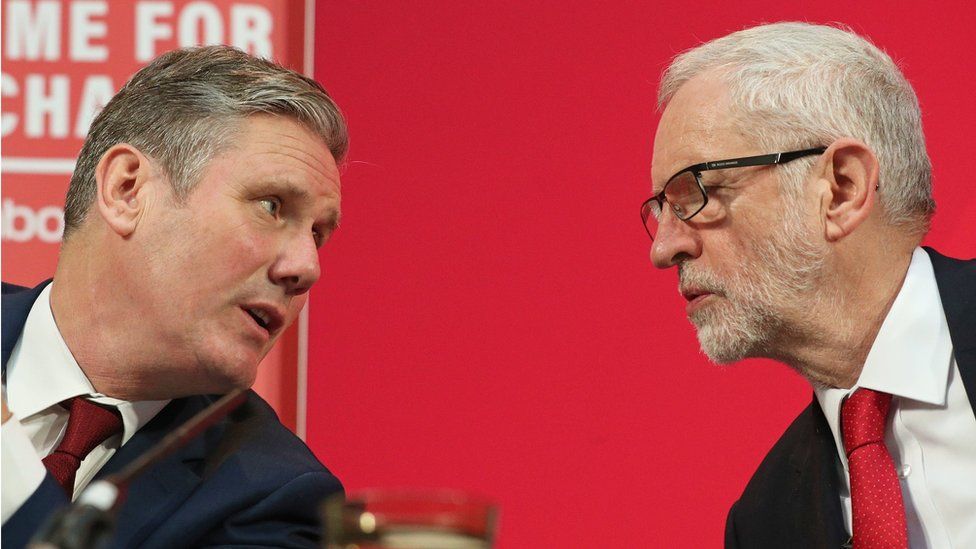 Mr Corbyn remains suspended from the Parliamentary Labour Party and sits as an independent MP, following comments he made over the party's handling of anti-Semitism.

Asked if he would re-admit Mr Corbyn, Sir Keir said: "The ball is in Jeremy's court".

He added: "Jeremy was asked to apologise, to take down the posts that caused the problem in the first place and to work with us."

Sir Keir - who will make his first keynote speech as leader to a hall full of activists on Wednesday - said Andy McDonald was "wrong" to say the party was more divided under his leadership.

But he added: "There will be some people who don't agree with those [changes and] I understand that."

Asked if he thought Labour's left wing was on its way out, he said: "We are a broad church in the Labour Party.

"But I am not going to be deflected from my central mission, which is to get a Labour government so we can change millions of lives."

'Values'

Sir Keir has moved away from some of the pledges he made during last year's leadership contest, such as on nationalisation.

He said he had "never made a commitment to nationalisation", instead proposing "common ownership" for services like rail and mail - two ideas he insisted were "worlds apart".

Asked if the left wing had a right to be angry with him, he said: "Those commitments I made, those pledges I made, are values that I hold dear.

"The world has changed since they were made but now the question is how do we apply them in the reflective circumstance that we find ourselves in going into a general election.

"I stand by the principles and the values that are behind the pledges I made to our members, but the most important pledge I made is that I would turn our party into a party that would be fit for government and capable of winning a general election and I am not going to be deflected from that."