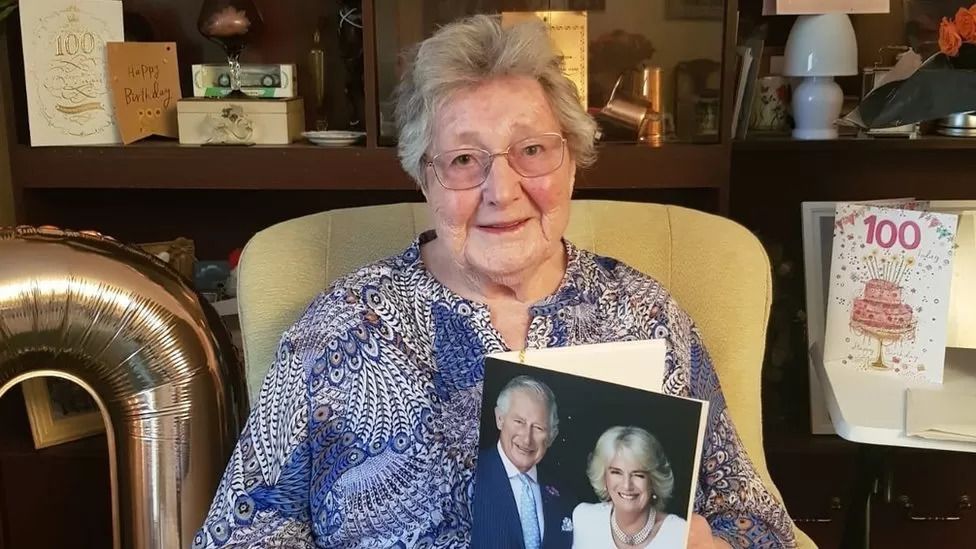 King Charles III's first set of 100th birthday cards delivered
The first 100th birthday cards from King Charles and the Queen Consort, Camilla have been delivered to people celebrating their centennial year.
Among the hundreds of recipients receiving their first congratulatory messages were veterans of World War Two, Buckingham Palace said.

Ruth Park-Pearson, who served in the Women's Royal Naval Service, was one of the first to get a card.

The Palace suspended sending the cards after the Queen's death in September.

Mrs Park-Pearson, who lives in Tadcaster, North Yorkshire, turned 100 on Friday and was delighted when the "lovely" card arrived the following day.

She also reflected on the fact she had served under the Queen's father George VI and was now being congratulated by the fifth monarch of her lifetime.

"You don't think about it at the time, it's not until later you realise just sort of how old you are suddenly. You think my goodness me, I remember the old King."

The Glasgow-Born centenarian - who has six children, 13 grandchildren and 25 great-grandchildren - celebrated her milestone surrounded by family, including cousins who she said "haven't seen each other for years".

She also noted that even her young great-grandchildren were "happy to be with one another" on what was a "really wonderful birthday".

"So many wonderful presents and flowers, I could start a flower shop almost," Ms Park-Pearson added.

Cards were not able to be delivered during the official mourning period between 9 September and the late monarch's state funeral on 19 September, as well as for some weeks following while new cards were being designed and printed.

These messages which were not sent out are being processed as quickly as possible over the coming weeks.

The front of the cards features a picture of King Charles III and Camilla, Queen consort taken in the summer of 2018.

The monarch sending messages to mark significant birthdays and anniversaries is a tradition dating back to 1917, when those celebrating their 100th birthday or 60th wedding anniversary were sent a telegram of good wishes from King George V.

Since then it has expanded significantly in scale, with thousands of cards sent to mark people's 100th and 105th birthdays, as well as for couples celebrating their 60th, 65th and 70th wedding anniversaries - with messages also delivered to celebrate every subsequent milestone.

During Queen Elizabeth II's reign, around 1.3 million cards were sent from Buckingham Palace to mark birthdays and anniversaries across the UK, Commonwealth and British Overseas Territories.

With an ageing population, the number of recipients has grown - in 1917 King George V sent out 24 telegrams to centenarians and 273 were sent in 1952 when Elizabeth II became monarch.

By 2014, the office responsible for sending out the cards had to hire extra staff as the annual tally topped 7,500.