Ever heard of Joan of Kent? What about Eleanor de Montfort? Or Gwenllian of Wales?
Unless you are a devoted student of history, the answer may be no. But what they share, along with (briefly) Catherine of Aragon, is that they were at one time all the Princess of Wales.

For the vast part of history, the title now bestowed on Catherine Middleton, wife of Prince William, meant a figure destined to be largely forgotten.

They were always "just" the wife of the Prince of Wales, apart from the aforesaid Gwenllian, the only Welsh woman to have been given the title in her own right by her father Llywelyn, last native Prince of Wales.

If Catherine was coming to this role at almost any other time, it would be unremarkable to be named Princess of Wales.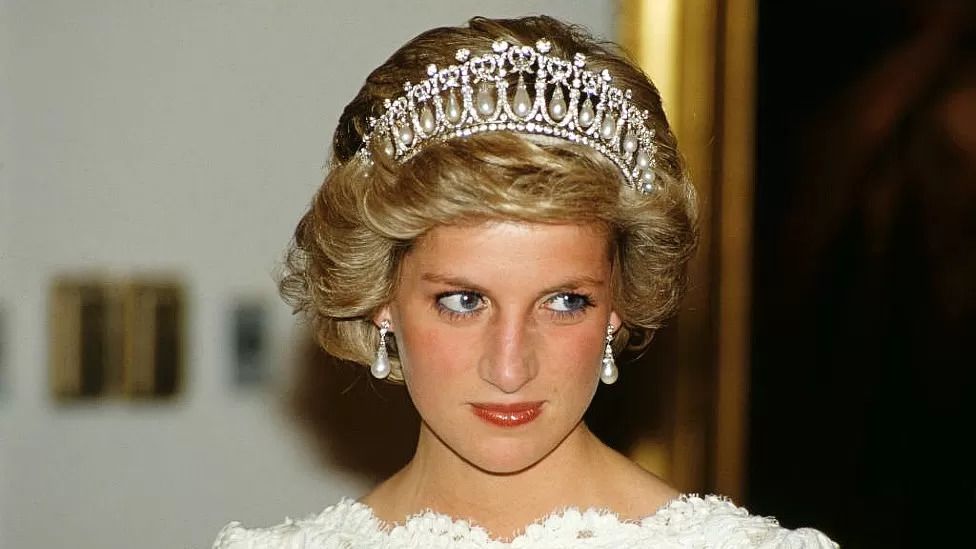 Princess Diana was one of the most photographed - and pursued - women in the world

But the last woman with the title was Diana Spencer, her late mother-in-law who became probably the most photographed woman in the world.

It's a tough act to follow. Diana's life - from the "fairytale" wedding later revealed to be a loveless union, to her high-profile divorce and death in a 1997 Paris car crash aged 36 - had all the elements of a modern-day Greek tragedy.

The ongoing public adoration of the "people's princess" made it impossible for Camilla Parker Bowles to consider using the title when she married the then Prince of Wales in 2005, sticking to the lesser rank of Duchess of Cornwall.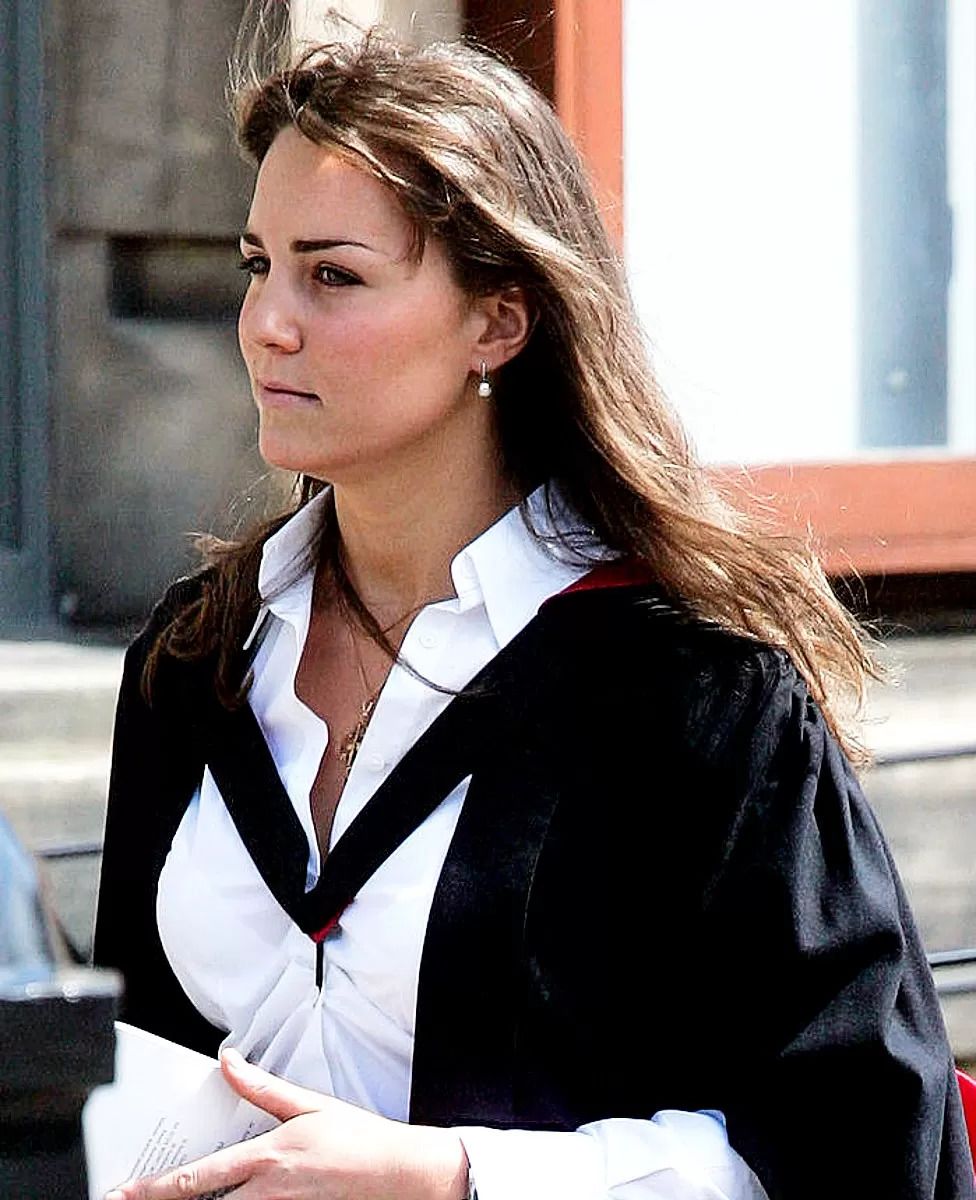 Catherine Middleton at her graduation from the University of St Andrews in Fife

And now it is Catherine's turn, for Catherine she has become. Newspapers like to forget they called her "waity Katie" during the years between the couple meeting in 2001 and their engagement in 2010.

But those years that followed the first encounter at St Andrews gave her what Diana never had: a chance to edge her way slowly towards a royal role she assumed on marriage, a decade older at 29 than Diana had been.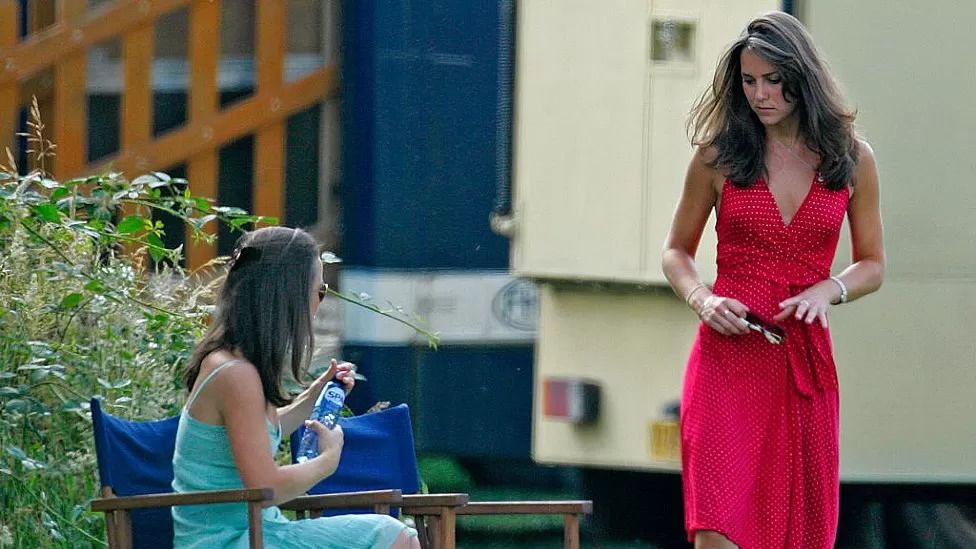 Catherine Middleton with her sister Pippa at a charity polo match

Through the post-university years, she worked for a time in her parents' party business company and at fashion outlet Jigsaw. Her association with charity then tended more towards fundraising events such as polo matches or rowing galas.

But by the time her engagement was announced, as she and William took up life together on the north Wales island of Anglesey, she was starting to move into the traditional royal role of charity patron, particularly in the area of children and mental health.

'Does your husband fly helicopters?'

Sue Hesketh is a Cub leader with 1st Menai Bridge Scouts, who meet near the Bodorgan estate where William and Catherine lived while he worked as an RAF search and rescue helicopter pilot. She remembers how Catherine's association with the Scouts began with a message telling the pack she was interested in helping at meetings.

"It was a private thing. We weren't allowed to tell people," she said. Catherine helped out about 12 times.

"She came the first night. She introduced herself and we were all very excited. The Cubs... obviously didn't know who she was and when they were sat around the table with her, one of them said to her, 'Does your husband fly helicopters?'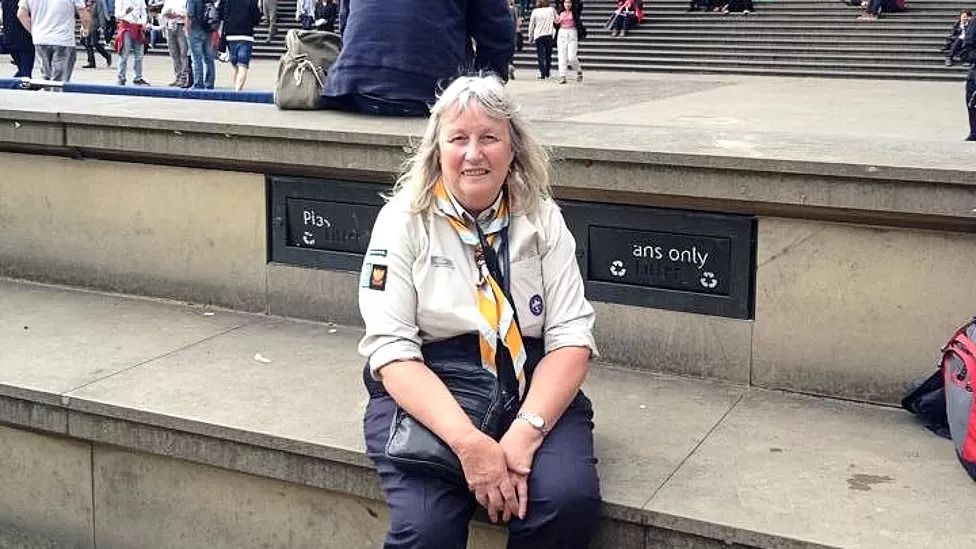 Cub leader Susan Hesketh got to know Catherine when she volunteered with the pack

"And she said 'yes' and he said [to friends], 'I told you!' When he went home and told his mother that she'd been there, she told him off for telling lies because she didn't believe she'd been there."

Sue added: "She did all the normal things that Cub leaders do. She helped us with craft things, she played games.

"She helped them with their knotting, which is something we do in Cubs, which she knew all about because her dad had taught her how to do knotting when they were sailing."

The low-key life on Anglesey, which continued after the couple's wedding in April 2011, helped create a positive image of a real link with Wales through their three-year stay, and bolster the image of them as a down-to-earth pair who got on with things like "normal" people.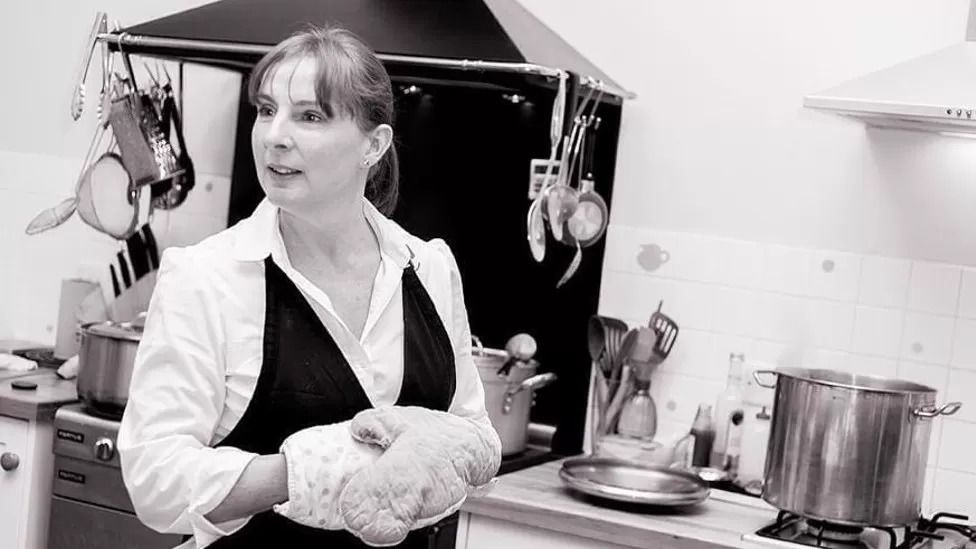 Chef and cafe owner Anne Wilson cooked for Catherine and William at times during their time on Anglesey

This domesticity is recalled by Anne Wilson, a chef who runs Llys Llewelyn Cegin Bar in Aberffraw, just down the road from the Bodorgan estate. She did some cooking for William and Catherine, including on his 30th birthday.

"A friend of mine was actually their cleaner and she'd told them about me doing cooking. They wanted to order some freezer food," she said.

'Rather lovely lady cycling in posh clothing'

Her last visit to their house was after Prince George was born in 2013, shortly before they left the island. Apart from having to get through security, everything "was all very normal".

"I took some food in and William said Catherine wanted a word. So I went in and Catherine was feeding George, and William was putting the food in the freezer.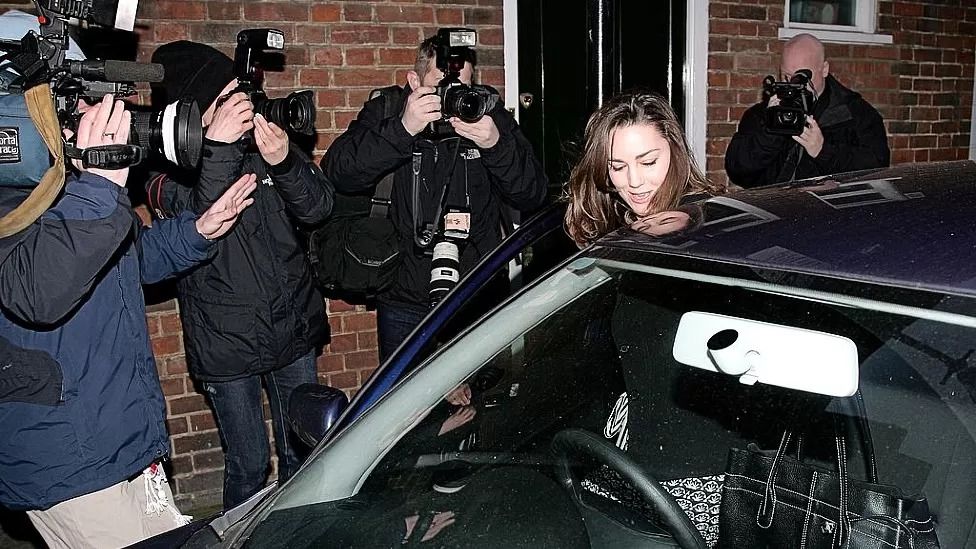 Catherine may not have had quite the same levels of press pursuit as Diana, but there was still plenty as a royal girlfriend

"I used to see Kate cycling around here, this rather lovely lady cycling in posh clothing. William used to go to the local shop and they used to go to some of the restaurants in Rhosneigr.

"People were happy to let them get on with their own lives. They used to be pretty much left alone."

Following her marriage, her early links with the Scouts continued after a move away from Anglesey to Norfolk in 2013, and in 2020 she was named joint president of the Scout Association alongside the Duke of Kent.

Other charity work has retained a focus on early years and children. Mental health is also a key area, along with sport.

But in keeping with the general tone of Catherine's more muted relationship with the public than her predecessor, there have been no ground-breaking moments in the way there were with Diana and her campaigning on issues such as HIV and Aids and on minefields.

One of the charity roles she took on in 2016 from the Queen, was patron of Action for Children, which works with disadvantaged and vulnerable young people.
More focus on Wales?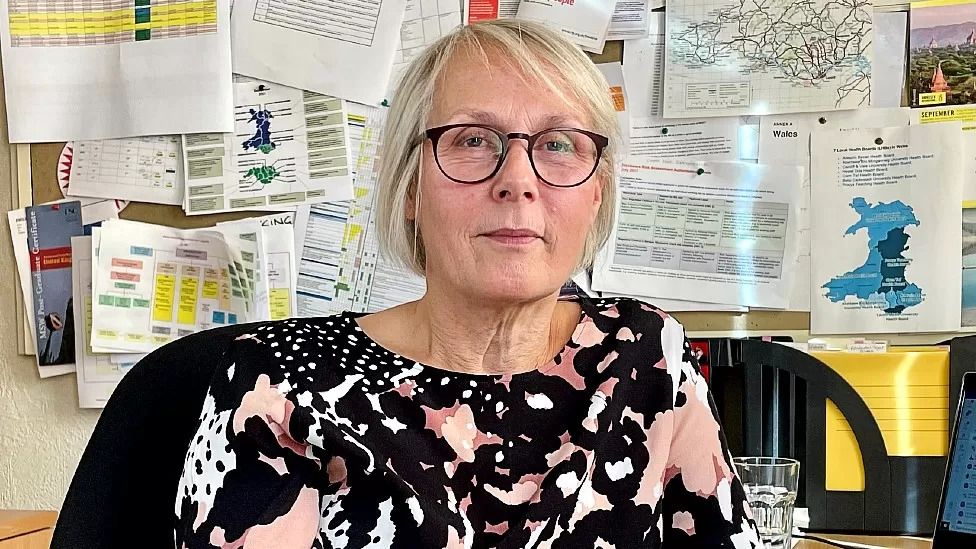 Charity director Brigitte Gater says Catherine is "happiest interacting with children" in her official role

Brigitte Gater, the charity's national director for Wales, met Catherine during a visit to one its services for children and young people with mental health difficulties.

"She's very much wanting to be part of it, always happiest when you see her interacting with children and families, always seems to be very comfortable and relaxed, wanting to hear people's stories," said Brigitte.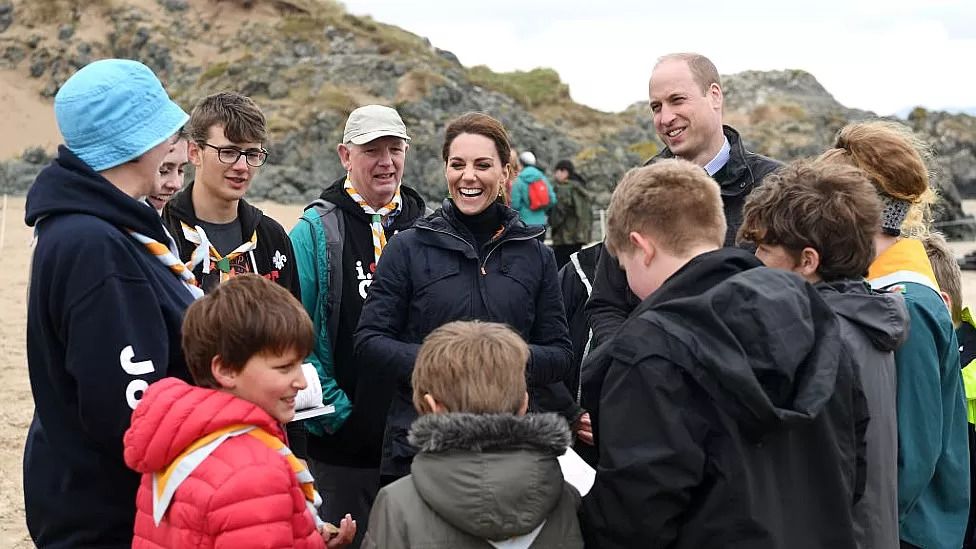 Catherine and William met the Scout group she volunteered with on a return visit to Anglesey

She hopes the new title might mean more of a focus on Wales for Catherine.

"Now that she's Princess of Wales, it's sort of in the title isn't it?" she said. "You think that maybe Wales might be pretty central to some of the activities and the interests that she's got, which would be fantastic."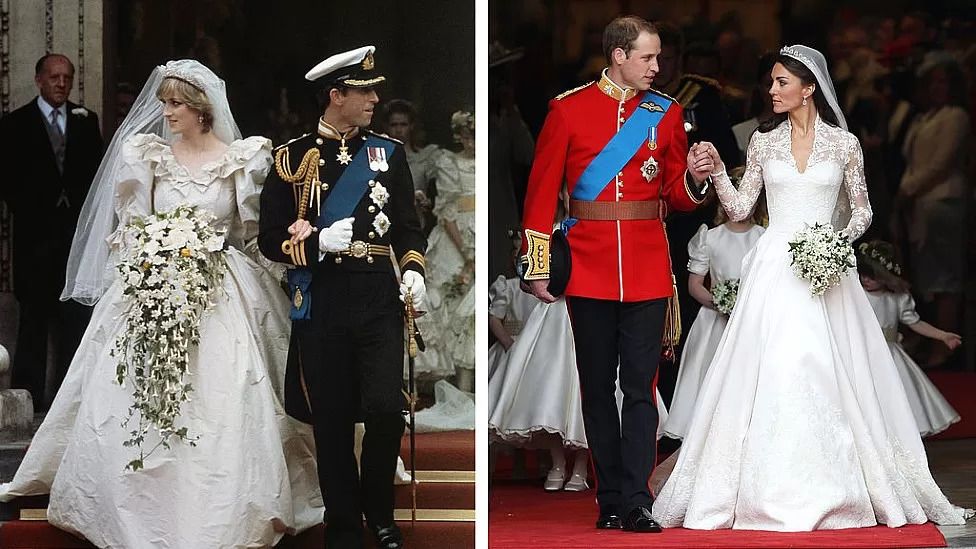 Diana and Charles; William and Catherine - royal weddings 30 years apart that produced very different marriages

BBC Wales correspondent Huw Thomas, who is writing a book on King Charles' time as the Prince of Wales and the monarchy's relationship to Wales in general, said: "Really, the role as the wife of the heir to the throne has been one of being in the background.

"The main issue for the newest princess is that she follows an icon, that she follows Diana, who is in all of history the most famous Princess of Wales that ever lived.

"There's always this sense that the Prince of Wales title is lumbered with great historical argument, and war and murder. The Princess of Wales title, as a globally recognised entity, it is for everyone Diana, and that's probably the biggest benefit and also the biggest barrier towards Catherine being able to use that title and to settle into that role."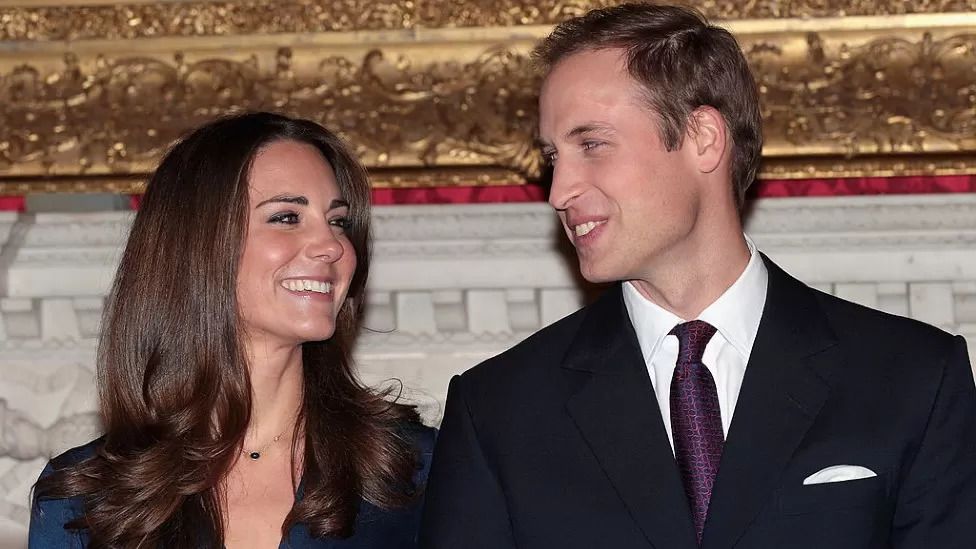 Catherine and William on the announcement of their engagement

The more natural development of her relationship with her husband has made the road much smoother for her, he argues.

"She's probably going into it with her eyes far more open to it than Diana was, but also with a lot more protection than was ever offered her as well," he said.

He thinks she will "slide a bit more easily" into the role but a lot might now depend on how she is treated following the change of name.

"The fact that she is now called the Princess of Wales - does that push things up a level in terms of the attention, and the stories that will inevitably come just by her having this title?"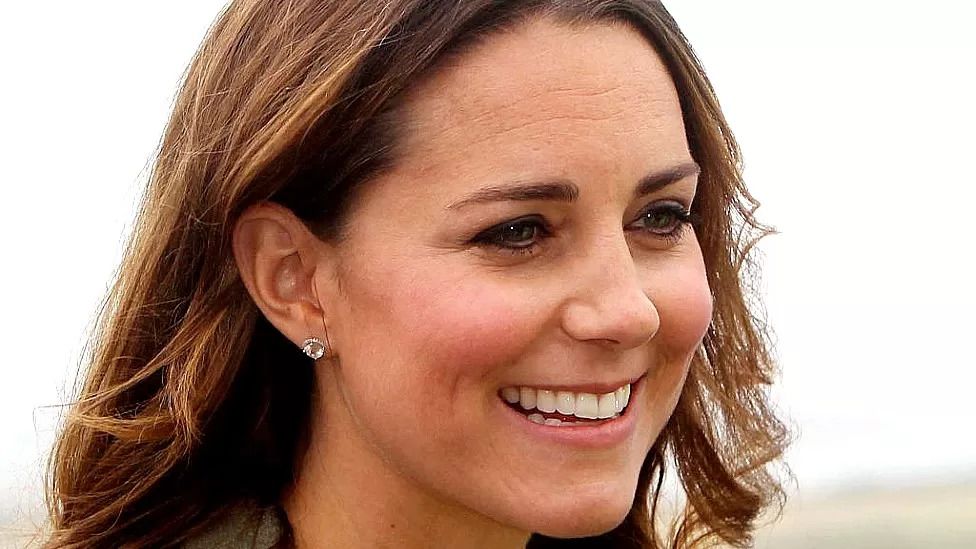 On the beach at Anglesey weeks after the birth of Prince George

Because Diana broke down barriers, he believes it has made Catherine's path easier in tackling causes she chooses.

He does not think she will fundamentally alter the way she has presented herself. But he referred to Charles' speech when he announced William would become Prince of Wales, saying he would "take on some of those issues there at the edges and make them more mainstream".

"[It] gives them a bit of that leeway, for them, for Kate, to have a voice and to champion causes and to make a noise about it."