Just 1% of the more than 18,800 bike thefts in London in the last year saw thieves charged or cautioned, according to police statistics.

According to the Metropolitan Police figures, which were collated and analysed by London criminal defence solicitors Lawtons, there were only 206 sanctions recorded between November 2021 and October 2022 despite the huge number of thefts.

The boroughs of Hackney, Southwark and Tower Hamlets recorded the most thefts though the total amount of bikes reported stolen was actually down 18% throughout the capital as a whole compared to the previous year.

In two boroughs, Croydon and Havering, no thieves were sanctioned depsite there being 325 offences reported across them.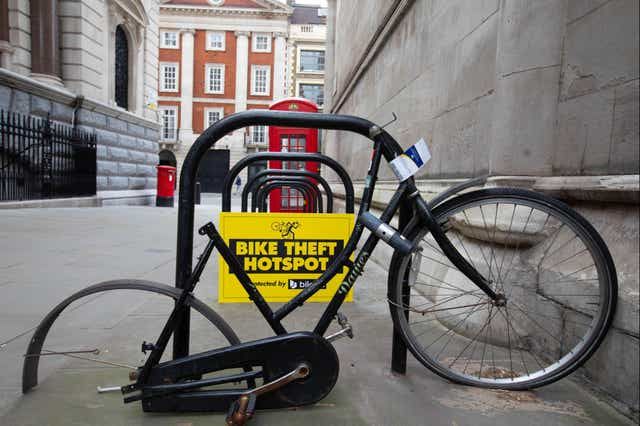 Bike theft hotspots highlighted
The Met said it was not possible to carry out in-depth investigations in every case due to the number of calls but London Cycling Campaign said it would "deter people from cycling".
Its senior policy officer Tom Bogdanowicz told the BBC the true number of crimes was "significantly higher" than reported figures and said up to a quarter of bike theft victims never cycle again.
He said: "It's not good for the city, because if there's less cycling then there are more emissions from cars, more congestion, and people's health isn't improving.
"Building cycling infrastructure is an excellent way of encouraging cycling, but if people have their bikes stolen then you lose customers."
The Met acknowledged bike thefts were "upsetting and very frustrating for victims", but added: "It is not possible to physically send officers, or to carry out a lengthy investigation, in every case".