Jackie Pugh from Shropshire has been waiting nearly three and a half years for breast reconstruction surgery after having treatment for breast cancer.
Her operation was meant to take place on Friday, but it has been cancelled due to the junior-doctors' strike.

"I'm just really, really upset that it is off. I don't know when it is going to be rescheduled," she told the BBC.

Jackie says she was preparing herself for the surgery, but the four-day strike means she must now think again.

Her husband has also been recently diagnosed with cancer, and Jackie had been intending to take care of him after his chemotherapy.

"I needed my operation to go ahead so that I could look after him when he is recovering, because chemotherapy is not the nicest of treatments," says Jackie.

NHS England has previously warned that this week's industrial action by junior doctors would cause "unparalleled disruption", with an estimated 350,000 appointments and operations having to be rescheduled.

Senior doctors and other medical staff who are not on strike have been diverted to cover services such as A&E and maternity care until 07:00 BST on Saturday, when the walkout ends.

There are plans to pull doctors off picket lines if lives are in immediate danger, says the British Medical Association (BMA), the union representing the junior doctors. Under trade union laws, life-and-limb cover must be provided.

Sir Stephen Powis, national medical director at NHS England, said the situation in the health service would "become more challenging each day this strike progresses".

He said staff were working "incredibly hard" and that cover was likely to become "stretched" as those who worked the Easter weekend went on leave.

This will "pose a huge challenge to an already depleted workforce", he added.

In Western-Super-Mare in Somerset, some junior doctors have been asked to leave picket lines and return to work.

What are the strikes about?

Doctors say they are striking for patient safety, as well as their own income needs, stressing that current pay levels are affecting recruitment and leading to many doctors leaving the profession - thus depleting the workforce and impacting patient welfare.

The British Medical Association (BMA), the union representing the junior doctors, is asking for a 35% pay rise or "pay restoration" to put salaries back on track with rising inflation and living costs.

The government says the 35% increase is "unreasonable" - and has refused to enter talks with the doctors until the demand is abandoned and junior doctors call off the strikes.

A Downing Street spokesman said: "It continues to be the case that we call on the BMA junior doctors to cease their strikes and revise their starting point for negotiations, which is 35%, which we continue to believe is unreasonable and is not affordable for the British taxpayer."

The BMA says it would be happy to suspend strike action if there was a credible pay offer from Health Secretary Steve Barclay.

The striking doctors say they should be compensated for 15 years of below-inflation wage increases.

But the government maintains that a 35% increase is unrealistic. They have pointed to the deal that other health unions - representing nurses and other workers - have recommended to their members, which includes a 5% pay rise and one-off payment of at least £1,655.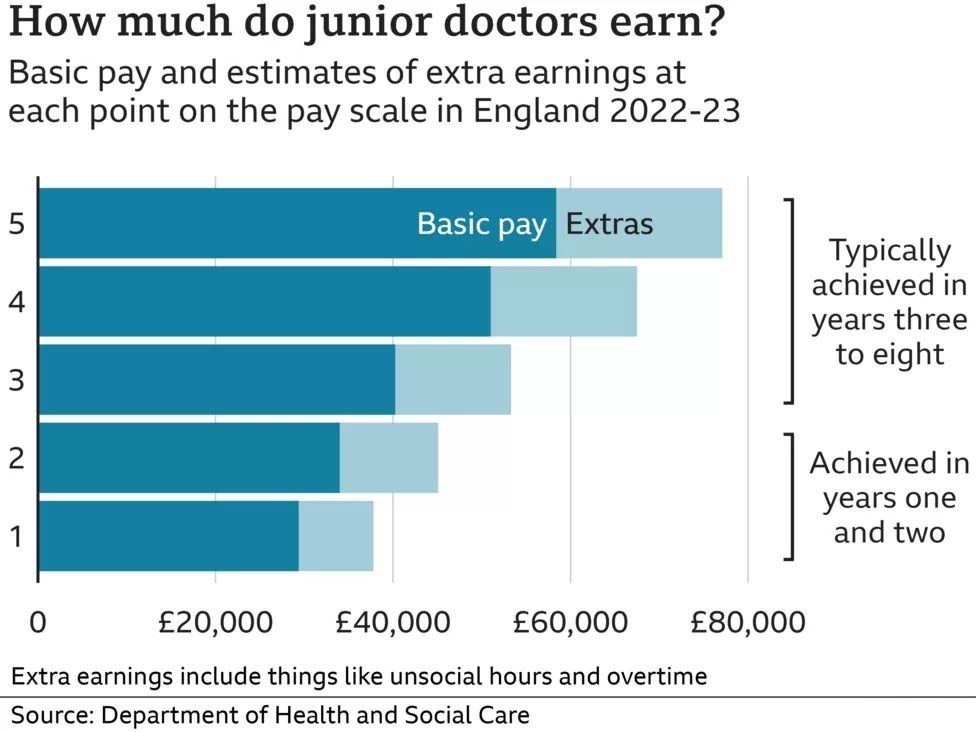 More than 40% of the medical workforce are classed as junior doctors, with two-thirds of them members of the BMA.

The term 'junior doctors' covers those who are fresh out of medical school through to those who have more than a decade of experience.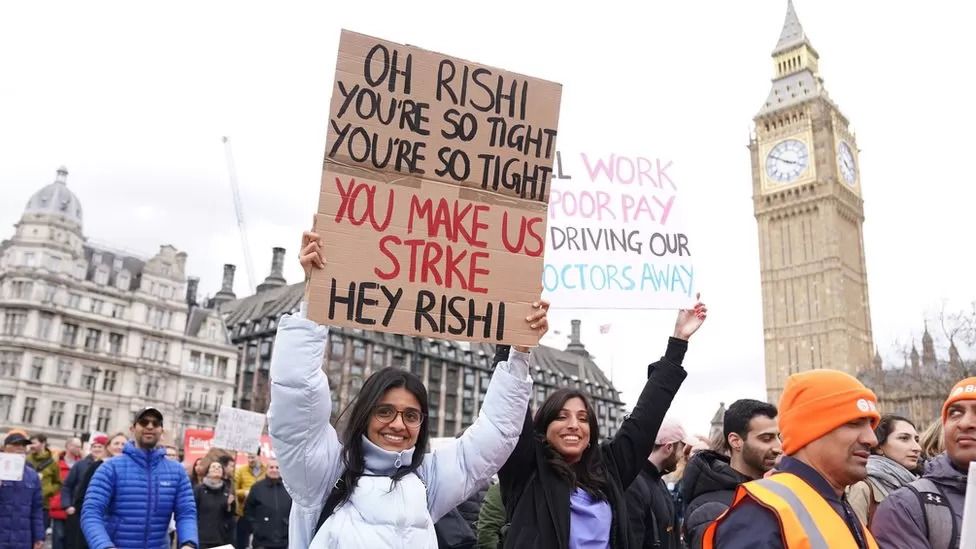 Striking junior doctors marched past the Houses of Parliament after a rally in central London

The strike is scheduled take place from 07:00 BST on Tuesday until 07:00 BST on Saturday.

On the first day of the action, hundreds of medics walked past Downing Street and the Houses of Parliament after a rally in central London.

'Exhausted and lumbered with responsibility' - junior doctor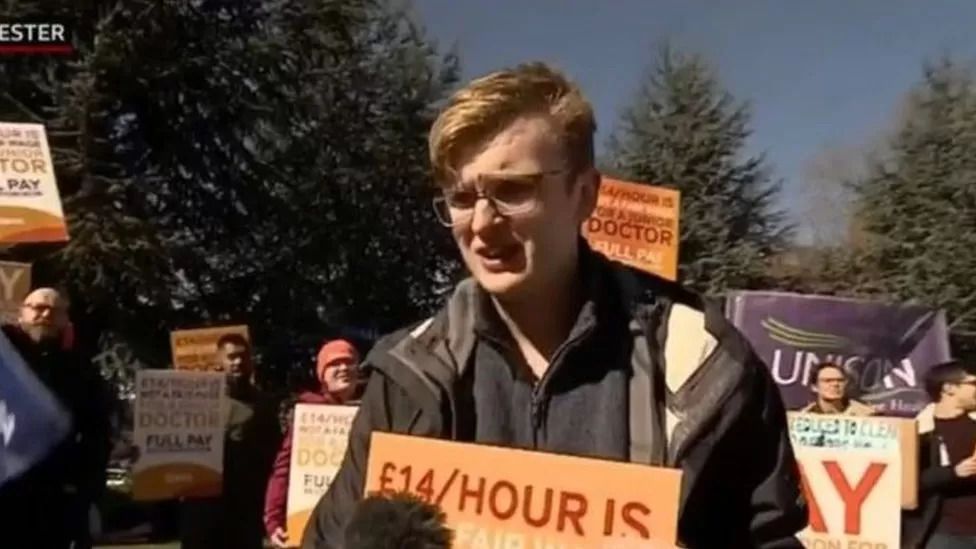 Striking junior doctor Ben has told BBC News he is thinking about leaving the profession, after just one year.

Standing on a picket line outside the Royal Leicester Infirmary, he says: "At the moment, every single time you go to work, you have people off sick.

"You have staffing which is only just covering what it needs to.

"And I don't feel I am able to do my best work, and I don't feel I'm able to manage the stresses and strains that are put upon me."

During his last rotation, he added, there would be moments when he would have panic attacks. Each day he was "completely exhausted and lumbered with responsibility", having only just left medical school eight months previously.

He says he hopes he can stay in medicine, but the job had been "made impossible by the system".