Julian Assange is seeking permission to appeal against a decision to extradite him to the United States.
Last month, the UK Home Secretary Priti Patel approved the Wikileaks founder's extradition to the US.

The High Court in London confirmed to the BBC an application by Mr Assange has been submitted.

The Australian is wanted by American authorities over documents leaked in 2010 and 2011, which the US says broke the law and endangered lives.

The documents are related to the Iraq and Afghanistan wars.

Mr Assange had until Friday to decide whether or not to appeal against his extradition.

The Australian is being held at Belmarsh prison in London after mounting a lengthy battle to avoid being extradited.

Extradition allows one country to ask another to hand over a suspect to face trial.

Previously, Mr Assange's wife, Stella, said her husband had done "nothing wrong" and "he has committed no crime".

"He is a journalist and a publisher, and he is being punished for doing his job", she said.

The Wikileaks co-founder is wanted by the US on 18 counts, including a spying accusation, after his organisation published confidential military records and diplomatic cables.

He faces up to 175 years in jail, according to his lawyers. However, the US government has said the sentence is more likely to be between four and six years.

Media company Wikileaks is a whistle-blowing platform that publishes classified material provided by anonymous sources.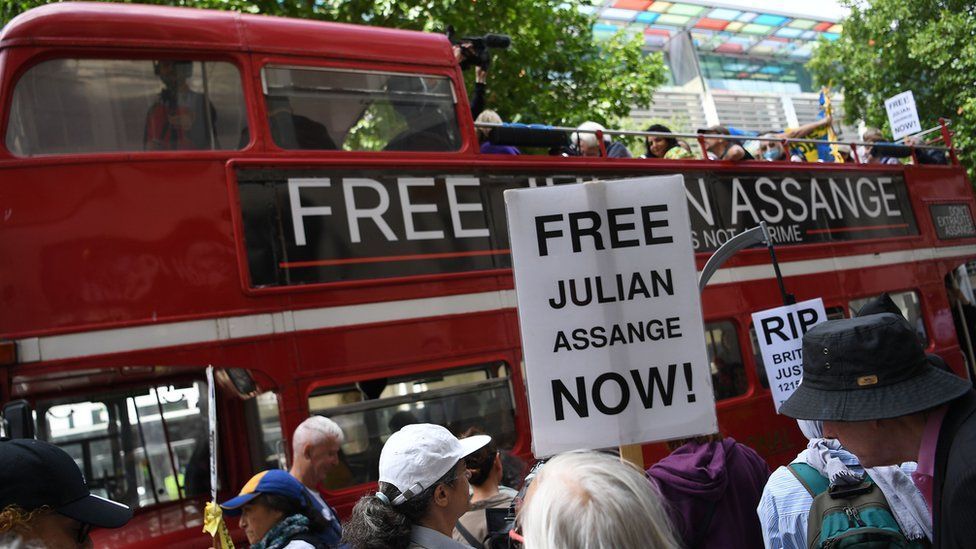 Protesters gathered outside the Home Office to demand Julian Assange's release

Supporters of Mr Assange gathered outside the Home Office on Friday morning to protest against his imprisonment.

Mr Assange's legal team claims Wikileaks publishing the documents - which related to the Iraq and Afghanistan wars - exposed US wrongdoing and were in the public interest.

Those documents revealed how the US military had killed hundreds of civilians in unreported incidents during the war in Afghanistan, while leaked Iraq war files showed 66,000 civilians had been killed, and prisoners tortured, by Iraqi forces.

Mr Assange has been in prison since he was removed from the Ecuadorian embassy in London in 2019 and arrested by British police, after Ecuador withdrew his asylum status.

He sought asylum in 2012 in the embassy, fearing US prosecution, and stayed there for seven years. He claimed he was a victim of human rights abuses and would face a life sentence if extradited.

The Supreme Court ruled in March that Mr Assange's case raised no legal questions over assurances the US had given to the UK about how he was likely to be treated.

UK judges had previously blocked his extradition because of concerns about his mental health.

Earlier this month, Australia's new Prime Minister Anthony Albanese dismissed calls to publicly demand the US drop its prosecution.

Mr Assange's wife had expressed hopes Mr Albaneses' government would intervene.
Watch: From 'teenage hacker' to fighting US extradition - the Julian Assange story