MPs have said Boris Johnson may have misled Parliament multiple times over Partygate - but the former PM insists he will be vindicated by their report.
The privileges committee said it had seen evidence that "strongly suggests" Covid rule breaches would have been "obvious" to Mr Johnson.

But Mr Johnson said he never "knowingly or recklessly" misled MPs about lockdown gatherings in Downing Street.

And he said he was confident he would be cleared by the committee.

He is due to give evidence to the committee later this month.

In an initial report published on Friday, the MPs highlighted ways in which he may have misled Parliament.

These include a statement on 8 December 2021 no rules or guidance had been broken in Number 10.

Mr Johnson told BBC News he did not "know or suspect" that events broke the rules when he spoke about them in the Commons.

He added that "after 10 months of effort" the committee had not produced evidence "to suggest otherwise".

"I didn't mislead the House, and I don't believe I'm guilty of a contempt. I think that this process happily will vindicate me," he said.

WhatsApp messages disclosed

The committee has published extracts from a series of WhatsApp messages it has received as part of its inquiry.

In one from 28 April 2021, seven months before press reports about parties first appeared, an unnamed No 10 official noted that another official was "worried about leaks of PM having a piss up and to be fair I don't think it's unwarranted".

In another, from 25 January 2022, Mr Johnson's then director of communications, Jack Doyle, told a No 10 official he hadn't "heard any explanation" of how a birthday party for the former PM in the Cabinet Room in June 2020 was within the rules.

In a separate WhatsApp exchange the same day, an official messaged Mr Doyle, saying: "I'm trying to do some Q&A [briefing for officials dealing with the media queries], it's not going well".

Mr Doyle replied: "I'm struggling to come up with a way this one is in the rules in my head", adding: "PM was eating his lunch of course".

The official responded: "I meant for the police bit but yeah as ridiculous as the cake thing is it is difficult".

The official then suggested they could argue it was "reasonably necessary for work purposes".

Mr Doyle replied: "Not sure that one works does it. Also blows another great gaping hole in the PM's account doesn't it?"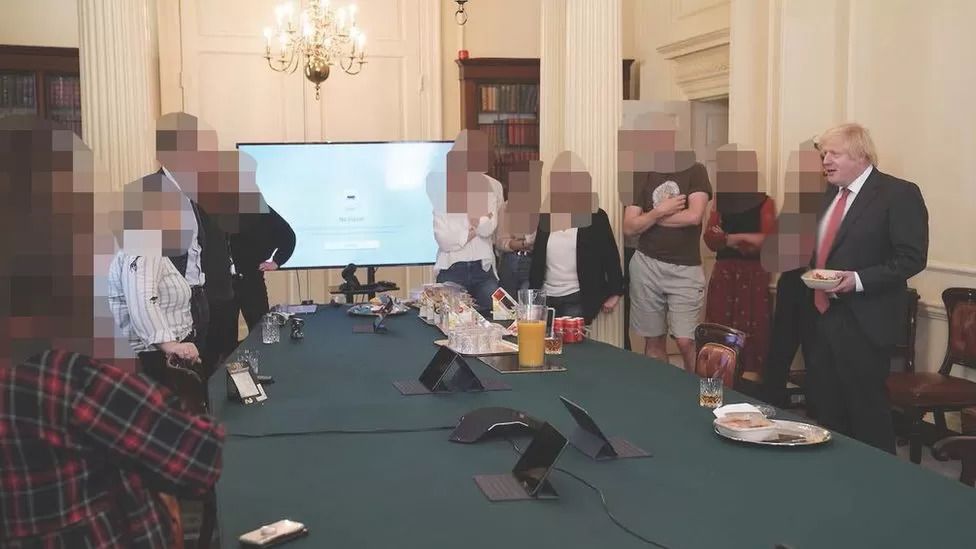 Boris Johnson celebrates his birthday - for which he received a fine - in a previously unseen image released by the committee

In May last year, an inquiry by senior civil servant Sue Gray found widespread rule-breaking had taken place, and Mr Johnson was among 83 people fined by police for attending law-breaking events.

The privileges committee said it would take Ms Gray's findings into account.

It emerged this week that Ms Gray has quit the civil service and is set to become chief of staff to Labour leader Sir Keir Starmer, prompting claims from Tory MPs that she was politically biased.

Mr Johnson said it raised questions over the conclusions over her inquiry.

"I think people may look at it in a different light," he told BBC News.

He added that he "might have cross-examined her more closely about her independence" if "you'd told me all the stuff that I now know".

He added it was "surreal" that MPs investigating whether he misled Parliament over Partygate were planning to take her inquiry into account.

If Mr Johnson is found to have misled Parliament, he could be suspended as MP or expelled, creating a by-election.

But the committee's findings, and any sanction on Mr Johnson, would have to be approved by a vote in parliament.

Labour leader Sir Keir Starmer said the "evidence of wrongdoing by Boris Johnson is already pretty damming".

"I think Boris Johnson needs to confront the evidence that's there in front of him," he said.

Sir Keir accused Rishi Sunak "sitting on his hands" through the investigation.

Liberal Democrat deputy leader Daisy Cooper accused Mr Johnson of trying to "wriggle out" of the "damning" questions raised by the committee.