Deputy First Minister John Swinney has ruled himself out of the race to be the next leader of the SNP.
Mr Swinney said he had to do what was "right for my family, the Scottish National Party and our country".

It comes after the SNP's national executive said the new leader will be confirmed on Monday 27 March.

Nicola Sturgeon announced on Wednesday that she was resigning after eight years as SNP leader and first minister.

Mr Swinney, who has been a member of the Scottish Parliament since 1999, served as leader of the party between 2000 and 2004.

He had been tipped for a return to the top job and admitted he had "thought carefully about whether I should stand".

But in a post on Twitter he said he had instead decided to "create the space for a fresh perspective to emerge".

"For the best part of the last 40 years, I have had the privilege of being at the very heart of formulating the strategy of the SNP," Mr Swinney said.

"From a very poor starting point in the 1980s, I am proud to have played my part in building the SNP into a successful party of government in Scotland with an impressive electoral record.

"The refusal however of the UK government to respect the democratic wishes of the people of Scotland to have a referendum on independence, requires the SNP to consider carefully, and in my view with a fresh perspective, how to pursue our aims.
"To create the space for that fresh perspective to emerge, I have decided not to be a candidate for leadership in the SNP. At this critical moment, I believe there must be an open debate within the SNP about our direction."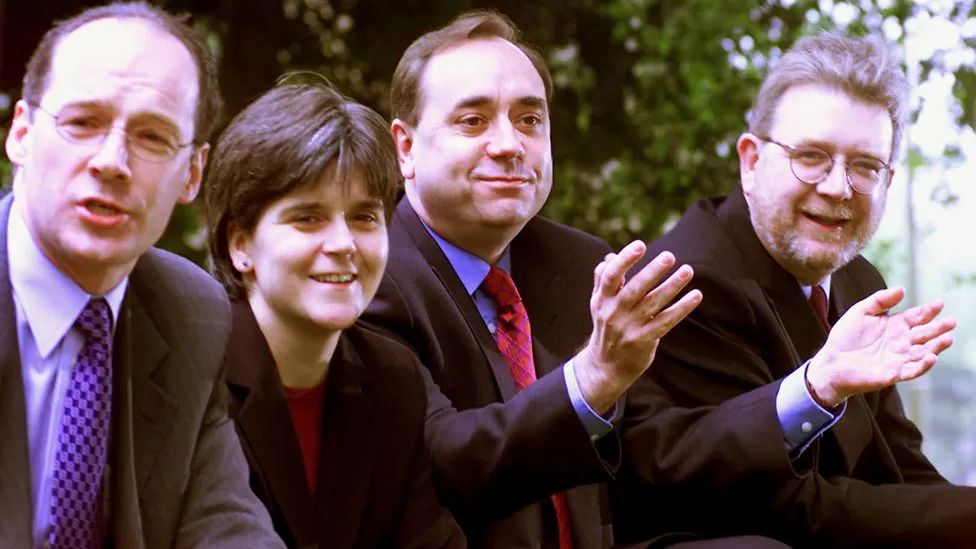 John Swinney, pictured with SNP colleagues in 1999, says he has spent almost 40 years "at the heart of the SNP"
He added: "I encourage those who stand for election to bring forward perspectives that anchor the SNP in the mainstream of Scottish politics, which is an absolutely critical requirement for the future success of our cause."
Nominations for the post of SNP leader have already opened and will close at noon on Friday 24 February.
The party's national executive said the new leader would be selected on a one-member-one-vote basis.
Possible contenders include:
* Kate Forbes,
finance secretary who underwent a meteoric rise in recent years. Currently on maternity leave
* Angus Robertson,
who previously headed the SNP's Westminster group and was a vocal critic of Theresa May's government following the 2015 election
* Humza Yousaf,
health secretary who has held several senior posts in government. Part of a new generation of SNP figures
* Keith Brown,
justice secretary seen as an outsider bet.
Two other high-profile SNP figures previously tipped to replace Ms Sturgeon have also ruled themselves out.
The party's leader at Westminster, Stephen Flynn, said the top job should go to an MSP.
And confirming she would not stand, fellow MP Joanna Cherry said the SNP "needs a leadership election that is about policies and not personalities".
Nicola Sturgeon plans to remain in office until her successor is elected.
She made her resignation announcement at a hastily convened news conference at her official Edinburgh residence, Bute House, on Wednesday but insisted it was a decision she had been weighing up for some time.
"In my head and in my heart I know that time is now. That it's right for me, for my party and my country," she said.