Labour leader Sir Keir Starmer says his predecessor Jeremy Corbyn was "wrong" on Nato and that his party's commitment to the alliance is "unshakeable".
Mr Corbyn is a longstanding critic of Nato, although pulling out of it was never Labour policy when he was leader.

Speaking to the BBC, Sir Keir also said he supported Boris Johnson's actions on the Ukraine crisis but urged him to make better use of sanctions.

He was speaking to the BBC's Political Editor Laura Kuenssberg in Brussels.

The Labour leader earlier held a meeting with Nato secretary general Jens Stoltenberg about tensions between Ukraine and Russia.

He said it was "important for me to make clear that we stand united in the UK".

"Whatever challenges we have with the government, when it comes to Russian aggression we stand together."

'Threat of war'

He said there was "nothing" Russia wanted to see more than division between UK political parties, or division between NATO allies.

Mr Johnson also held a meeting with the Nato secretary general on Thursday and later met the Polish prime minister.

Speaking from Warsaw, Mr Johnson, said the UK stood "shoulder to shoulder" with Nato allies. He also warned Russia "if they want less NATO, this is entirely the wrong way to go about it."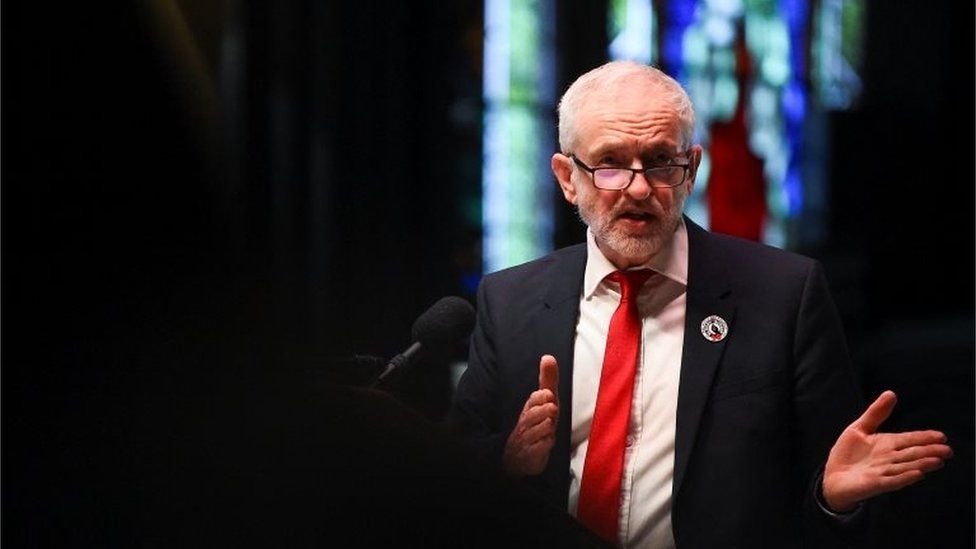 Jeremy Corbyn is to address a protest calling for an end to Nato "expansion"

Asked whether he agreed with Mr Corbyn's stance on the military alliance, Sir Keir said: "Jeremy Corbyn had a very different view, he was wrong about that and I spoke out at the time about that."

Before becoming leader of the Labour Party, Mr Corbyn described Nato as "a major problem and a major difficulty".

Writing in the Morning Star newspaper in 2012, he argued that Nato's mission had been "thwarting the Soviet Union", and that the collapse of the bloc was "the obvious time for Nato to have been disbanded".

However, on taking charge of the party, he did not change its policy and Labour fought the 2019 general election on a pledge to maintain membership.

What is Nato?

Nato- the North Atlantic Treaty Organisation - is a military alliance formed in 1949 by 12 countries including the US, France and the UK.

They agreed to come to one another's aid in the event of an armed attack against any member state.

Its aim was originally to counter the threat of post-war Soviet expansion in Europe.

Following the collapse of the Soviet Union in 1991, a number of former Warsaw Pact countries became Nato members. The alliance now has 30 members.

Sir Keir, who served in Mr Corbyn's shadow cabinet, also criticised the former leader's position on the 2018 Salisbury poisonings, arguing that he "didn't respond appropriately".

At the time, Mr Corbyn was questioned for seeming to cast doubt on whether Russia was responsible.

In 2018, he told the BBC that it was "very clear" the nerve agent was "very similar" to those made in Russia but added that "absolute evidence" was still needed.

Mr Corbyn, who currently sits as an independent MP, is expected to address a Stop the War Coalition protest on Thursday evening entitled "No War in Ukraine: Stop Nato Expansion".

The group argues that the government is "ramping up the threat of war" and accuses Mr Johnson of trying to "distract from the implosion of his premiership".

Nuclear weapons

Sir Keir also sought to distance himself from the previous Labour leader on the topic of the UK's nuclear arsenal.

Pressed on whether he would be willing to use nuclear weapons, he replied "of course", adding "If you believe in the deterrent, that's the whole point".

However, he added it would be wrong to talk about the circumstances under which he would take such a step.

On becoming leader in 2015, Mr Corbyn said: "I am opposed to the use of nuclear weapons. I am opposed to the holding of nuclear weapons. I want to see a nuclear-free world. I believe it is possible."

Mr Corbyn was Labour's leader for four years, stepping down after the party's defeat at the 2019 general elections.
Sir Keir Starmer says former Labour leader Jeremy Corbyn had a "very different view" to him on Britain's relations with Nato.