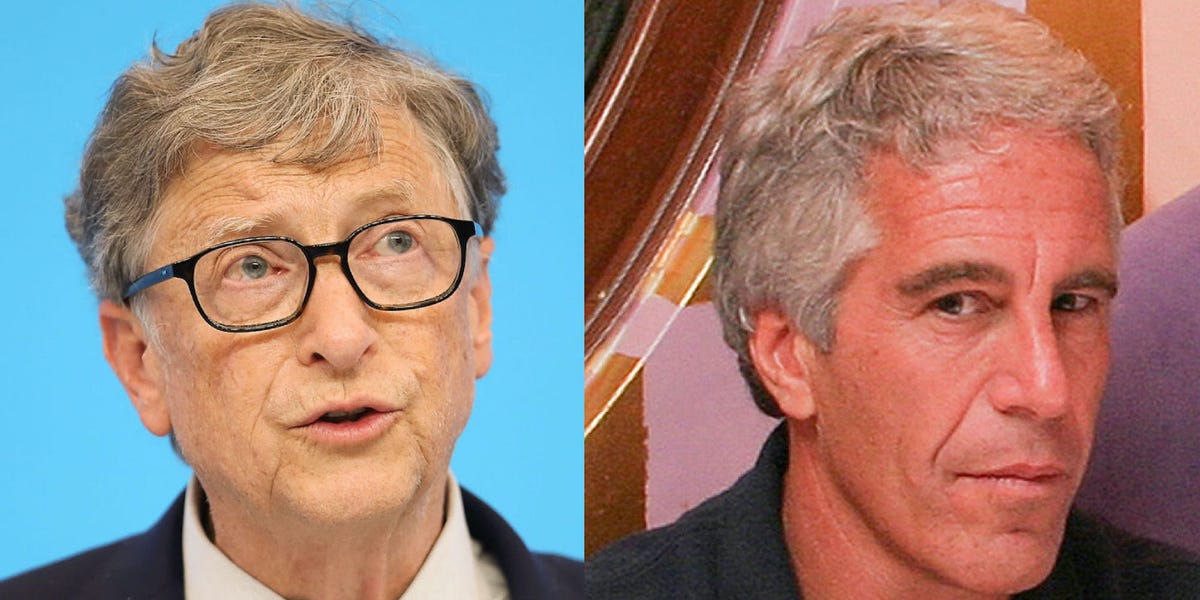 Jeffrey Epstein reportedly threatened Bill Gates with knowledge of the Microsoft billionaire's affair with a Russian bridge player
Microsoft cofounder Bill Gates had an affair around 2010, The Wall Street Journal reports, and knowledge of the relationship was used by Jeffrey Epstein in a seemingly threatening email to Gates in 2017.
Epstein sent the email after multiple failed attempts to get Gates to join his attempt at establishing a large charitable fund with JPMorgan, according to the report.

The affair was between Gates and a Russian woman named Mila Antonova, then in her 20s, around 2010 after the two met through tournaments for the card game bridge, the Journal reported on Sunday. The Journal also found a 2010 YouTube video in which Antonova talks about her passion for bridge and mentioned meeting Gates at a national bridge tournament.

Antonova later met Epstein around 2013 when she was trying to get funding for a business, BridgePlanet, that would look to grow and teach others about the game she loved, the Journal reported. Antonova, who is now a software engineer, according to her LinkedIn, told The Wall Street Journal that she did not know about Epstein's crimes when when she pitched him and others on her business, which was around five years after his 2008 guilty plea and jail time for soliciting and procuring a minor for prostitution, which forced him to register as a sex offender.

"I just thought he was a successful businessman and wanted to help," Antonova told the Journal. "I am disgusted with Epstein and what he did." Antonova did not immediately respond to Insider's request for comment ahead of publication.

"Mr. Gates met with Epstein solely for philanthropic purposes," a spokeswoman for Gates told the Journal. "Having failed repeatedly to draw Mr. Gates beyond these matters, Epstein tried unsuccessfully to leverage a past relationship to threaten Mr. Gates." A spokesperson for Gates' charitable foundation did not immediately respond to Insider's request for comment ahead of publication.

After attempts to fund her business failed, Epstein paid for Antonova to attend a programming camp so she could pursue other work in software development, according to the Journal.

Epstein met with Gates several times starting in 2011 along with several other notable figures like Woody Allen and Noam Chomsky, and a spokesperson for the tech billionaire has previously said Gates only met with Epstein because he was described as someone who was interested in helping grow Gates's philanthropic efforts, and that he now regrets ever associating with Epstein.

In Epstein's various dealings and connections with JPMorgan Chase, which are the subject of an ongoing lawsuit, he reportedly tried to start a massive charitable fund that he hoped Gates would be a primary investor in. The Journal reported that in several emails and messages to JPMorgan executives, he represented his relationship with Gates as a close personal one, which Gates's spokesperson disputed, as they said Epstein misrepresented his relationship with Gates.

After failed attempts to get Gates to join the fund during multiple meetings, the effort reportedly fell apart. A JPMorgan spokesperson told the Journal the bank "didn't need" Epstein as a client or his introductions, and that, "knowing what we know today, we wish we had never done business with him." A JPMorgan spokesperson on Sunday referred Insider to what the bank already told the Journal.

In 2017, Epstein sent Gates an email asking to be reimbursed for the cost of Antonova's coding camp tuition, with the implication being that he was aware of Gates' infidelity and prepared to expose it, people close to the situation told the Journal. Gates reportedly never paid him, and it's unclear if the two interacted after the 2017 email.

Epstein died in a New York jail in 2019 after investigations from the Miami Herald unveiled dozens of other victims accusing him and his associate Ghislaine Maxwell, both of whom were criminally charged.

Epstein's death in prison was ruled a suicide, and Maxwell was sentenced to 20 years in prison last June for her role in the trafficking and abuse schemes.

You can read the full report about Epstein's email to Gates over at The Wall Street Journal.