A fraudster who conned people out of more than £100m worldwide has been sentenced to 13 years in jail.
Tejay Fletcher, 35, founded and ran a complex banking scam called iSpoof, brought down last year in the UK's biggest fraud sting.

The website enabled criminals to appear as if they were calling from banks and tax offices in order to trick victims.

Fletcher, of Western Gateway in east London, pleaded guilty to four charges relating to fraud last month.

Judge Sally Cahill KC said it had been a "harrowing experience" for all of the victims.

As part of the scam, fraudsters using iSpoof were able to disguise phone calls so they appeared to be from a trusted organisation.

Then, posing as employees of those firms or bodies, they would call people at random and warn them of suspicious activity on their accounts.

Victims were encouraged to disclose security information and, through technology, the criminals might have accessed features such as one-time passcodes to clear people's accounts of money.

The fraudsters posed as staff from banks including Barclays, Santander, HSBC, Lloyds, Halifax, First Direct, NatWest, Nationwide and TSB.

The judge said the £100m of global losses was a conservative estimate and the figure could have been bigger.

In the UK alone, £43m was lost and one victim lost £3m. The average lost among the 4,785 people who reported being targeted to Action Fraud was £10,000.

The iSpoof website itself made about £3.2m in cryptocurrency Bitcoin, with the "lions share" ending up with Fletcher, according to prosecutor John Ojakovoh.

Fletcher, who has 18 previous convictions, made about £2m from the website and bought a £230,000 Lamborghini, two Range Rovers worth £110,000 and an £11,000 Rolex.

He pleaded guilty last month to charges including making or supplying an article to use in fraud, encouraging or assisting the commission of an offence, possession of criminal property, and transferring criminal property, between 30 November 2020 and 8 November 2022.

He has been sentenced to 13 years and four months in prison.

Sentencing Fletcher, Judge Sally Cahill KC said he "didn't care" about those who had been defrauded, adding: "The late expression of remorse is regret for being caught rather than empathy for your victims.

"The evidence in my view shows very clearly you had a leading role and an active role in creating a sophisticated article for fraud, which generated a substantial profit for you."

'Distress and devastation'

What makes this case unusual is that the thousands who lost money through sophisticated scams were not direct victims of Fletcher and his junior partners - but they were all victims of fraud directly facilitated by the iSpoof website.

The prosecution described a business set up so that elements of detailed research and development on the one hand, and marketing on the other, encouraged criminals to cash in.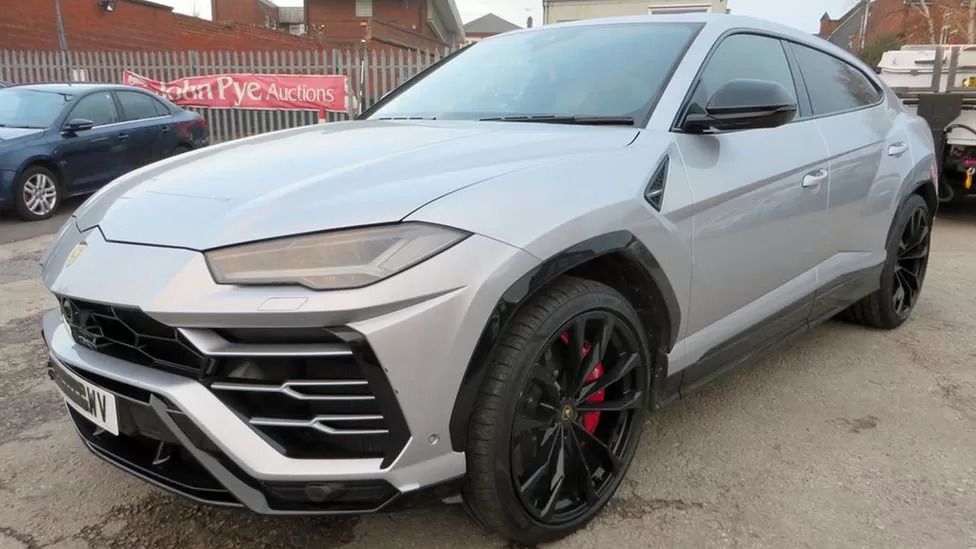 Fletcher bought a Lamborghini Urus with proceeds from the banking scam

Kate Anderson, deputy chief crown prosecutor for the Crown Prosecution Service, said the cost to many of the victims "has not just been financial".

"It has also had a huge emotional impact, causing extreme distress and devastation to those affected - many of whom had their life savings stolen from them," she said.

Describing the case as "complex and challenging", Ms Anderson thanked the Metropolitan Police for their help in securing the evidence.

The Met investigation involved 700 days of work and three detectives.

The force said that at its peak, iSpoof had 59,000 users, and at one point up to 20 people per minute were being targeted by callers using technology bought from the site.

Users of the website, which was created in December 2020, paid hundreds or thousands of pounds a month for its features, which were marketed on a channel on the encrypted messaging app Telegram called "iSpoof club".

Last year, the Met texted 70,000 people to warn them their details had been compromised and they had likely been defrauded.

Met Commissioner Sir Mark Rowley said: "Closing down iSpoof has been the UK's biggest ever fraud operation and was a collective effort."

He said the force was proud to have taken down "criminals at the top of this fraudulent network", describing them as "heartless people".

Simon Baker KC, defending, said Fletcher was an "extremely bright young man" who has a young son, adding: "It is extremely unfortunate that intellect was not channelled into gainful activities.

"His guilty plea reflects his genuine regret and remorse for his actions and his sincere wish to apologise to those who have suffered as a result of the frauds perpetrated against them, as a result of the iSpoof website."

Commenting on how people can protect themselves against scams, cyber security analyst Jake Moore told BBC News: "The onus is on the public unfortunately.

"Do not instantly trust caller ID - the fact is, we can't believe everything we see. And never hand over sensitive information, especially from a cold call."