Rishi Sunak used his first public speech since becoming the new Conservative leader to promise to bring the party and country together.
Some members of the public may well ask why the former is important.

Why has so much parliamentary time been dedicated to Tory infighting, at a time when people are struggling with the cost of living?

Part of the problem, as Liz Truss found out the hard way, is it's very hard to govern effectively and pass policies if your party won't necessarily back you.

The question is: can Mr Sunak turn that around?

Initial moment of unity

On Monday afternoon, Conservative MPs and journalists were crammed into the ornate room of Parliament where the chair of the committee that runs Tory leadership contests - Sir Graham Brady - was about to announce who had been nominated as party leader.

The room was full of chatter, and then suddenly fell silent. The news rippled around the room that Penny Mordaunt had conceded - news many Sunak backers passed around on their phones with glee.

Minutes later, after journalists were booted out and more Tory MPs piled in, Mr Sunak was greeted by loud cheers and banging on tables as he went to greet his MPs.

Conservative MPs have a habit of banging their fists on tables in this room - it's generally Tory-speak for approval.

Now, said bangs are no scientific measure, but as an observer who often witnesses these meetings from outside, it was fair to say his reception was incredibly loud.

There were audible cheers and even some shaking of the doors, leading some bemused journalists to joke whether some Tory MPs were desperately trying to get out.

After Mr Sunak's speech, many of them told me the party felt more united than it had done in months, even years.

Even one of Ms Truss's closest allies, Deputy Prime Minister Therese Coffey, said it was critical the party came together and put its "full force" behind the new leader, despite being "sad" her best friend in politics was moving on.

When asked if he was an election winner, she did crack a bit of a laugh, saying he "certainly won an election this week", while adding she would do whatever she could to support him.

Journalists aren't privy to these meetings, but the former Environment Secretary George Eustice, a Sunak backer, said Mr Sunak told MPs there was a big challenge ahead but they were "in it together".

Another supporter, Simon Hoare, said Mr Sunak had told MPs this was going to be a tough period, there were no easy answers and there would "certainly" be no general election.

Mr Hoare told me and other journalists: "He's not a politician who says 'What problems? There aren't any.' He's one that says 'There are, give us the patience to sort them out.'"

But amid this moment of unity, the new leader faces major challenges.

We know the party is currently divided on personalities - a number of MPs backed his rival Penny Mordaunt, while some had wanted Boris Johnson to stay on and had accused Mr Sunak of betraying him.

The Tories are also divided on policies - more of that later.

Has Boris Johnson done a 'hasta la vista' 2.0?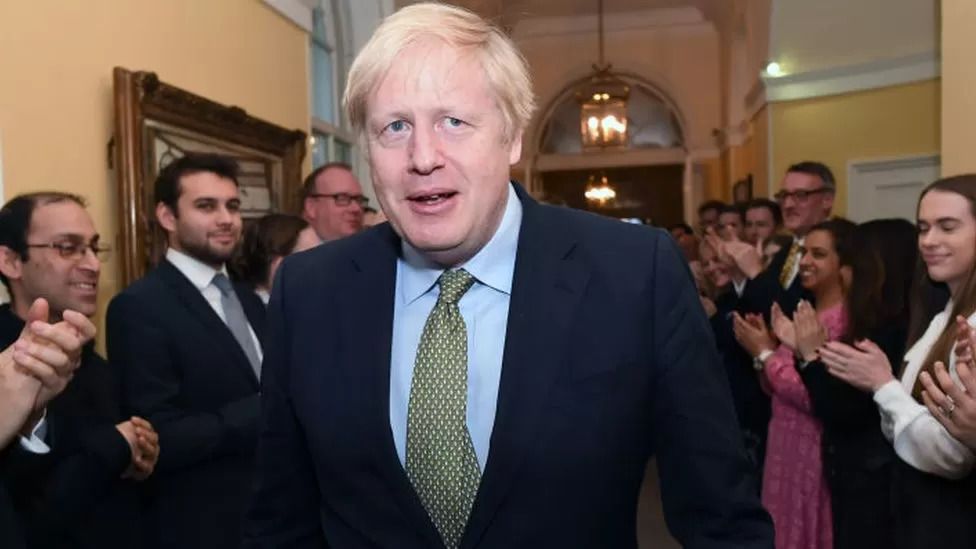 Boris Johnson won a landslide victory in the 2019 general election

In the end Mr Johnson didn't stand to be Tory party leader again - but some high-profile MPs, particularly on the right of the party, backed him to.

Mr Johnson's withdrawal from the race left his supporters red-faced. Just hours before, Business Secretary Jacob Rees-Mogg had told the BBC his ally was "clearly" going to stand.

Former chancellor Nadhim Zahawi had even written an article for the Daily Telegraph, which was published just as Mr Johnson announced he was pulling out and then quickly taken down, telling people to "get ready for Boris 2.0".

Within an hour Mr Zahawi posted on Twitter that he was now backing Mr Sunak, writing: "A day is a long time in politics."

Other prominent Johnson supporters including Foreign Secretary James Cleverly also switched to Mr Sunak.

Will Walden, a former director of communications for Mr Johnson, said his ex-boss had "displayed a startling lack of awareness" and "further destabilised the party, albeit only briefly".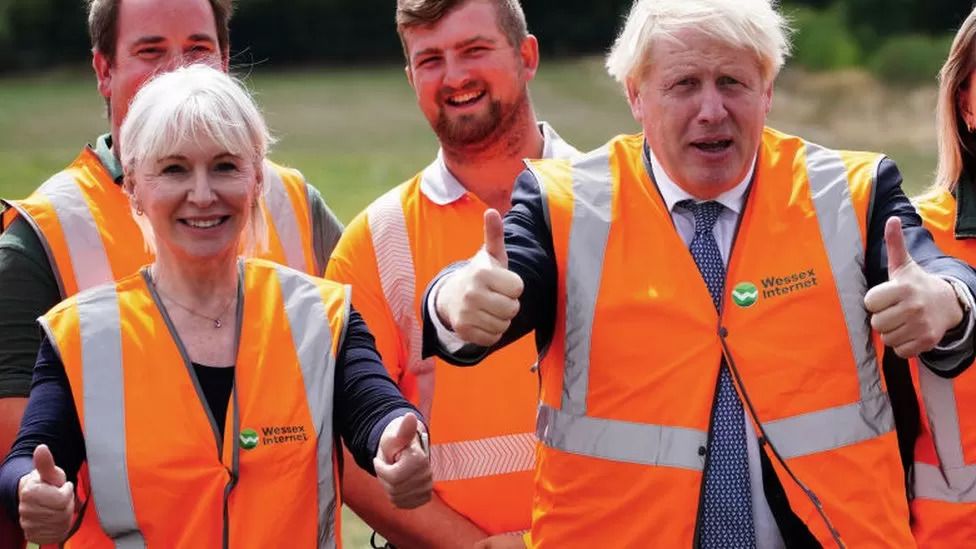 Nadine Dorries is a close ally of Boris Johnson

A lot of his loyal allies, including former Culture Secretary Nadine Dorries, spent the summer leadership contest accusing Mr Sunak of 'backstabbing' Mr Johnson by resigning from his government after a series of scandals.

When Mr Johnson quit in July, he concluded his final prime ministerial Commons appearance with the phrase, "hasta la vista" - "see you later".

We did indeed see a bit of him again this week, as he jetted back swiftly from his holiday in the Caribbean when there was a vacancy for the top job.

His statement on Sunday night also had a "hasta la vista" air about it.

He said he believed he was "well placed to deliver a Conservative victory in 2024", but now was "simply not the right time" for him to run. That certainly dangles the prospect of a future comeback.

So will he continue to be a thorn in Mr Sunak's side? Mr Johnson argued he was "uniquely placed to avert a general election" because of his landslide victory in 2019 - a hint perhaps he thinks Mr Sunak is not.

Some of his Conservative backers have now joined the ranks of those saying the public should get a say.

MP Sir Christopher Chope said his party was now "ungovernable" and a general election was "the only answer".

"If people who are now seeking the crown want to have the respect which comes from having a mandate, then what I'm saying is that the best way they can get that respect is by winning a mandate with the people, and that's why I think a general election is essentially the only answer, otherwise we're just going to go from bad to worse," he told BBC Radio 4's Today programme.

We live in a parliamentary democracy, meaning that mandate has officially passed on to Mr Sunak, but if he deviates too far from Mr Johnson's 2019 manifesto that could cause backbench grumbles - as it did for Ms Truss.

Policy clashes?

That's where policy comes in.

Tory MP Miriam Cates told the BBC that Mr Sunak's speech on Monday showed the party could unite over its policies. Another supporter Laura Trott said he'd shown a "will" to unite and that "we need to stop talking about ourselves and start talking about the things that matter to the country".

The issue is that the party is also divided on some key policies at the moment - with ideological differences on issues ranging from immigration to fracking to tax cuts.

Ms Truss faced a backlash over her tax cuts and rebellions over her plans to bring back fracking where there is local consent - something Mr Sunak also backed in the summer leadership campaign.

He could face similar challenges trying to pass some legislation where these policy differences exist.

His economic vision in the summer, to bring inflation down before cutting taxes and to introduce targeted support for the most vulnerable, differed greatly from Ms Truss's.

He'll hope the market reaction to her plans will work in his favour, but to govern effectively - as Ms Truss learned the hard way - he'll have to prove he can bring his party with him on his policy agenda.