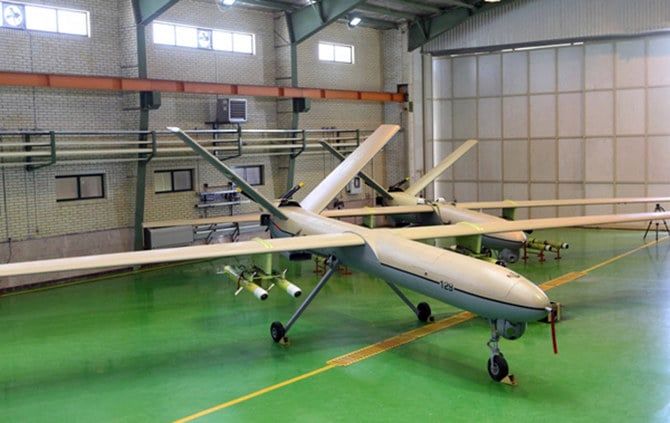 Iran smuggles advanced drones to Russia for use in Ukraine: Report
Iran has used boats and a state-owned airline to smuggle new advanced long-range armed drones to Russia for use in its war against Ukraine, The Observer reported on Sunday.
At least 18 of the drones were sent to Russia's navy after officers and technicians visited Tehran in November, sources in Iran told The Observer.

The Russian delegation was shown the full range of Iranian technologies and chose six Mohajer-6 drones with two missiles under each wing, as well as 12 Shahed 191 and 129 drones.

Unlike the Shahed 131 and 136 drones, which Russia has extensively used in kamikaze raids against Ukrainian targets, the higher-flying drones are designed to drop bombs and return to base intact. Mohajer-6 drones have been used in Ukraine since September.

Most of the drones were secretly picked up by an Iranian vessel from the coast of the Caspian Sea and then transferred to a Russian navy boat at sea, sources told The Observer. Others were flown on a state-owned Iranian airline, they added.

Iran has also dispatched technicians to Moscow to assist with the deployment of the drones. According to the sources, 54 officials assisted in the integration of the smuggled craft into the Russian military.

The Caspian Sea, the world's largest inland body of water, has Iran on its southern border and Russia on its northwestern border, making physical transfer between two countries simple.

The drones were made in the same military factory in Isfahan that was downed by what was allegedly an Israeli drone on Jan. 28.

US officials have said they believe Israel was motivated by its own national security interests rather than trying to intervene in the Ukraine war.

Iran's Islamic Revolutionary Guard Corps has been at the forefront of the growing relationship, with senior leaders playing key roles in drone exports to Russia.

Western governments have been closely monitoring the nations' arms alliance in an effort to prevent it from escalating.