There will always be a need for the Invictus Games for injured or sick military personnel and veterans, the Duke of Sussex has said.
Prince Harry said more nations were being invited to participate to provide them with an opportunity to "heal".

Speaking to the BBC, the prince, who founded the event, said: "With the state of the world right now, there is always going to be a need for it."

The games - in their fifth year - are taking place in The Netherlands.

Five hundred injured and sick military personnel and veterans from 20 nations are competing in a week of adaptive sports in The Hague.

The aim is to help recovery, support rehabilitation and promote wider understanding of injured and sick servicemen and women.

Speaking in an interview with Alex Jones and JJ Chalmers on the Invictus Games programme on BBC One, the prince said he was excited about the future of the event.

He said: "After three years, I thought we might be able to put it in a box and put it on a shelf and just leave it until we would need to bring it out again.

"But with the state of the world right now, there's always going to be a need for it as far as I can tell...

"We're constantly inviting new nations because this is about healing, and as the bigger teams - US, UK - perhaps decrease in number it's going to provide an opportunity for more nations to come in who desperately need this opportunity and this place to heal together."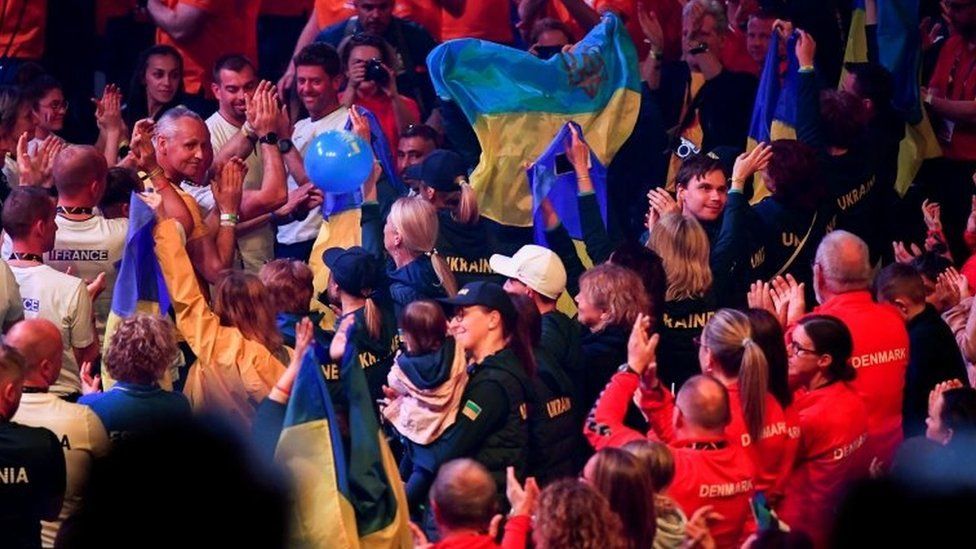 The Ukrainian team were given special permission by President Volodymyr Zelensky to compete in the games

The prince added that it was "extraordinary" to have a team from Ukraine, and said it was emotional to think about their journey to The Hague.

The 19 competitors from Team Ukraine were given special permission by President Volodymyr Zelensky to take part.

"What people need to remember, or perhaps don't even know yet, is the vast majority of the Ukraine team was serving in some shape or form," said the duke.

"So they'd remove their uniforms, put their team strips on, jumped on the coach, came over here, slept for a couple of days, tried to decompress, and then were straight into it. And then they've got to go back. So I think to have them here is extraordinary."

He said they had lost four members of their community, however; one of whom was their archery instructor who was killed in action.

The prince appeared on the BBC alongside servicewoman and breast cancer survivor Gillian Charlton representing Team UK in swimming, powerlifting and rowing.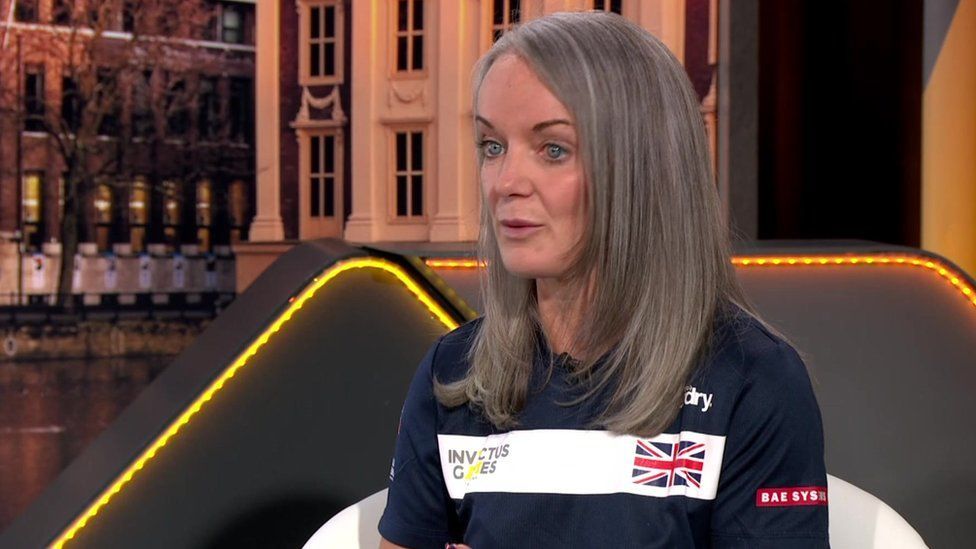 Gillian Charlton said of Invictus: "I can honestly say it's changed my life"

She said: "It [training for the games] has been a real fundamental part in me moving forward and re-finding my identity and building on that.

"I found this incredible community and all these people that really get it, and I can honestly say it's changed my life."

Competitors take part in events including archery, athletics, wheelchair basketball and sitting volleyball.

The duke was inspired to help set up his own event after seeing the 2013 Warrior Games in the US, where injured and retired service personnel competed.

The first competitions were held in London in 2014, with subsequent ones being staged in the US, Canada, and Australia.
Watch: Prince Harry voices his support for Ukraine