"I'm trapped," says Caroline, one of the tens of thousands of people in work who have to use food banks in the UK.
The classroom assistant and single mother describes it as a "circle I can't get out of".

Over the past year, millions of food parcels have been distributed to people like Caroline, the Trussell Trust says.

The charity, which runs more than half of UK food banks, says it expects food poverty to worsen in the UK as the cost of living crisis deepens.

Caroline, who lives and works in County Fermanagh in rural Northern Ireland, would like to get a job with better pay, but to do that she would have to move away from her family and community.

She would also like to stop claiming Universal Credit, but her budget won't allow it.

As her living costs rise, she is trying to make savings, but it's hard.

She puts the central heating on only occasionally and uses coal fires to keep herself and her 11-year-old daughter warm. But she needs her car for work, and the recent hikes in fuel prices have hit her hard.

Her grocery bills are also rising, but in her small community there are only local convenience shops, and big supermarkets where she might find better deals are too far away.

And so she sometimes finds herself falling back on food banks.

The Trussell Trust gave out some 1.9 million food parcels in 2019-2020, to an estimated 370,000 households.

But a record 2.5 million parcels were distributed during during the height of the pandemic in 2020-21, and that only fell back to 2.1 million parcels last year.

The charity is concerned that the situation is only going to get worse again as benefits fail to keep pace with inflation.

The majority of people who use food banks have benefits as their only income, but a significant minority - historically about 14% - are in work.

"What we are witnessing is an accelerating crisis across the country," Trussell Trust boss Emma Revie tells the BBC.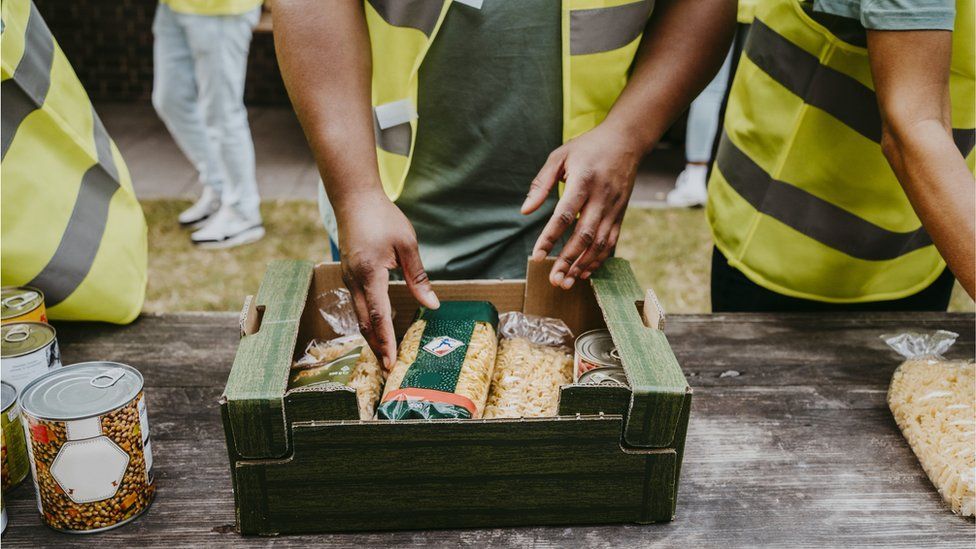 Tim, 36, had seasonal work at Christmas in north-west London, but has been out of a job since then.

The Chelsea fan has been studying part-time but has been unable to get a job in retail, where he has previous experience.

He says "it is not an extremely good feeling" to have to use food banks, and he feels "slightly apprehensive and anxious" about the cost of living crisis getting worse.

His electricity bill has doubled since the energy price cap rose in April, with another rise expected later this year.

A government spokesperson said: "We recognise the pressures on the cost of living and we are doing what we can to help, including spending £22bn across the next financial year to support people with energy bills and cut fuel duty."

They also said it had given many workers on Universal Credit a tax cut, lifted the minimum wage and provided extra funds to councils to help the hardest hit.

'Heating and eating'

However, Ms Revie says the charity has been "disappointed" in the government's actions. In particular she criticises a decision to reverse a £20 a week uplift for all Universal Credit claimants last year.

Ms Revie is also concerned that if energy prices continue to rise, people will be forced to choose between "heating and eating".

"There are health implications from not being able to stay warm, just as there are health implications of not being able to eat," she says.

"People need a safety net so they can bounce back, not fall into destitution."

Labour is calling for the government to set out an emergency budget to offer "real solutions" to the cost-of-living crisis.

"Food Banks are a symptom of economic failure and ministers must now offer real help to working people, disabled people, families and pensioners struggling to feed themselves," shadow work and pensions secretary Jonathan Ashworth said.

For Caroline in Northern Ireland, her situation remains "a bit of a nightmare".

She had to use all of her savings recently to get her car fixed, and she hasn't had a holiday away for five years.

"It's just like a balancing act," she says. "You never know what's going to come at the other end of the scale to tip you off".