As companies shift to hybrid, the purpose of the office has changed. Workers will start seeing different floorplans, functions and technologies.
This past year has served as an extended experiment for companies, as they tested out the best ways to effectively manage a remote workforce. Now that Covid-19 restrictions are easing in many parts of the globe, however, leaders must now undertake a brand-new experiment: how do you bring that same remote workforce back into the office – and what should that office look like?

This is a question that Adtrak, a digital marketing agency based in Nottingham, UK, has grappled with in recent weeks. Like many companies, Adtrak has adopted a hybrid model, where employees are only required to come into the office once a week on the same day as their team. The rest of the time, unless there is a meeting best done in person, they'll have the flexibility to work from home.

"We're really trying to see the office in a different way," says James O'Flaherty, Adtrak's business operations director. "Before it was, 'I go to the office, because that's what I do to work'. Now, we want it to be more like, 'I'm going into the office today because today is the day I see people'. We're trying to use that day in the office to be more collaborative, get some face-to-face time and really reignite the culture we've missed being remote."

Moving to a hybrid workforce meant O'Flaherty had to entirely rethink the set-up in Adtrak's 16,500-sq-ft space. In early 2020, the agency had 120 desks; now they have just 70 (despite retaining a staff of about 100). Yet that doesn't mean the office is getting smaller. O'Flaherty has re-configured it to include team-working spaces that encourage collaboration, hot desks workers can book through an app, social spaces to promote dialogue and rooms equipped with new technology for seamless videoconferencing with remote-working colleagues.


Gone are the days of rigid social and physical structures that many companies believed were essential to a productive work environment

Experts say that reports of the office's demise over the past year have been exaggerated. Rather than abandoning them entirely, many companies will do what Adtrak has done, and develop their spaces to meet the demands of a hybrid workforce that wants choice and flexibility for where and how they work. Gone are the days of rigid social and physical structures that many companies believed were essential to a productive work environment. What's in, instead, are more adaptable designs, and communal areas meant to foster teamwork, creativity and a sense of connection lost during the pandemic.


Fewer desks, more social spaces

Offices are, of course, always evolving. Even before the pandemic, digitisation and changes in generational demands were already greatly altering the look of the corporate world. Cubicle farms had given way to open plan layouts, while technological inventions such as Google Docs, Slack and videoconferencing made workers' physical presence in the office less essential.

"There was an evolution of the workplace that was already underway," explains Robert Mankin, a partner in architecture firm NBBJ's Los Angeles office, who oversees international corporate practices. "What the pandemic did was pour fuel on that, and accelerate that transformation five to 10 years from where it might have been otherwise."

Nicola Gillen, a London-based workplace strategy and design specialist and author of Future Office, says that people will no longer be commuting into city centres "to work by themselves in rows, to be monitored in an old-fashioned presenteeism style of management that was invented more than 100 years ago. Instead, they will come to the office more purposefully for specific reasons", such as collaborative work, meetings and brainstorming sessions.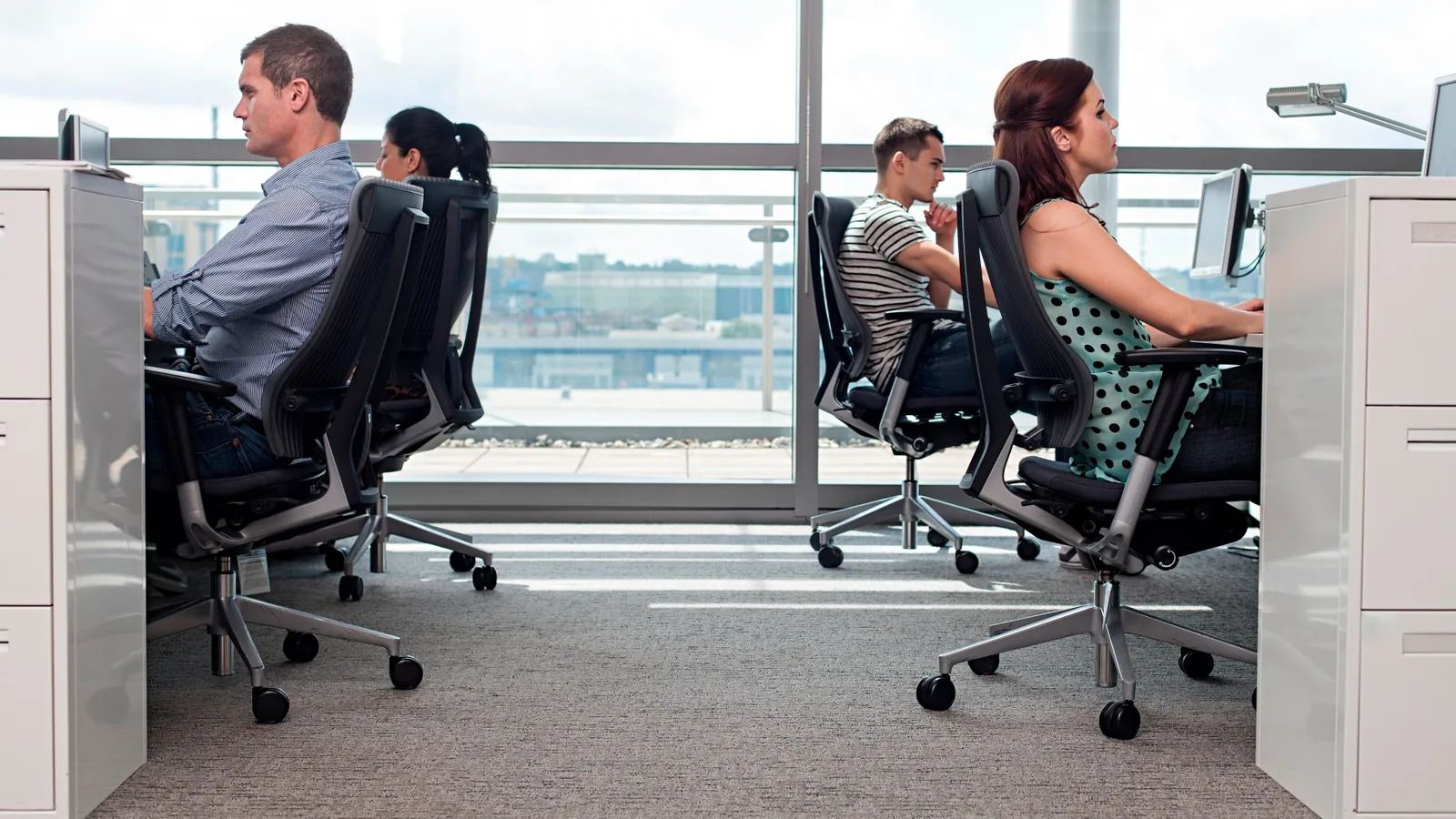 Rather than long lines of desks, hybrid offices should favour collaboration spaces, experts say

It's clear that most workers do want to see their colleagues in person periodically as well as retain work-from-home flexibility. A study of 3,000 UK-based remote workers conducted in March by intelligent learning platform HowNow showed that more than two-thirds (67%) felt disconnected from their colleagues, while half (49%) said this sense of disconnection was having a negative impact on how they viewed their job. A similar survey from job-site Indeed showed that 45% of US remote workers missed in-person meetings with their colleagues, with 46% missing those work-related side conversations that happen in the office.

"The more virtual we become, the more important it is that we connect and communicate face to face to support that virtual existence," says Gillen. Consequently, she foresees "the amount of individual space – desking, offices, that kind of thing – halving from where it was in terms of best practices before Covid" from about 50% to 30% (though this will vary considerably by industry, she notes).

Companies are now converting that individual space into collaborative space and social environments where workers can get together. After all, researchers suggests that unstructured collaboration outside formal meetings is key to a successful business. There may also be areas designated for mentoring, learning and training – something that Gillen says the younger generation has been robbed of during the past 16 months. By creating spaces that are less structured and more creative, the hope is to reframe the office as more of a destination than an obligation.


The more virtual we become, the more important it is that we connect and communicate face to face to support that virtual existence – Nicola Gillen

Mankin thinks the office of the future will also need to be more agile and able to change depending on the demands of a given day. This might mean multipurpose furniture that can be moved to promote collaboration, or demountable partitions for moments of privacy. Teamwork might take place across a range of formal and informal areas, while there would also be quieter task-specific zones for head-down work.

Employees who no longer have assigned desks might instead share desks within neighbourhoods or team pods, so they'll always have a home base. They may also be assigned lockers or team shelving not only to store supplies but also instil a sense of connection to the area in which teams work, according to Gillen. These kinds of changes also address health and safety concerns that could linger long after the pandemic subsides, since desks cluttered with personal items don't tend to get the kind of deep clean each night that an unassigned desk would.


Health, wellbeing and the virtual experience

Newer office designs are also addressing a wide range of factors that cover not only health and safety but also wellbeing. Mankin, for example, is working on a "restorative workplace" for Korean fintech company Hana Bank, that's meant to help workers leave the office feeling better than when they arrived. They can achieve this, he says, by prioritising flexibility and personal agency in the office layout, activating public spaces to inspire creativity and incorporating a 12-story "infinity park" that traverses the entire headquarters, democratising access to nature.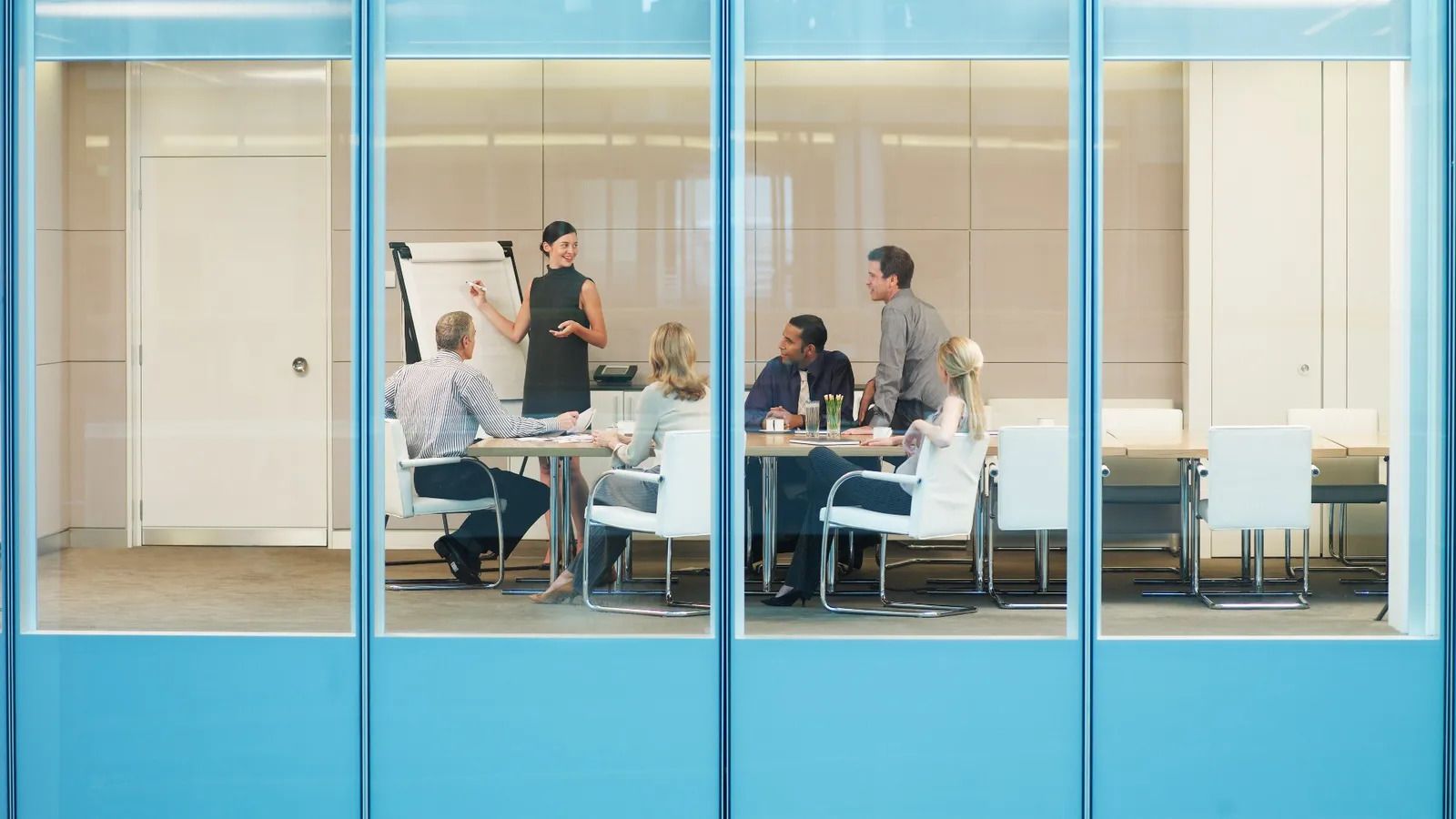 Hybrid offices will benefit from comfortable shared spaces where teams can exchange ideas

"Health was a rising topic in the workplace before the pandemic, but it was more around exercise and access to nature," says Mankin. "Now it's gone from something discussed to something fundamental, and it includes physical health, mental health and a worker's whole wellbeing."

New touchless technology to replace surfaces such as buttons and handles will also address health concerns amplified by the pandemic. Other tech inventions might include face recognition (to replace things like swipe cards), intelligent signage (to create a frictionless experience and tell you your first meeting is on the third floor) or QR codes for things like sit-stand desks that could be scanned to adjust to your height and preferences in order to accommodate different users each day.

The most crucial tech component of the post-Covid-19 office will be a tool to help bridge the gap between remote and in-person staff. Experts believe videoconferencing will remain a big part of our work lives for years to come. As such, companies like Microsoft have debuted elaborate conference rooms with curved tables, projection equipment and specialised mics and cameras that make in-person participants feel like everyone's present and remote participants feel like everyone's remote.

Google has similarly pioneered a number of high-tech gadgets it thinks will be crucial in the coming months, including privacy robots with rapidly inflating cellophane balloon walls to create flexible spaces. Whether these are merely expensive gimmicks or the office furniture of the future remains to be seen. Like everyone else, the tech giants are merely testing new ideas and seeing what sticks.

Nobody knows for sure what the office of 2022 will look like, but the gradual (and often hybrid) return over the coming months will no doubt shape its trajectory. O'Flaherty, the business operations director in Nottingham, is the first to admit that the model he's come up with for his digital marketing agency probably won't work in the long run.

"It's going to come close, but I think it will take a bit of time for us to figure it out," he says. "Within the first few weeks we'll review and refine, but we need to get everyone's feedback; we need to know: is this [new design] working?"