Humza Yousaf has been confirmed as Scotland's new first minister after a vote in the Scottish Parliament.
The SNP leader was backed by his own MSPs and the Scottish Greens - guaranteeing him a majority.

All three opposition leaders stood against him but knew they had no prospect of being successful.

Mr Yousaf, who succeeds Nicola Sturgeon, is the country's sixth first minister and first from an ethnic minority background.

He is also the youngest first minister at 37, and the first Muslim to lead a major UK party.

Following the vote, Prime Minister Rishi Sunak phoned Mr Yousaf to congratulate him.

He said he wanted to continue "working constructively with the Scottish government" to deliver on what he argued were the "people's priorities across Scotland, including the need to half inflation, delivering growth, and cut waiting times."

Mr Yousaf raised the question of a second independence referendum, but Mr Sunak suggested this would "distract" from "delivering on the things that are top of the priority list for people across Scotland".

'Minister for independence'

The new first minister started to shape his team on Tuesday afternoon with the announcement that Shona Robison - who has been serving as the social justice secretary and was a close ally of Ms Sturgeon - would be become his deputy first minister.

He also confirmed he would have a "minister for independence" in his government, a role he pledged to create during the leadership campaign

Ms Sturgeon formally tendered her resignation to the King earlier on Tuesday after more than eight years as first minister. She announced last month that she would be standing down once a replacement was appointed.

Mr Yousaf was backed by all 64 SNP MSPs and the seven Greens, with the two parties having a power-sharing agreement in the 129-seat parliament.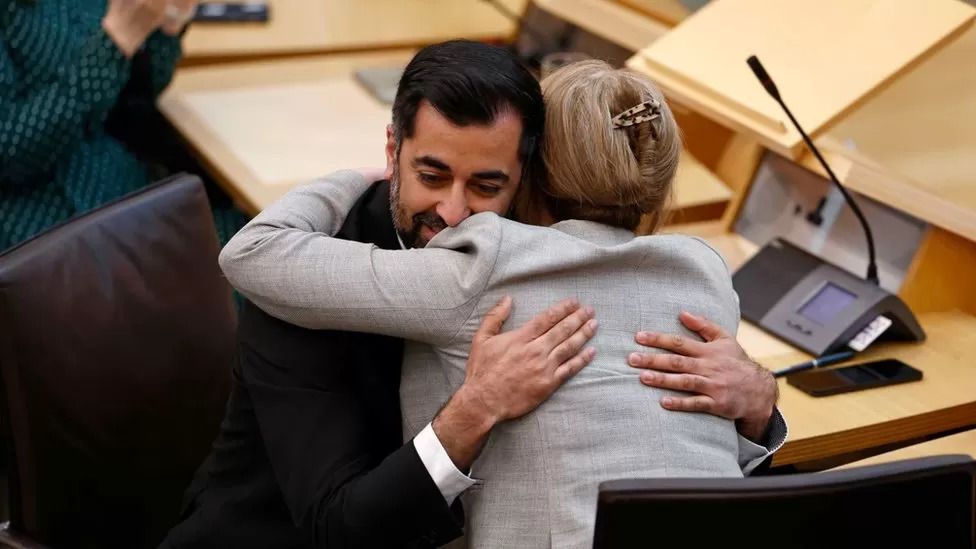 Mr Yousaf was congratulated by Shona Robison, who will become his deputy first minister

All 31 Conservative MSPs voted for Douglas Ross, the 22 Labour members for Anas Sarwar and the four Liberal Democrats backed Alex Cole-Hamilton.

Mr Yousaf said it was a signal of the progress that Scotland has made that two of the nominees for first minister - himself and Mr Sarwar, who were at school together at the private Hutchesons' Grammar in Glasgow - were from minority ethnic communities.

He described the moment as "a privilege of my life", and said Ms Sturgeon - who watched the vote from the backbenches - leaves "some very big shoes to fill indeed".

Mr Yousaf added: "I pledge that Scotland will continue to be a positive, progressive voice on the world stage".

And he said his government would "listen carefully and pay respect" to the views of all MSPs while standing up to any attempts to "undermine devolution".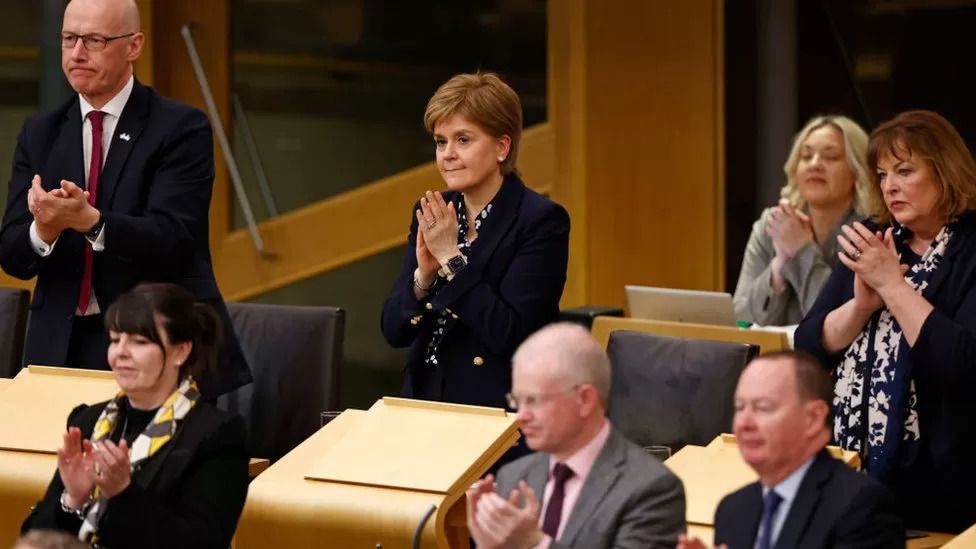 Nicola Sturgeon now sits on the back benches at Holyrood

The new first minister said: "I will never shy away from tackling the big issues our country faces.

"My starting point will be that we all want the best for Scotland and the people that we are so privileged to represent. I will stand up unequivocally for this parliament and against any attempts to undermine devolution.

"I will work every hour of every day to harness the potential of Scotland and every single person. I will place no limits on the ambitions that we have collectively for ourselves, for our country or indeed for the world that we live in."

Mr Yousaf will be officially sworn in as first minister during a brief ceremony at the Court of Session in Edinburgh on Wednesday, and is expected to then start the process of appointing the rest of his cabinet team.

He will also face opposition leaders for the first time at the weekly First Minister's Questions session on Thursday.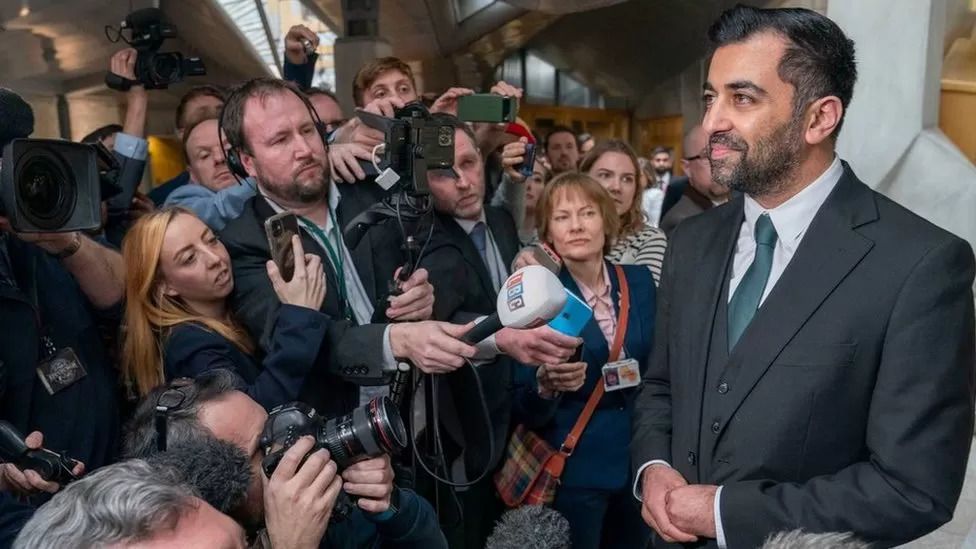 There will be considerable interest in the future of Kate Forbes, who finished a close second to Mr Yousaf in the SNP leadership contest after attacking his competency and Ms Sturgeon's record in government in a live STV debate during the campaign.

Ms Forbes had herself been attacked by senior SNP figures including outgoing Deputy First Minister John Swinney, who has also now left the government, over her socially conservative views on issues like gay marriage and abortion.

She has been on maternity leave as the country's finance secretary and Mr Yousaf has said he has spoken to her and "absolutely" wants her to be part of the government - but it not yet known what role he would offer or whether she would accept.

Prime Minister Rishi Sunak said he was looking forward to meeting and working together with Mr Yousaf, but the UK government has already made clear it will continue to refuse to grant formal consent for another independence referendum.

Mr Yousaf was also congratulated on his appointment by opposition leaders at Holyrood, with Mr Ross saying: "With both the first minister and the prime minister representing the UK's diverse communities, this sends a strong, positive message to everyone that there are no barriers to what you can achieve in this country."

But he went on to claim that Mr Yousaf "seems to be doing his best to offer a poor imitation of his predecessor" having decided on his first day to "renew Nicola Sturgeon's constitutional conflict with the UK government" by calling on it to grant formal consent for an independence referendum.

Mr Sarwar told Mr Yousaf that their respective grandparents "could never have imagined" that their grandchildren would reach the positions of first minister and Scottish Labour leader when they arrived in the country and made Scotland their home.

He added: "I know that he (Mr Yousaf) has faced personal abuse and racism, as have so many others who don't have the platform that he and I are fortunate to have.

"I am proud of the work we have done alongside others to stand against hatred and bigotry, and my promise is that I will continue to stand alongside you in that fight for all of us."