From ballgowns to Barbours, why Her Majesty's evolving dress sense is a masterclass in royal image making. Daisy Woodward looks back at a fashion journey like no other.
In her 70 years on the throne, the Queen has witnessed huge social change, previously unthinkable scientific and technological breakthroughs, and – inevitably – the emergence, decline and re-emergence of countless fashion trends. Some of these she has helped spark: it could be argued that Her Majesty pipped Billie Eilish to the post in the pioneering of neon green, popularised the Gucci horse-bit loafer, and set the ultimate standard for British countryside chic. Others, like the refined New Look of the 1950s championed by Christian Dior or the bold prints of the 1970s, she has wholeheartedly embraced. But, for the most part, she has carved out her own, singular visual identity, aided by a host of advisors, stylists and designers.
Today, monochromatic co-ords and matching hats form the basis of the Queen's quintessential ensembles, with accessories spanning silk scarves, pearls and Fulton umbrellas, through gloves, brooches and her beloved boxy handbags. Robin Janvrin, her former Private Secretary, tells BBC Culture, "I have always been struck by the Queen's very practical approach to what she wears. She dresses to stand out so that people can see her – bright colours and a hat, with gloves useful when being handed all sorts of things on walkabouts."

Yet, the monarch also has a soft spot for sartorial surprises, from her love of colour, to her zeal for zippy prints. "I think the Queen has very much approached her clothing as a uniform, but she keeps it creative and interesting within those guidelines," Elizabeth Holmes, the author of HRH: So Many Thoughts on Royal Style, tells BBC Culture. Her style is also faultlessly considered, paying subtle homage to countries, cultures, people and occasions both at home and abroad. In celebration of her Platinum Jubilee, we explore the emergence of the monarch's inimitable aesthetic, and the ways in which she has harnessed fashion as a powerful and playful tool across the decades.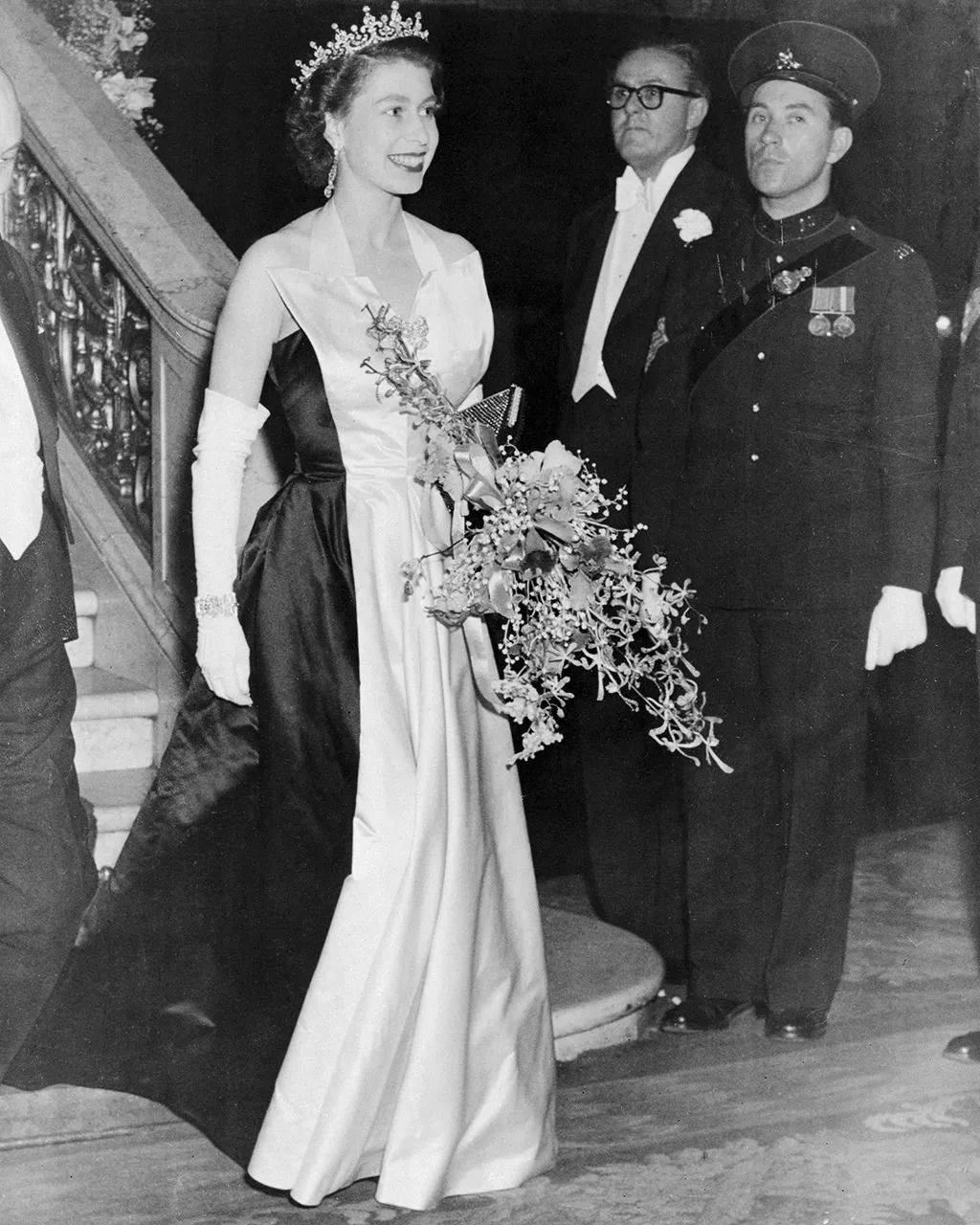 The tuxedo-lapel detail on this gown by Norman Hartnell, worn by the Queen in 1952, was daring for the time
1950s

The 1950s was the Queen's most trend-centric decade. As a 25-year-old, newly crowned monarch, she embraced the glamour of the post-war era, promoting British fashion and garnering her own style-icon status along the way, with help from her principal couturiers Norman Hartnell and Hardy Amies. "She took to the global stage at a time when the world was largely run by men, and to see her hold on to her razzle-dazzle femininity was just delightful," says Holmes.

Just months after ascending the throne, Elizabeth II wore this sweeping black-and-white Norman Hartnell gown, paired with long white gloves and a dainty tiara, to a special film screening at Leicester Square's Empire Theatre, causing a particular stir. "At first glance, it's a beautiful, very traditional ball gown, which is what you'd expect at a big gala performance," Bethan Holt, author of newly published book The Queen: 70 Years of Majestic Style, tells BBC Culture. "But then you notice its menswear detailing – a tuxedo-lapel finish at the top. Hartnell and the Queen are showing they're not afraid to make a fashion statement." The next day the so-called "Magpie dress" was headline news, spawning multiple copies and DIY patterns.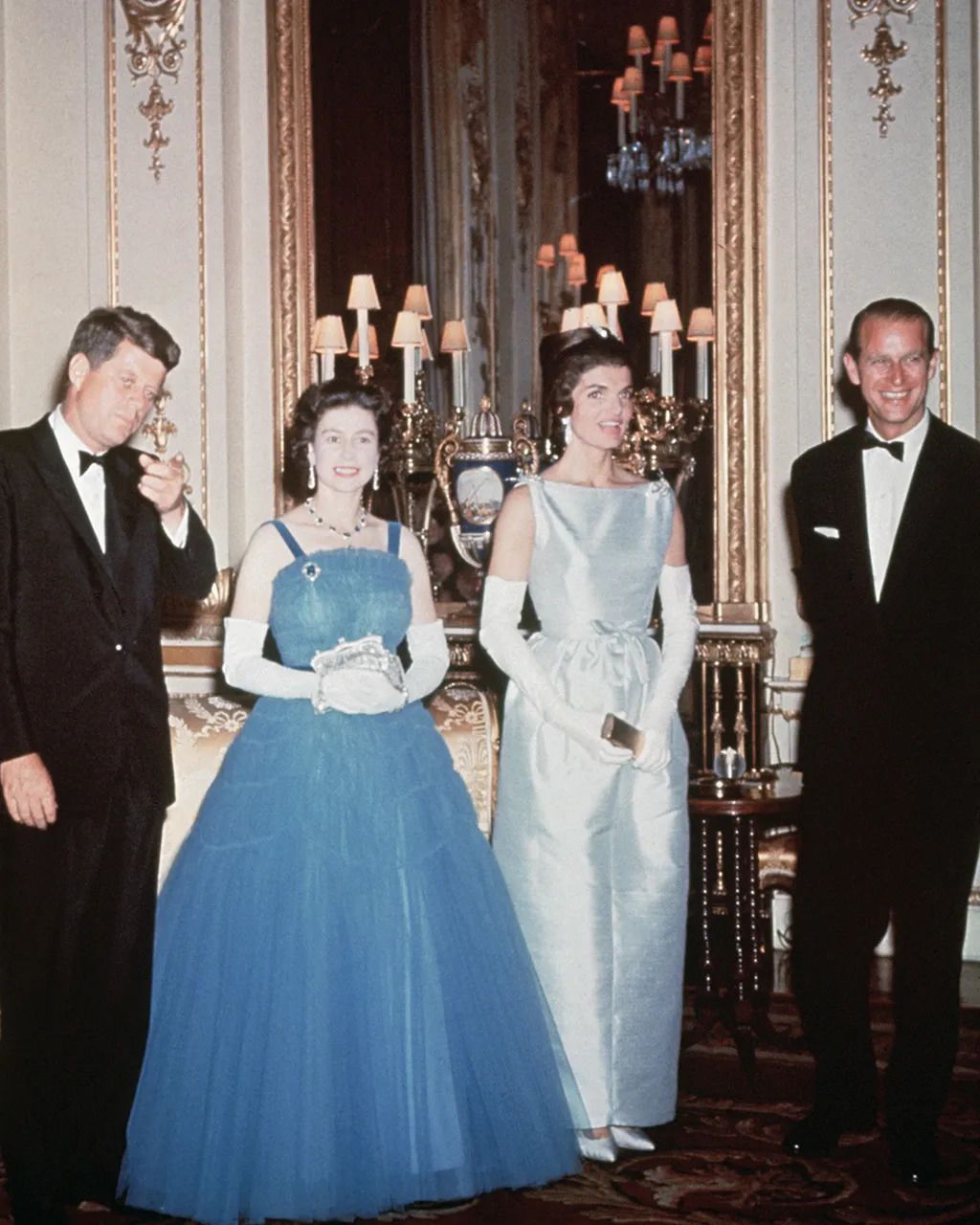 In 1961 the monarch hosted the Kennedys at Buckingham Palace wearing a pale-blue tulle gown – the encounter was dramatised in TV series The Crown
1960s

The early 1960s saw the Queen retain her penchant for pizzazz. When, in 1961, she hosted the Kennedys at Buckingham Palace, HM donned a pale blue evening gown in frilly tulle – a Hartnell trademark – while the First Lady opted for a sleek column dress that was far more á la mode. The encounter was dramatised in The Crown, which played on the rumours that Jackie had been less than impressed by the Queen's "old-fashioned" ensemble. Holmes, however, argues that both women's attire spoke to who they were and what they represented – a matter of unwavering importance to the Queen, especially for landmark events. "She can never go wrong if she sticks to what she knows and that classic silhouette is very familiar to her," says Holt.

Indeed, as the famously free-spirited decade progressed, bringing with it miniskirts, bell-bottoms, tie-dye et al, the monarch reappraised her role as trend-setter, instead setting out to establish the foundations of her now-hallmark style. The era of block colours, slim silhouettes and skirts that have remained steadfastly on or below the knee, had officially begun.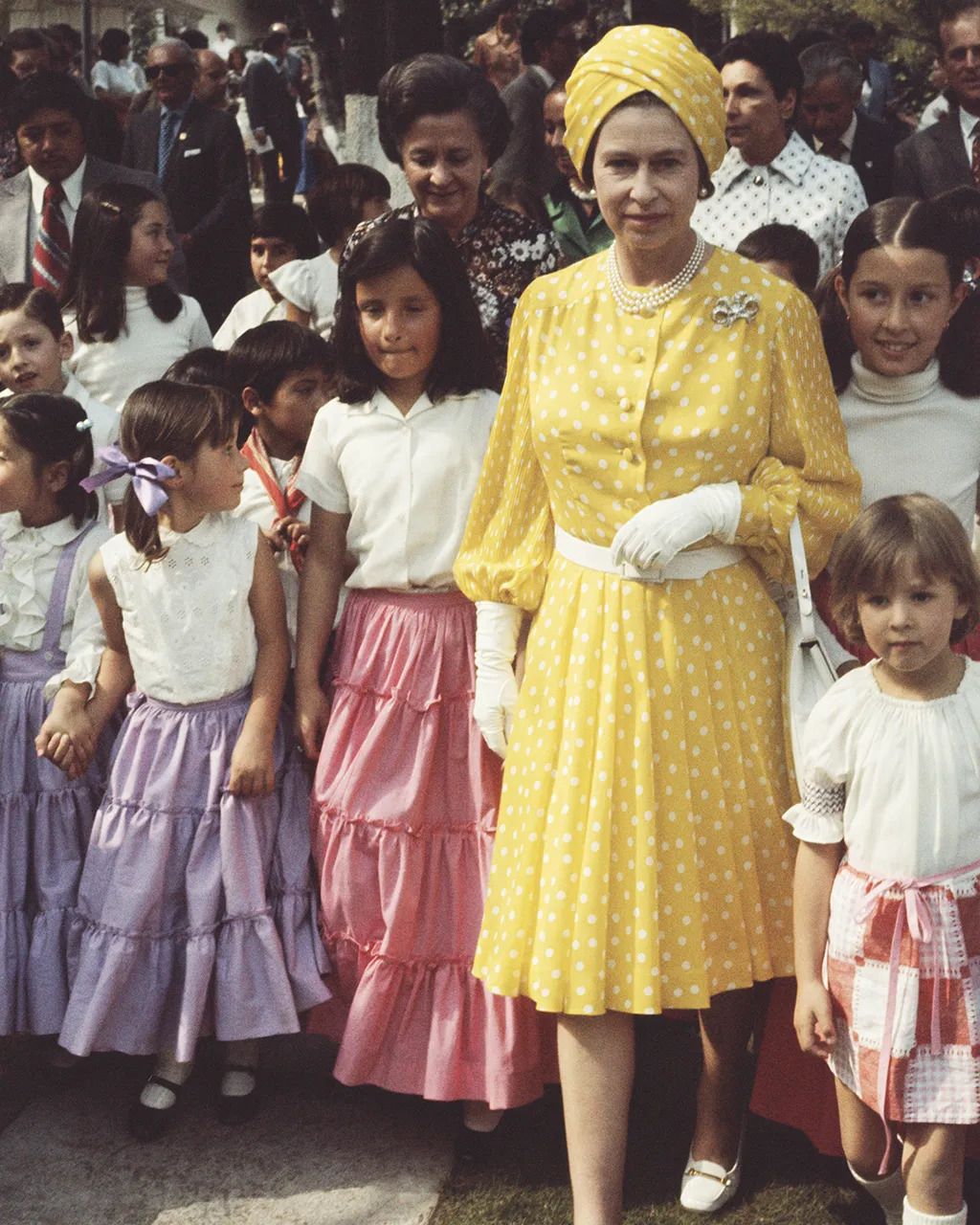 In a yellow polkadot dress by Hardy Amies with matching turban, Her Majesty leaned into the decade's flamboyant style on a 1975 visit to Mexico
1970s

The Queen is the world's best-travelled monarch, having visited 117 different countries during her reign. Each of her royal visits has been accompanied by a scrupulously planned, bespoke wardrobe reflecting "the attitudes, or flora and fauna, of the country she's in, whether through colour, style, pattern, or jewellery," Lucinda Hawksley, the author of Elizabeth Revealed, tells BBC Culture. "It's one of the things that makes her such a great diplomat." Holmes agrees: "Her gracious gestures say everything without having to say anything at all, and have influenced the way a lot of female politicians dress today."

Here, the Queen is seen in a sunny yellow polkadot dress by Hardy Amies, and matching turban by Frederick Fox, during a state visit to Mexico in 1975. Traditionally representative of renewal and hope, yellow also symbolises maize, a vital life source, in Mayan culture. The bold choice of colour and pattern demonstrates the Queen's own take on the 1970s trend for striking self-expression, which manifested itself in her eye-catching day and evening wear throughout the decade. Meanwhile, whimsical headwear was becoming a key royal staple. "The Queen reached a moment in middle-age when she hit her stride with her role," notes Holmes. "She recognised the need to keep her presence interesting, and interesting hats make for fantastic photographs, particularly in close-ups."


The monarch's brand of rural chic has been so widely emulated over the years that it now boasts an almost kitsch appeal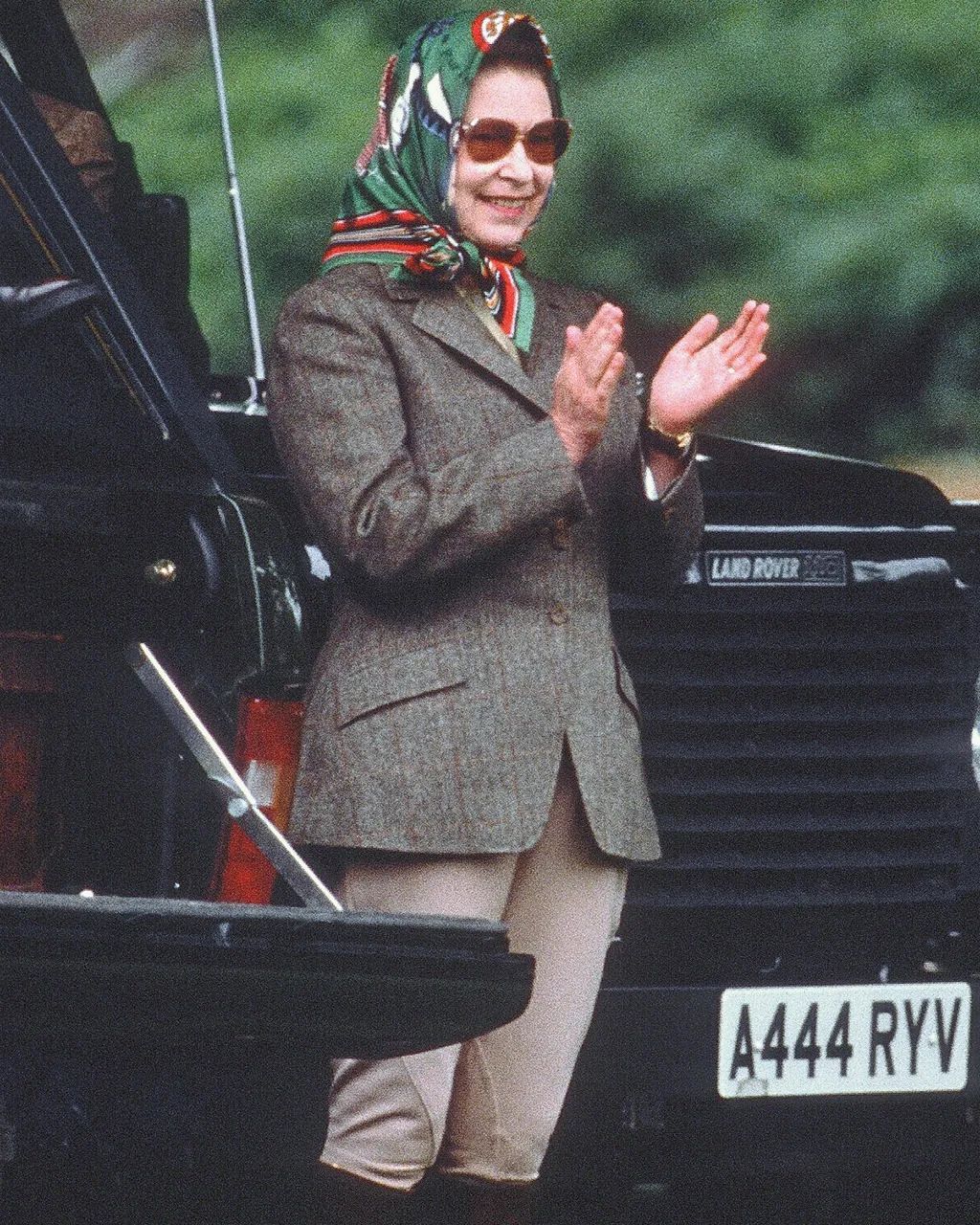 The Queen's enduring off-duty look, shown here at the 1988 Royal Windsor Horse Show, has been much copied by fashionistas
1980s

Taken at The Royal Windsor Horse Show in 1988, this image finds the Queen in her enduring and timeless off-duty uniform – no 80s puff-sleeves here. This is defined by "the tweed skirts and jackets, the jodhpurs, these classic British country items she has made her own," explains Holt, "and that show her as a woman who loves horses and the outdoors." Seemingly without fail, such outfits will be often topped by a Barbour jacket and an exuberantly patterned silk headscarf, often an equine print by Hermes, that Holmes says "shows her personality and somehow makes her more approachable".

The monarch's brand of rural chic has been so widely emulated over the years that it now boasts an almost kitsch appeal. This is perhaps best epitomised by Gucci's spring/ summer 2017 women's show, which took place in Westminster Abbey and saw Alessandro Michele deck his models in gaudy headscarves and colourful tartan skirts, and sporting box handbags and embellished loafers in tribute to HM's downtime look. Elsewhere, legions of well-to-do outdoorsy types have long adopted this mode of styling, albeit in a more muted manner. "I think it gives the Queen anonymity because so many others dress like her, with the headscarf and so on, so she just looks like any older woman at a horse show," says Hawksley.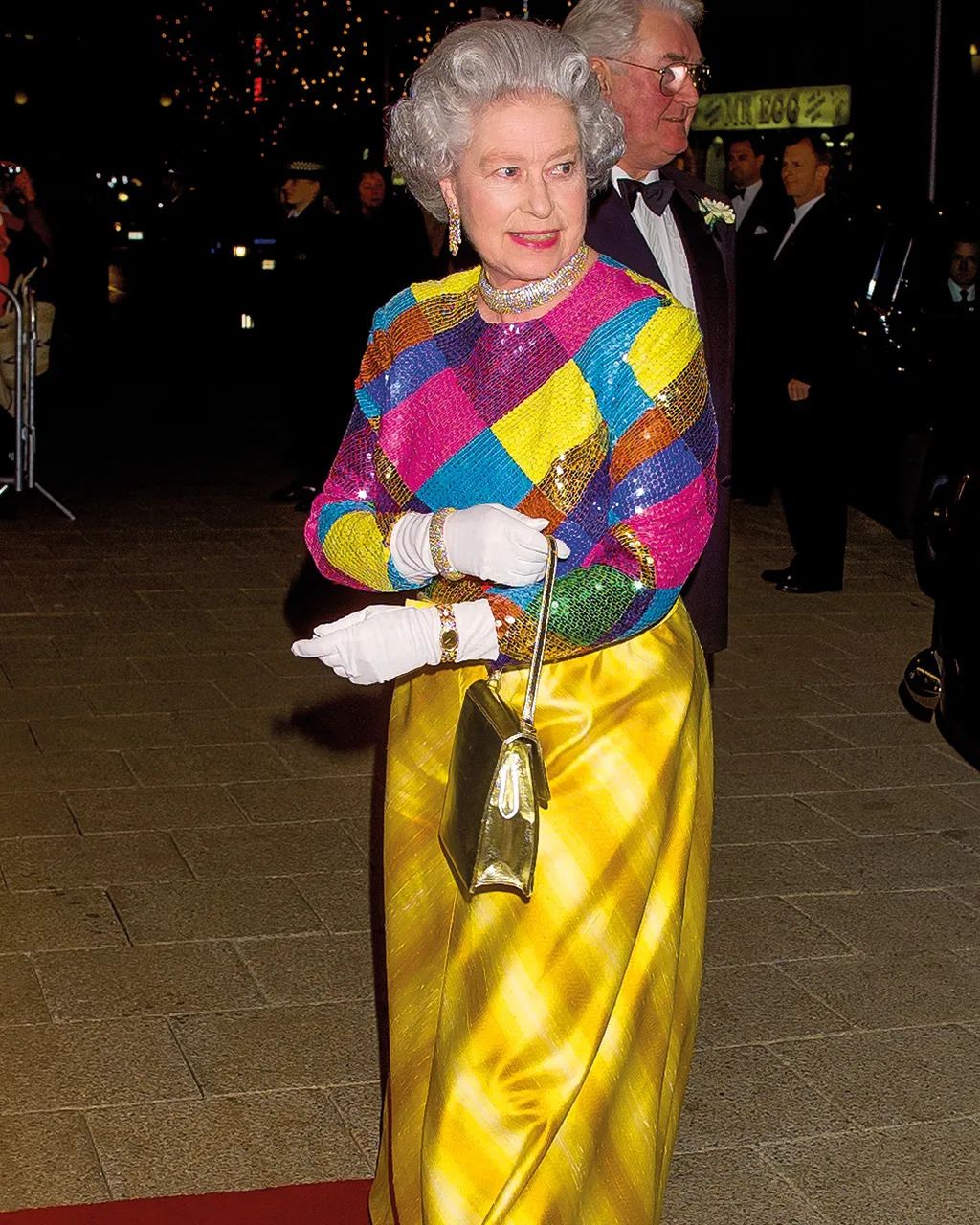 The sequinned "Harlequin dress" was worn at the Royal Variety Performance in 1999 – it was an experimental choice, perfect for the occasion
1990s

The 1990s got off to a bad start for the Windsors, with the Queen proclaiming 1992 an "annus horribilis" on account of royal marriage breakdowns and a devastating fire at Windsor Castle. Things only got worse with the very public unravelling of Prince Charles and Diana's marriage, and Diana's death in 1997. But however turbulent the times, the Queen can be relied upon to show up to perform her duties – throwing in the occasional fashion curve ball for good measure.

This look marks one of her most daring evening ensembles of all time, worn to the Royal Variety Performance in Birmingham in 1999. Made by Karl-Ludwig Rehse, and nicknamed the "Harlequin dress", it comprises a sequinned bodice, made up of multicoloured diamonds, atop a gold, V-striped skirt. "This is a great example of the Queen going all-out for an event," says Holt. "When royals dress up in this way, it shows how much they respect the occasion they're going to. They realise their attendance is the crux of the evening." Equally, it reveals the Queen's continued willingness to experiment, rather wildly in this instance.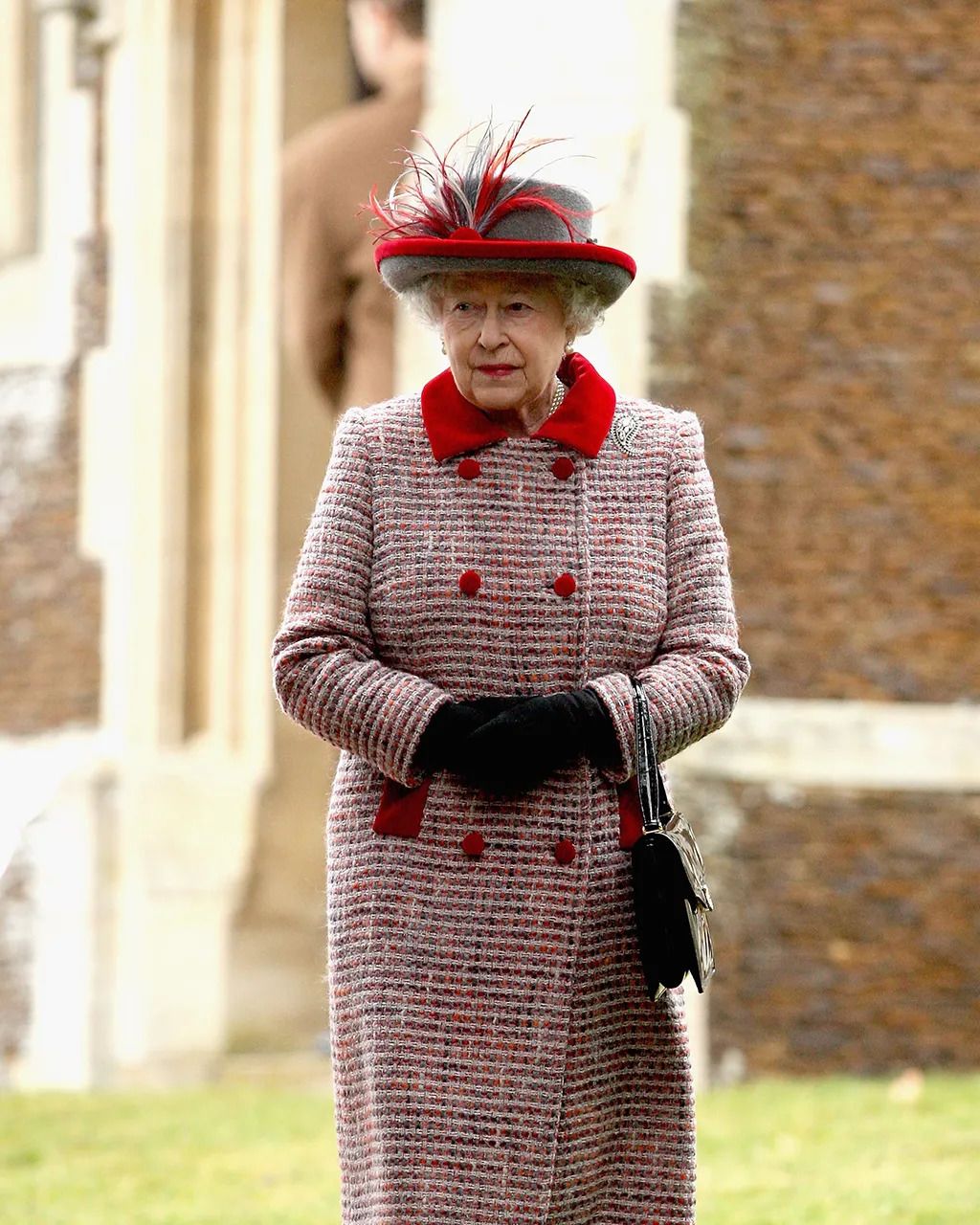 A classic tweed coat with a festive red trim was the outfit for a Christmas Day church service at Sandringham – the handbag is by Launer
2000s

Never one to shy from a festive statement, the Queen sported this holly-berry-red-edged tweed coat and matching hat to the Christmas Day church service at Sandringham in 2008. It is a look emblematic of the Queen's signature aesthetic – fine-tuned for her later years by her personal stylist Angela Kelly, who took up the role in 2002 – and also demonstrates her unwavering loyalty to her favourite British accessory designers. Throughout her reign, she has carried Launer handbags ("patent leather [styles] in black or white or beige for day use, and gold or silver for evening," as the brand's director Gerald Bodmer has said), and the same style of buckled block-heeled shoe, made not by Gucci but by Anello & Davide.

All this is of course about more than simple preference. "What's been very clever about how the Queen has used fashion since the late 50s is that it has come to represent the Royal Family as an anchor in a crazy, ever-changing world," says Holt.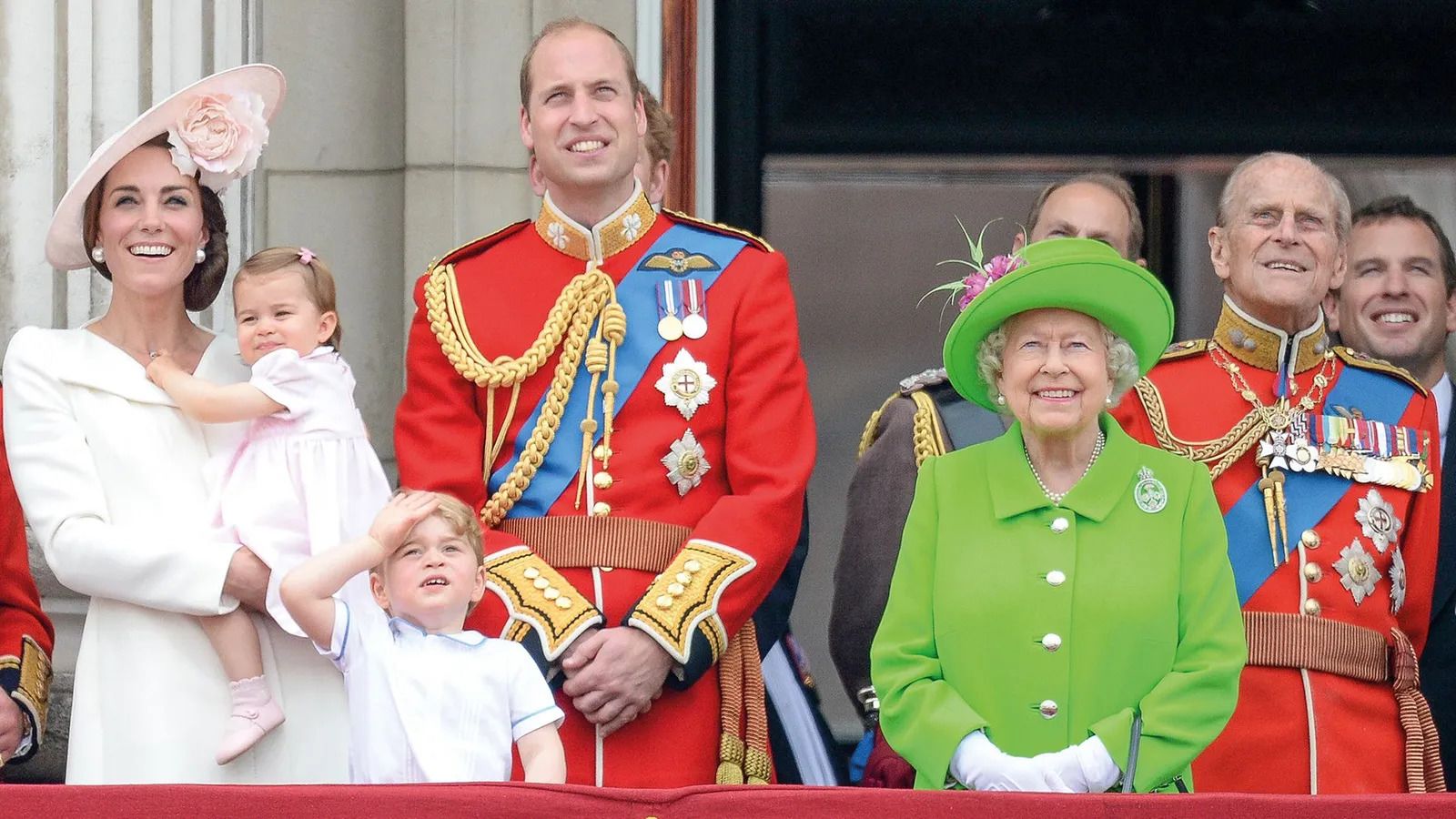 At her official 90th birthday celebration in 2016, the Queen offered a colour blocking masterclass – in dazzling neon green
2010s

The Queen welcomed the dawn of her nonagenarian years in a neon-green two-piece in wool crepe and silk, made by royal favourite Stewart Parvin, and a complementary hat by Rachel Trevor-Morgan proving herself, once again, the reigning queen of colour blocking, with no shade of the rainbow's spectrum seemingly off limits.

"This was a brilliant look that said, 'Yes, I might be 90 but I'm still the head of my family, still the Queen the world has known and loved for decades, and I'm going nowhere soon," says Holt. "And funnily enough, the Queen has really embraced wearing lime green in her 90s: it's become one of her most-worn colours. I think she represents a new generation of older women and how they're seen in society. For so long the narrative around women in their 80s and 90s was 'why worry about clothes at this age?' But she has really shone in the past decade." Holmes agrees: "It is such a hard thing to do as a public figure, to be both expected and exciting, but the Queen does it so admirably."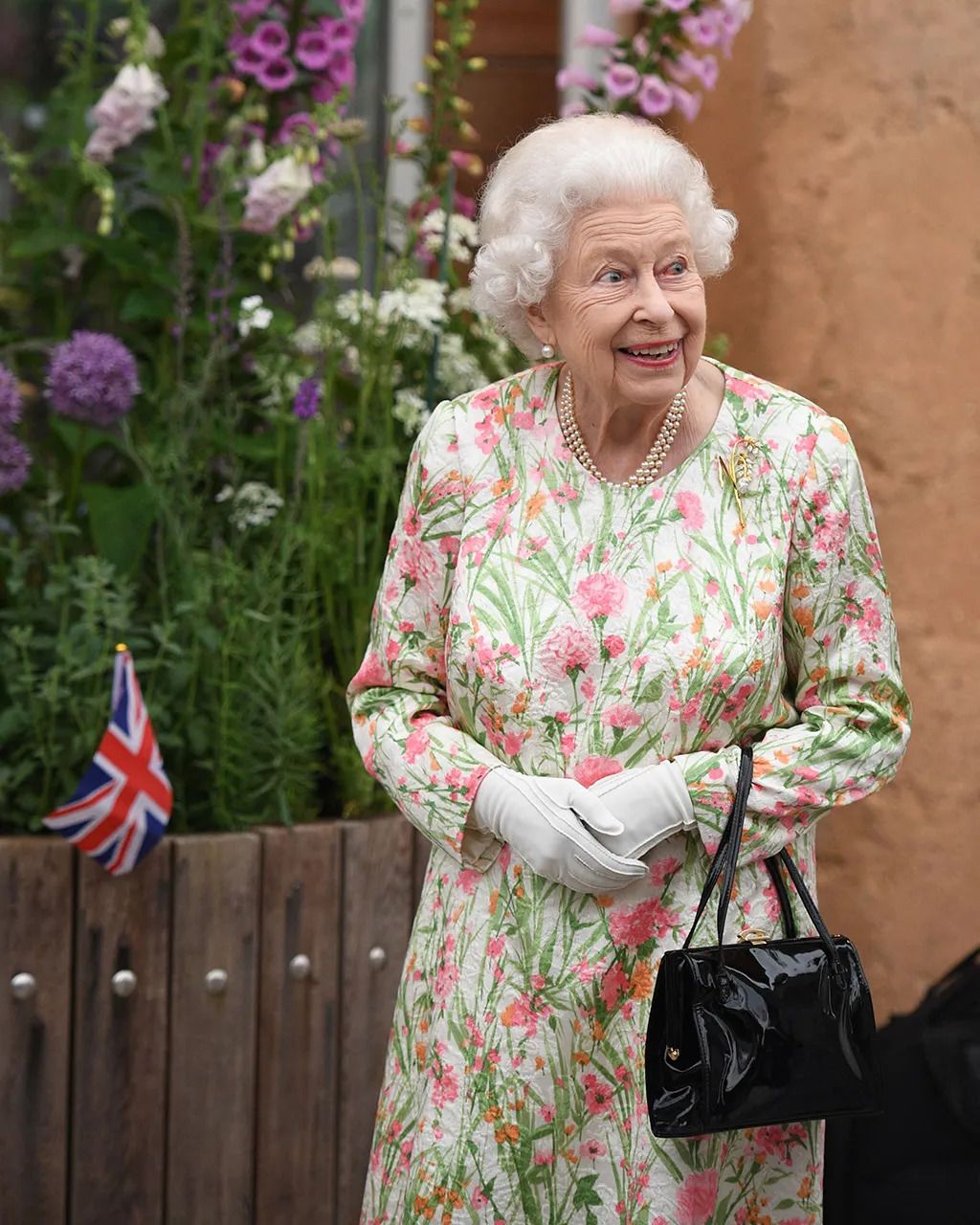 A delicate floral print was the perfect choice for a visit to Cornwall's Eden Project in 2021 during the G7 Summit
2020s

The 2020s finds Her Majesty dressing as upliftingly as ever. At a charity event during last year's G7 summit, which took place at The Eden Project, Cornwall's beautiful "global garden", she tipped her hat to nature in her choice of a delicate floral-print dress by Angela Kelly, paired with the Botswana Sorghum Brooch presented to her by the President of Botswana in 2007.

"The Queen is not someone who can come out and give her opinion in big speeches, and nor would she like to, but she always uses clothes and jewellery to send a little message," notes Holt. "I think in the era of social media everyone's become quite excited about it," she adds, referencing the EU-flag-evoking hat the monarch wore to parliament in 2017 in a move that sparked speculation of her possible status as a "remainer". Such details "underline her feelings in a non-controversial way," Holt continues. And indeed, as Holmes notes shrewdly, "From being a 25-year-old woman to now, the Queen has never once been deemed inappropriate in what she's wearing. She makes it look easier than it really is but the amount of work, thought, effort and resources it takes to never miss in 70 years is incredible."