The pioneering Brigade Bar + Kitchen has supported more than 6,000 homeless people since opening a decade ago. Its founder tells David Ellis what's next
The chef Simon Boyle is explaining how he stopped a murder. "There was a guy who'd been raised in the gang culture on the estates, and one of his jobs was to avenge killings. He came to us after prison, wanting to change, but feeling conflicted because his cousin had been shot but he hadn't avenged the death. But you do that and then that's what happens to you… When he graduated, his father pulled our chairman to one side and said we'd saved his son's life."

The "us" Boyle is talking about is the Brigade Bar + Kitchen, the restaurant he started in order to use cooking to help the most vulnerable. Boyle tells the story simply, as though it was just another day in the office. He has a way of speaking plainly but surprisingly softly; there is a sense he knows what he's saying has enough in it to hold everyone's attention without having to lay on anything more. He looks that way too — hair cropped close, a few days' stubble, plain black T-shirt. You sense he has a strong filter for bullshit. "I've made a lot of mistakes over the years," he says. "You learn not to get sucked into things."

The change from simple chef to social entrepreneur came in an instant, about 17 years ago. Boyle was enjoying his comfortable existence: he'd worked at the Savoy, helped win a Michelin star at Hampshire's Chewton Glen Hotel, and was making good money as Unilever's first culinary ambassador. There was his own private dining gig on the side. Then there was the 2004 tsunami. An earthquake shook the floor of the Indian Ocean and 230,000 lives were lost.

"The TV was on and I knew I had to go. I told work I was off and that was it," he remembers. The trip to Sri Lanka changed Boyle. After setting up a relief camp, hospital and school — and "after piling up the bodies" — he came back to London with a sense that something had to change.

"I saw that you can lose everything in the blink of an eye, through no fault of your own," he says. "It's about displacement. I had to work out what that meant in my world, in London."

He found that it meant helping rough sleepers. "You start to wonder why people become homeless and why they stay homeless. And it's frustrating; there are lots of organisations handing out blankets but there's nothing really solving the problem. I understand that people become homeless, but I'm not sure I understand why they remain that way."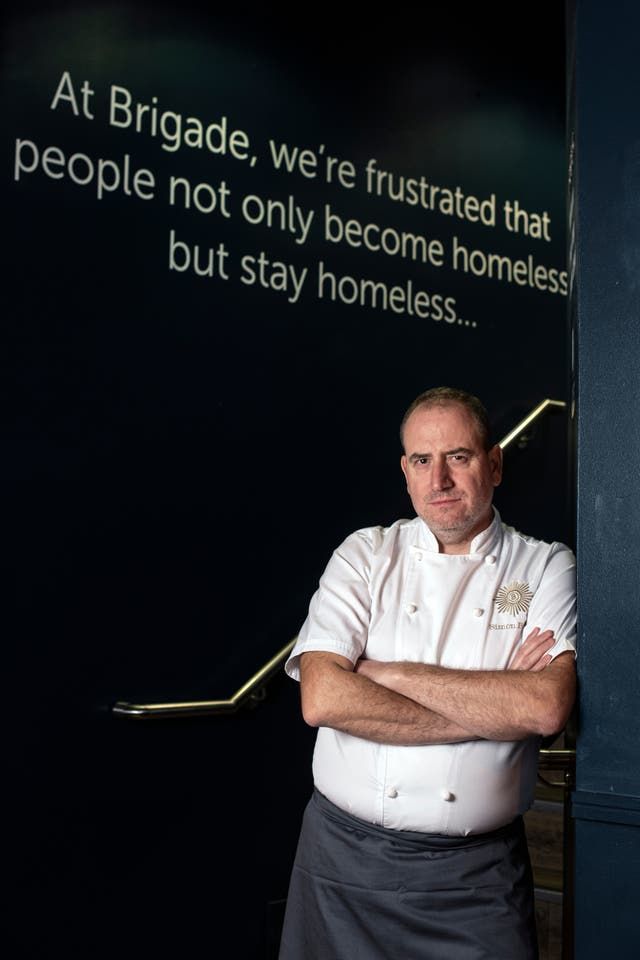 Driven: Beyond Food founder Simon Boyle

His solution? To turn back to cooking. It started with meals in his garage and then, after a stint at the House of St Barnabas — taking it from a "hostel to an events space" — the answer was to do his own thing, building charity Beyond Food and opening the Brigade Bar + Kitchen in an old fire station in Tooley Street, just down from London Bridge. In the 10 years it's been open — its birthday is this month — Boyle and his team have supported more than 6,000 homeless people, getting some 1,250 into full-time work at restaurants and hotels across the capital. Big names, too: Brigade graduates work at the likes of The Wolseley and The Delaunay and top-end hotels including the Dorchester and Savoy. Others opt for simpler things: some go to Pret, or Costa.

"It's always been about giving them some trust and giving them ambition," Boyle says, noting that losing one's home often means losing one's dignity too, and that the latter can be harder to recover from. "We're inspiring them, as well as supporting them."

While Boyle initially hoped to raise funds for the scheme with an appearance on Dragon's Den — "they all loved it, but they're there to make money, and, well… but they did give me a lot of advice" — when it didn't work out, he partnered with PricewaterhouseCoopers, and later had a hand from caterer BaxterStorey. The partnership let Boyle make it work as he wanted, with support from both companies helping the place get off the ground.

Alongside a team of cooks, led by head chef Marcilio da Silva, the restaurant trains those at-risk, adjusting them to the routines, attitudes and idiosyncrasies of working life; those who join are taught to either work in a kitchen or do front of house and the restaurant helps them with external problems they may have, including various addictions.


"It's always been about giving people trust and giving them ambition... We're inspiring them, as well as supporting them"

Brigade works with people from all backgrounds. "We had a medic who ended up in trouble when he left the Army," Boyle says. "But we get people from prisons, we have drug addicts, alcoholics, or those who've ended up on the street after escaping their home — those who've suffered domestic abuse, or had abusive parents, or who've just had a life of bad influences."

In the early days Boyle was "going for a Michelin star with a team of homeless people who'd never cooked before". He realised his folly, overhauling the restaurant in the past few years to lean into da Silva's strength, cooking over fire. "First and foremost, we're just trying to be a good restaurant," says Boyle. "You can't just trade off being a social enterprise — people would never come back." The fuss, then, has gone into the fire. Da Silva mans a steel-walled kitchen, great lengths of wood white with ash, smoking away under iron grates; on top, his team work the meat, fish and even the veg till it all comes out blackened and burnished, before they serve up artful plates of warming, moreish food.

Pork sticky with an apricot glaze; cod streaked with green flicks of pea puree, aubergine cleaved in two, the skin rumpled by the fire, the baba ganoush smoky from the oak chips.

The food matches its setting; this is a clean, unadorned room. "We cook simply, there's no foams, it's just honest, good cooking," is how Boyle puts it. He's left behind the table cloths, and the dining room is all plain wood tables and bare brick. In other words, it's a modern brasserie; the food is good and fairly priced, too. Most mains hover somewhere in the teens, while a set weekday lunch menu offers two courses for £16 or three for £20, which must stand as one of London's best bargains.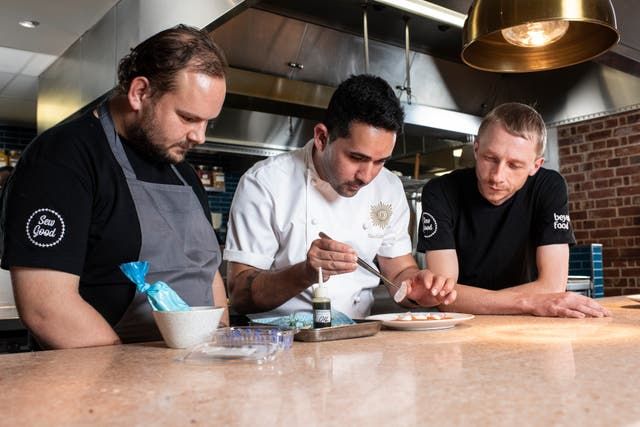 Cooking with conscience: head chef Marcilio da Silva, centre, with two of the team

Da Silva — who says Brigade "brings together my two passions, cooking and helping people" — adds that the food is the thing; he is proud of the live-fire cooking ("It's in my blood"), and that he treats the gig as he would at any other place. "We all feel so passionate about our food. Cooking with fire gives us a real opportunity to explore incredible flavours and textures — we use a lot of English oak which really helps bring out the best of the ingredients we carefully source from some brilliant suppliers across the UK. I work with them to ensure we get the best produce available… we go for quality, seasonal, fresh."

The approach means that the restaurant avoids being an in-your-face "do-good" style of enterprise. But for one or two subtle signs and a note on the menu, a diner might not notice the cause behind it all. But, says da Silva, finding the disenfranchised and helping them centre themselves is what drives him.

"We had a lady who was an apprentice here. She had serious issues with alcoholism and struggled with her mental health and when she arrived, she hadn't really experienced having any mentors or people to guide her in her life.

"With no real support mechanism in her life, her instinct was to feel threatened around people, so we worked really closely with her and worked through some of her trust issues and really helped her find real focus in her life. It made me feel so proud to see the turnaround — she went from feeling like everybody was against her, to forming real bonds with her colleagues, and now works in a high-profile place here in London.

"We believed in her and she found hope. That's what this is all about. It feels so great to see these things and makes me emotional when I think back at how far we came together."

So 10 years down and another 10 to come? "Well, more, hopefully," says Boyle, in his matter-of-fact way.

The plan now, he adds, is to get people before they end up on the streets in the first place, finding those at-risk through referral schemes run by prisons, care homes and youth hostels.

"This is about catching young people before their support falls away." He pauses, nodding to himself. "It's too easy to get lost."

Brigade Bar + Kitchen, 139 Tooley St, SE1, thebrigade.co.uk

For more information on the Beyond Food foundation, beyondfood.org.uk

At Your Service: Hospitality Gives Back
StreetSmart

This elegantly simple operation runs at any restaurant that signs up to it; during the winter, £1 is added to bills, all of it going to the homeless. It costs restaurants nothing and diners just a quid. Since 1998, it's raised more than £10million for rough sleepers.

streetsmart.org.uk

Clink

At four public-facing restaurants across the UK – including one in Brixton – prisoners do the cooking, cleaning and serving. Now the Clink Kitchens projects is overhauling another 70 prisons across the country.

theclinkcharity.org

Punjab Restaurant

During the lockdowns this Covent Garden spot supported Under One Sky, an enterprise feeding the homeless that was heavily staffed by hospitality staff. Their fundraiser is still running, almost at £20,000.

punjab.co.uk

The Right Course

Fred Sirieix's charity is overhauling the nation's prisons, turning the officer's canteens into restaurants run by prisoners, training them for a hospitality job on their release and breaking the cycle of reoffending.

therightcourse.org.uk

Redemption Roasters

With its roastery in HMP The Mount in Hemel Hempstead, the world's first prison-based coffee company trains offenders in all things coffee, and sells its java in six London shops and giving prisoners a skill to land them a job when they get out.

redemptionroasters.com