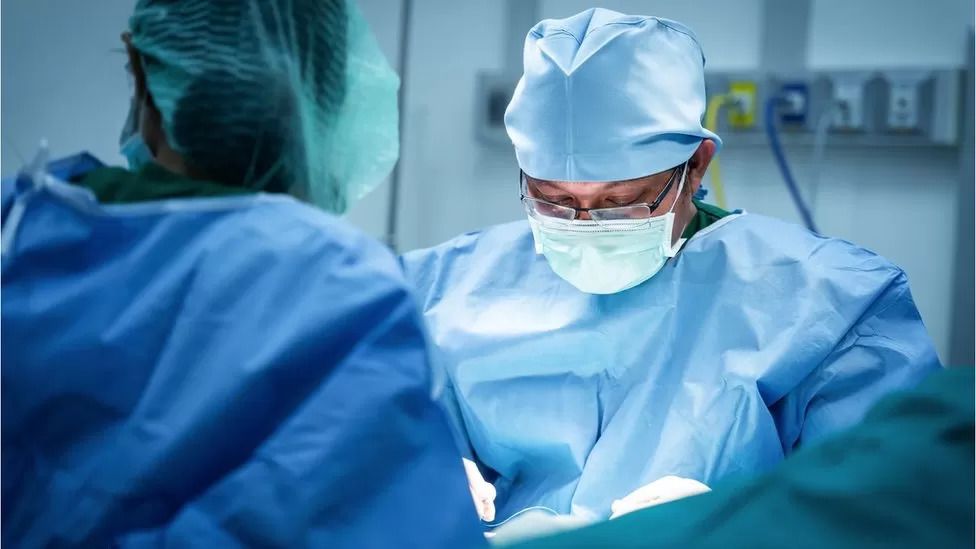 Hospitals in England pay £5,200 for one agency doctor's shift
Hospitals in England have paid out as much as £5,200 for a shift by a doctor through an agency, according to figures obtained by Labour through Freedom of Information requests.
That is the latest in an intensifying debate over workforce shortages in the NHS in England.

Labour blamed the high agency fees on Conservatives, arguing they had failed to train enough doctors and nurses.

A Conservative spokesperson said "record numbers" had been recruited.

The information on payments for agency workers comes from Freedom of Information requests to NHS trusts in England made by Labour covering the financial year 2021/22.

The most expensive reported shift was £5,234 - paid by a trust in northern England. This covers the agency fee and other employer costs as well as the money going to the doctor.

There was a response rate of about 40% of major hospital trusts in England. Labour says one in three of those who responded paid an agency more than £3,000 for a single doctor's shift last year, while three quarters paid more than £2,000.

The NHS Confederation said the "staffing crisis" was so "desperate" that NHS trusts were being forced to pay large fees to make sure rotas were "staffed safely".

Matthew Taylor, chief executive of the NHS Confederation, said: "Trusts are having to breach the caps on how much they pay for agency doctors because of the extremely high levels of demand they are facing for their services.

"The staffing crisis is so desperate that they either pay these fees or find that their rotas cannot be staffed safely, leading to reduced services for patients. This is particularly true in parts of the country where the NHS can struggle to recruit new staff."

Labour's shadow health secretary Wes Streeting said: "Desperate hospitals are forced to pay rip-off fees to agencies, because the Conservatives have failed to train enough doctors and nurses over the past 12 years."

Mr Streeting said that, if elected, Labour would train 7,500 more doctors and 10,000 more nurses a year, paid for by abolishing the non-dom tax status - the status which allows UK residents whose permanent homes are abroad not to pay UK tax on overseas income.

A Conservative spokesperson said 4,000 more doctors and 9,000 more nurses had been hired since September 2021.

They added: "Labour cannot be trusted to support our NHS - they have no plan to grip inflation, resolve strikes or boost the workforce."

In November, BBC News revealed that spending on agency health workers in England rose by 20% to £3 billion last year.

Some NHS bosses told us how they had to breach government pay cap guidelines to ensure staffing ratios were maintained.

The cap is set at 55% above what a normal employee would earn. One cancer specialist told BBC News he was offered work for £130 an hour and described the fees available as "astonishing".

Previously reported figures suggest spending also appears to be rising in other parts of the UK.

In Scotland it has doubled in the past year, while in Wales it has risen by more than 40%. In Northern Ireland, it is four times higher than it was three years ago.

In response to the latest findings, Miriam Deakin of NHS Providers, representing trusts in England, said: "Funding is very tight but agency costs will remain part of the picture while staff are in short supply. Trusts are doing all they can to avoid unnecessary costs".

NHS England is to publish a long-term workforce plan in the spring to present to ministers who will decide how to fund it.

The medical director of NHS England, Sir Steve Powis, told the Sunday with Laura Kuenssberg programme that the NHS needed more staff and "if you ask me personally, when it comes to doctors, we need more medical student places".