Tam Yiu-chung calls on Hong Kong government to deliver a long-shelved piece of local legislation on safeguarding national security before its current term expires next summer.
Hong Kong's sole delegate to China's top legislative body has urged the government to revive and complete a long-shelved piece of local legislation on safeguarding national security before its current term expires in June, even though the city's leader has said her administration may not have enough time to do so.

National People's Congress Standing Committee member Tam Yiu-chung on Sunday said while the national security law imposed by Beijing in June last year had restored social and political stability after the anti-government protest turmoil of 2019, the city was still duty bound to follow up by enacting Article 23
of its mini-constitution, the Basic Law.

"I believe that the Article 23 legislation can be completed in the first half of next year," Tam told a radio programme. "As an international city, Hong Kong must not be used by foreign forces as a base of subversion against the nation, or to endanger national security."

His plea for urgency came as Chief Secretary John Lee Ka-chiu revealed that authorities had removed barricades erected outside key public buildings as a security measure during the 2019 anti-government protests, including those at the city administration's headquarters in Admiralty.

"The water-filled barriers outside the complex were removed to project Hong Kong's original image as a safe city," he wrote on his official blog.

"The government headquarters is the symbol of the city's governing core, showing that Hong Kong is secure, stable and confident."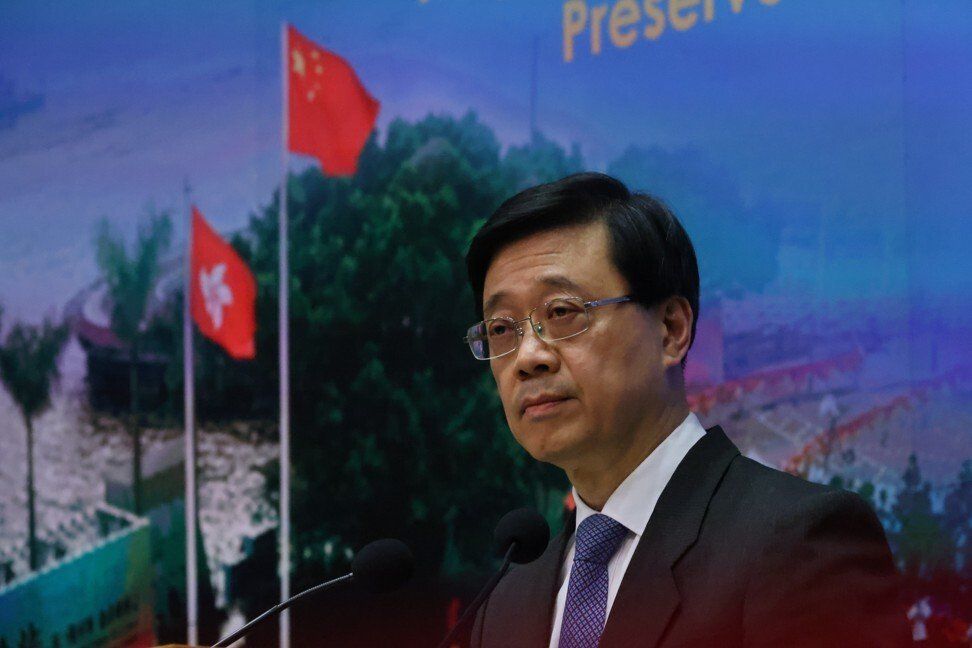 Chief Secretary John Lee.

Lee attributed the decision to remove the barricades, which were also taken down from outside the central government's liaison office in Sai Ying Pun, to the restoration of order brought about by the national security law.

While the Beijing-decreed law – which bans acts of secession, subversion, terrorism and collusion with foreign forces – has been in force since last summer, further security legislation is required to meet the government's constitutional obligations under the Basic Law.

Officials were forced in 2003 to shelve the original Article 23 bill following a public backlash.

Hong Kong leader Carrie Lam Cheng Yuet-ngor previously said her administration might not be able to complete the Article 23 legislation by the end of its current term in June next year. Secretary for Security Chris Tang Ping-keung suggested the task could be completed in the next term of the legislature, which runs from 2022 to 2025.

National People's Congress Standing Committee member Tam Yiu-chung.

After the radio programme, Tam insisted that he was only referring to his own timetable for delivering the legislation.

"I did not ask Tang about it, I just made my own estimations because the timing is ripe. Some areas under Article 23 were covered by the existing security law, so the remaining areas should be completed too."

Article 23 is expected to cover additional offences such as treason, sedition and the theft of state secrets. It is also set to ban overseas groups from conducting political activities in the city and local political bodies from establishing ties with foreign political organisations.

Last month, Tang said an incitement offence targeting hatred against the Hong Kong government might be included in the bill, days after internet users mocked
a police officer who was killed on duty while intercepting sea smugglers. He also told the Post that countering "an obvious increase in spying activities
by state-level groups" over the past two years would be the main focus when Hong Kong revived its Article 23 bill.

On Sunday, Tam was asked for his opinion on the future of the Pillar of Shame sculpture, which was unveiled in 1997 on the University of Hong Kong campus in remembrance of those who died in the 1989 Tiananmen Square crackdown.

Pro-establishment figures have called for the sculpture to be removed following last month's disbandment of the Hong Kong Alliance in Support of Patriotic Democratic Movements of China, organiser of the city's annual Tiananmen vigil.

"There are things that people should not do again after the security law was enacted," Tam said. "They must not repeat their past ways and practices, and must do things conducive to national security."

Tam also said it was too early to broach the subject when asked if Beijing would support Hong Kong continuing to be governed under the "one country, two systems" principle beyond 2047, when the model is due to expire under the terms of the city's handover from British to Chinese sovereignty.

Article 5 of the Basic Law, the city's mini-constitution, states that Hong Kong's "capitalist system and way of life shall remain unchanged for 50 years" after the 1997 handover.

"The central government did not say that things have to be changed after 50 years. It will explain how to handle the issue at an appropriate time," he said.