A competition to win free beer for Father's Day circulating on WhatsApp is a scam, Heineken has said.
The message offers the chance to win one of 5,000 coolers full of lager and links to a fake quiz-style competition.

But Heineken said this was a phishing scam - a way of tricking someone into clicking a malicious link or entering personal information like bank details.

A WhatsApp spokesperson said: "We encourage users to report the message to us for review for spam or abuse."

Anyone who got the scam message should "delete it immediately", Heineken's spokesperson said.

They added: "We're aware of the current phishing scam circulating through social networks, which is not sanctioned by Heineken. We have alerted the relevant authorities."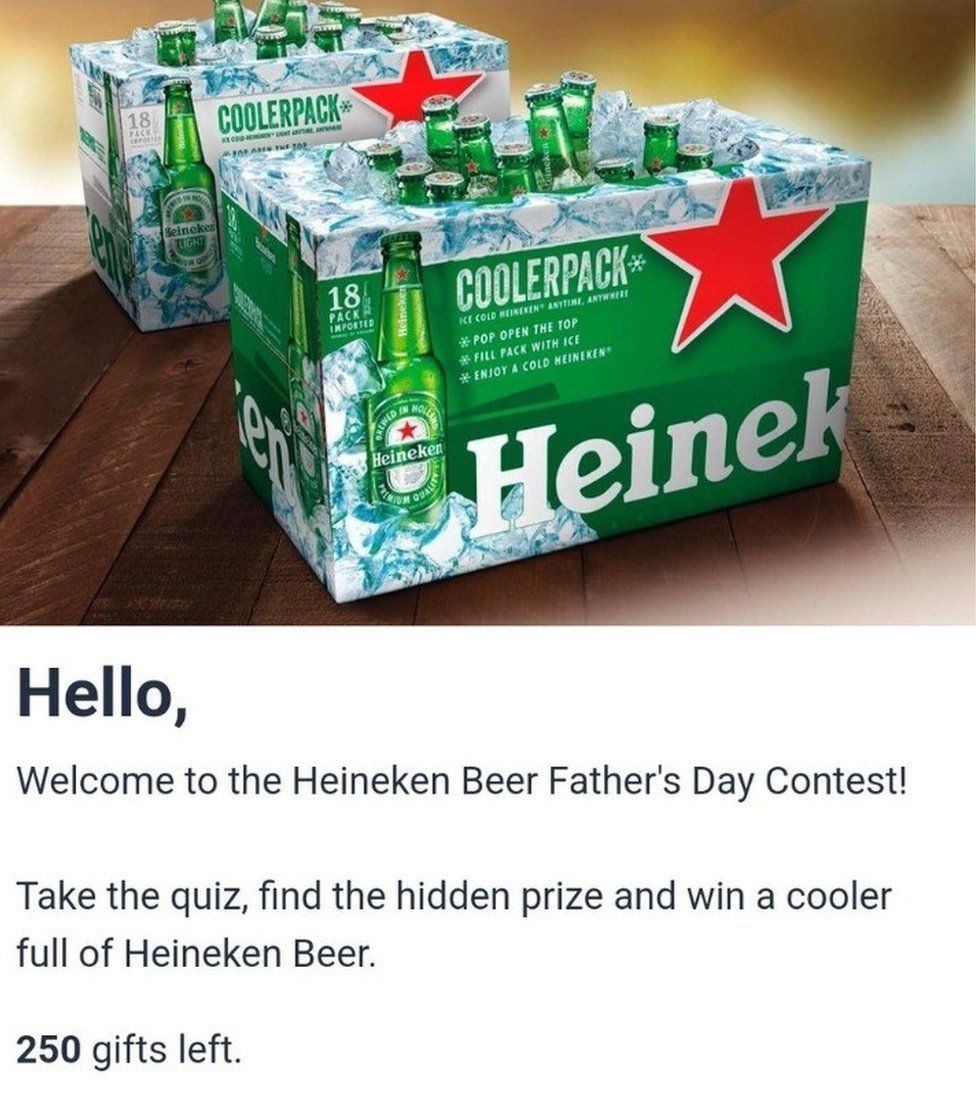 Consumer rights group Which? said people should "always be suspicious of a message from an unknown number, no matter how tempting the offer may be".

"Never click on links in messages as scammers can use URLs to download malware onto your device or take you to a website that will try to steal your personal and bank details," it said in a warning about the Heineken scam on its website.

Anyone who clicked a suspicious link who thinks they might have given details away should contact their bank immediately and report the scam to Action Fraud, it said.

"If you receive a random text or WhatsApp message from a brand that you discover is fraudulent, open up the WhatsApp chat from the unknown number, open the sender's contact details and select Block and Report, it said.

Suspicious text messages could be reported to 7726, a free spam reporting service, as well as to the company the text was claiming to be from, it said.


Ian McShane, vice president of strategy at cybersecurity firm Arctic Wolf said this particular scam was "a not-so-subtle illustration of how cybercriminals prey on consumer greed and love for a freebie".

"The scam suggests the first 5,000 respondents will receive a free fridge of beer in return," he said.

"Scammers and cybercriminals are experts at using social media to tap into our likes and desires and will use urgency as a way to hasten someone's response and lower their guard.

"Often people will respond to the "only the first XX people will win" before considering that this might not actually be legit."

While onlinethreatalerts.com said the scam was spreading "like wildfire" it was difficult to track within private messages, said Annelie Helgelin, from digital consumer intelligence company Brandwatch.

"Many scammers take advantage of these household brands because they know consumers trust them," she added.

WhatsApp said it protected its users' personal messages with end-to-end encryption, but everyone could play a role in keeping their accounts safe by remaining vigilant to the threat of scammers.

"We advise people never to share their six-digit PIN code with others, not even friends or family, and recommend that all users set up two-step verification for added security," a spokesperson said.