US President Joe Biden has said he intends to visit Northern Ireland after being invited to mark the 25th anniversary of the Good Friday Agreement.
Mr Biden said it was his intention to visit both Northern Ireland and the Republic of Ireland.

He was speaking at a joint press conference in California with Prime Minister Rishi Sunak.

Mr Sunak revealed earlier on Monday he planned to invite Mr Biden.

As the pair met in Point Loma naval base to reveal details of a nuclear submarine deal, Mr Sunak said: "I look forward to our conversations and also importantly, to invite you to Northern Ireland, which hopefully you will be able to do and so we can commemorate the anniversary of the Good Friday Agreement.

"I know it's something very special and personal to you. we'd love to have you over."

The peace deal was signed on 10 April 1998 and was designed to bring an end to three decades of conflict in Northern Ireland.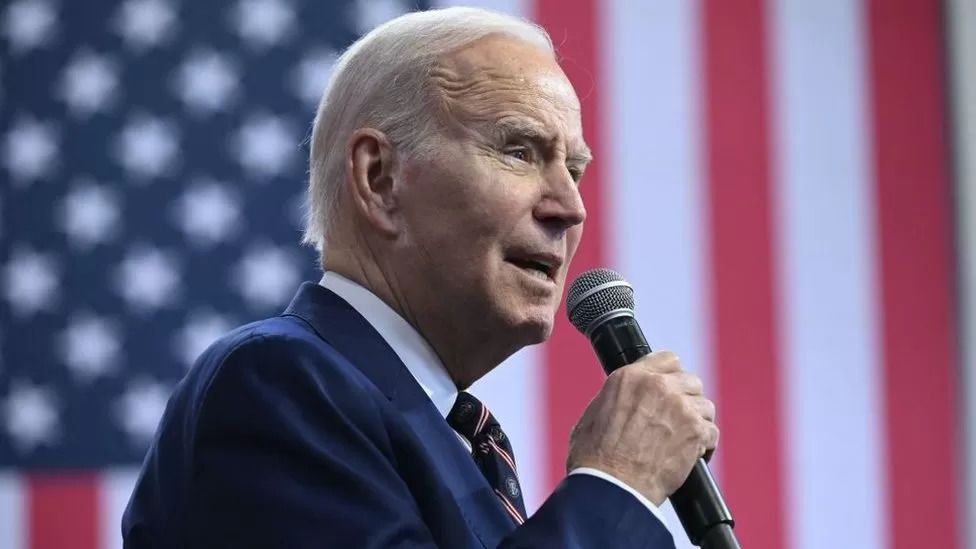 Mr Biden said: "Twenty-five years? It seems like yesterday."

"It's my intention to go to Northern Ireland and the Republic," he added.

The US president has long taken a close interest in the peace process in Northern Ireland.

During a St Patrick's Day event in 2022 with then Taoiseach (Irish prime minister) Micheál Martin, the president reaffirmed his government's support for the Good Friday Agreement.

He warned too much "blood, sweat and tears" have been shed to get the deal done.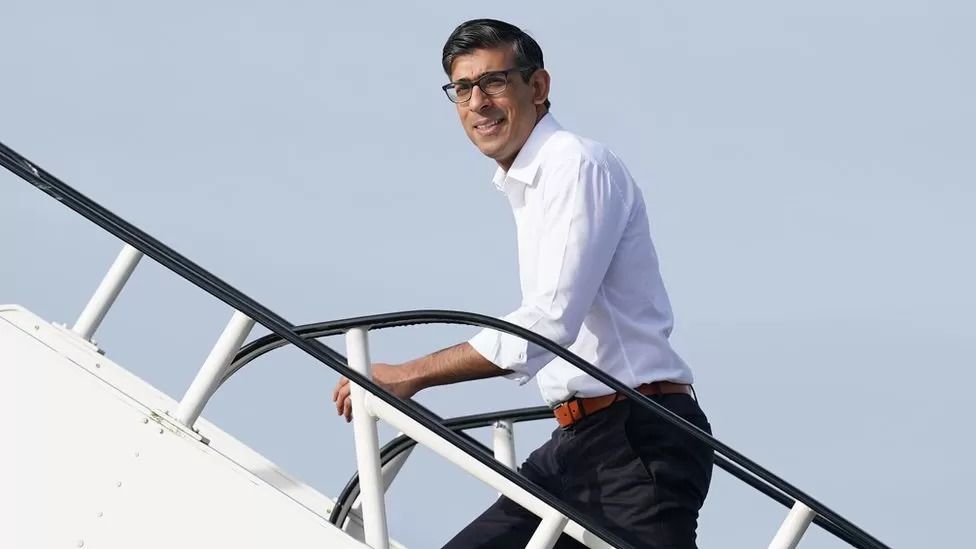 Prime Minister Rishi Sunak boarding a plane to San Diego for his meeting with the US President and the Australian prime minister
What is the Good Friday Agreement?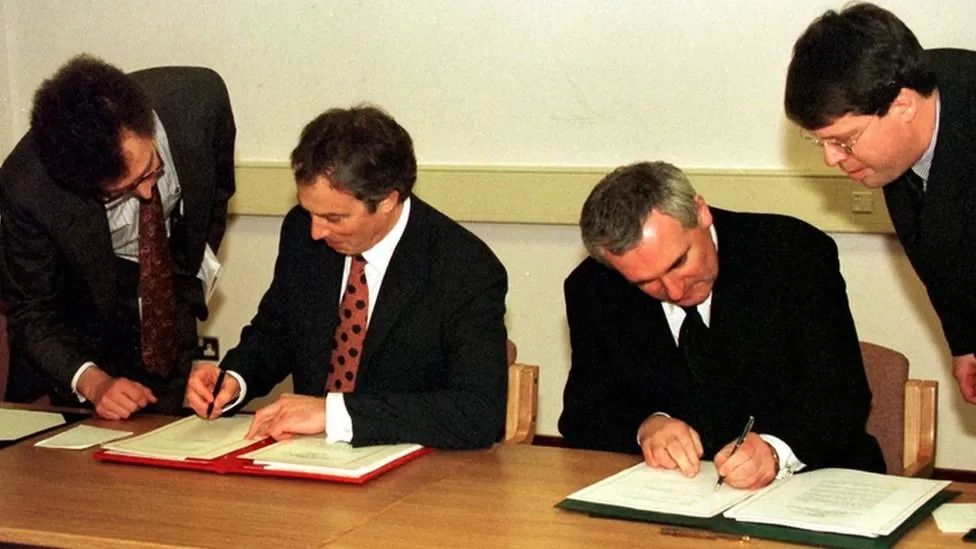 The prime minister at the time, Tony Blair, and then taoiseach (Irish Prime Minister) Bertie Ahern sign the Good Friday Agreement

The Good Friday Agreement, also known as the Belfast Agreement, was a political deal designed to bring an end to 30 years of violent conflict in Northern Ireland, known as the Troubles.

It was signed on 10 April 1998 and approved by public votes in Northern Ireland and the Republic of Ireland.

It is based on the idea of co-operation between communities and helped to set up a new government for Northern Ireland, representing both nationalists and unionists.

The 25th anniversary of the deal will fall on 10 April 2023, which will be Easter Monday.

Mr Biden and Mr Sunak spoke of the trip to Northern Ireland following the announcement of the Aukus submarine pact.

Mr Sunak insisted his new Windsor Framework deal with the EU was a "great step forward" for Northern Ireland, with hopes it could ease tensions with Democrats in the US and pave the way for trade talks.

But the Prime Minister downplayed the focus on a free trade deal with the US, telling GB News: "America is always, and has always been for a long time, our closest economic relationship, it's our single biggest trade partner."

Asked if the trade deal is off the table, Mr Sunak said: "It's just people should actually know that our relationship with America economically is very strong, our exports are growing massively anyway and we're concluding agreements with states."

What are NI's plans for the GFA anniversary?

Mr Biden is yet to confirm any details of the visit, but 19 April has been suggested as a possible date.

Earlier this week, both Queen's University Belfast (QUB) and Ulster University (UU) announced events to mark the anniversary.

Large-scale silent video portraits of the 14 politicians who negotiated the peace deal will be displayed at UU's Belfast campus from 15 to 20 April.

Other events by UU include a new leadership programme, a tourism summit and an education project based on journalist Lyra McKee's legacy.

A three-day conference to mark the event will take place on QUB's campus from 17 April.

The guest list has not yet been confirmed but will include "local, national and international political figures".