Football and gambling have become so interlinked that it's hard to imagine the match day experience without the influence of betting.
It's everywhere in the game - from shirt sponsors and advertising hoardings to teams partnering with gambling firms for in-stadium flutters.

Campaigners hope that forthcoming changes to gambling legislation by the government will break up this relationship - but it's not looking likely.

It's expected that the Premier League may instead have a vote on banning gambling companies from the front of shirts, but allow other forms of advertising to remain.

In the current 2022/23 season, more Premier League shirts are sponsored by gambling companies than any other business - eight out of 20.

As the top flight of English football has grown into the UK's biggest sporting export, companies have become aware of the global advertising power it holds.

Perhaps none more so than betting companies, who have realised that Premier League sponsorship opens them up to markets like Asia and particularly China, even though gambling is illegal there.

The white label system

You might recognise them as the sponsor of your team - Dafabet at Bournemouth, Stake.com at Everton or W88 at Fulham.

There's also SBOTOP at Leeds United, Fun88 at Newcastle United and Sportsbet.io at Southampton among the gambling companies in the Premier League.

But the chances are you probably don't know many people who actually bet with them - because they aren't set up entirely for UK gamblers.

Go to their websites and you'll find they look quite similar - probably because all of them, with the exception of Dafabet, are operated by the same company, TGP Europe.

TGP Europe holds the licence and rents out rights to these gambling companies in what is known as a white label agreement.

Matt Zarb-Cousin is a recovered gambling addict, who now runs the campaign group Clean Up Gambling and wants more transparency in the industry.

"You have to have a licence to advertise to a market in the UK and this is a way to get around this," he tells the BBC.

"You can attach yourself to a different kind of licence, so these companies essentially pay a rent which then gives them the opportunity to market in Britain and access the Premier League with its global appeal."

Mr Zarb-Cousin says this means that because they don't have to apply for a full licence, they can piggyback off the operator's licence and don't have to fulfil the criteria set by the Gambling Commission that those wishing to obtain their own licence do.

"And that means they can access Asian markets where online gambling and gambling advertising is illegal. People then become aware of those brands and search for them after seeing them on TV," he adds.

A spokesperson for the Gambling Commission told the BBC: "White label arrangements, and sport sponsorships, are being considered as part of the Government's Review of the Gambling Act 2005.

"We are very clear that responsibility for compliance sits with the licence holder and cannot be transferred to any other party. A failure to maintain adequate control of third parties can result in regulatory action including suspension or the loss of the operating licence."

Why Asian markets?
Casinos like this one are only legal in the Chinese region of Macau, which has been dubbed the Las Vegas of Asia.

Dr Jonathan Sullivan, a China specialist at the University of Nottingham, explains that gambling has been illegal in the country since the foundation of the People's Republic of China in 1949.

"The Chinese Communist Party saw it as a decadent capitalist practice of no social value that would disempower working power," he tells the BBC.

But, Dr Sullivan suggests, China has become a "market socialist economy with Chinese characteristics", and a few loopholes have opened up, including casinos in the area of Macau (which has been dubbed the Las Vegas of Asia) and a state lottery.

"Sports betting remains illegal in the PRC, which is why so many offshore betting firms targeting the Chinese would-be-gambler have emerged - because the appetite is vast," he adds.

"Sports betting and the English Premier League in particular is very popular."

The combined audience for the Premier League worldwide is estimated to be in the billions - with China emerging as the country with the world's biggest viewership.

Dr Sullivan notes games are shown free on terrestrial TV in China, with lots of coverage and interest - not to mention millions of eyes noticing shirt sponsors, some of which have Chinese writing on them, and advertising hoardings with gambling logos.

"You can't walk down to the betting shop to bet on a game because it's illegal, so you need an online provider to facilitate your engagement," he says.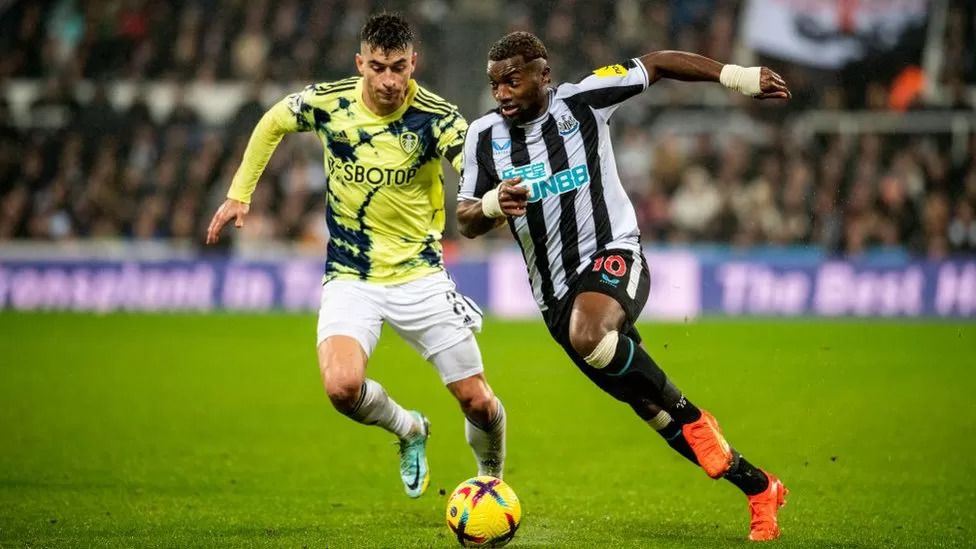 Marc Roca of Leeds United plays against Allan Saint-Maximin of Newcastle United, both in shirts sponsored by white label gambling companies SBOT0P and Fun88

"Although technically illegal and thus strongly censored, Chinese people can access the sites using a virtual private network (VPN).

"These firms can't be based in China so some base offshore in the Philippines - they need to cut through to would-be Chinese consumers and advertising gambling is illegal so they need a workaround, and what better way than by advertising on the very shirts that the teams are wearing when they play?"

All about the money

Aston Villa announced in January that they had agreed a deal with Malaysian online casino BK8 as their new shirt sponsor for the 23/24 season, which was met with backlash from fans.

The company had previously signed a sponsorship deal with Norwich City in 2021, which was quickly cancelled after BK8's sexually explicit online adverts were unearthed.

However, Aston Villa's Fan Consultation Group met with the board but announced the sponsorship deal would go ahead due to the club needing the money.

In a statement, they said: "The commercial reality is that to teams outside the top six, such sponsors offer clubs twice as much as non-gambling companies."

Currently, none of the traditional "Big Six" Premier League teams of Arsenal, Chelsea, Manchester City, Manchester United, Liverpool or Tottenham Hotspur have betting shirt sponsors.

All of them have betting partners though - meaning Asian viewers still see gambling-sponsored advertising hoardings in stadiums.

Consumer data company Statista estimate that in the 19/20 season, shirt sponsorship in the Premier League amounted to nearly £350m.

Zarb-Cousin says seeing these gambling companies as a lucrative cash cow is "a very short-sighted way of looking at all of this".

"The Premier League is being used to facilitate illegal gambling in jurisdictions where gambling is illegal - that's a problem for its global brand," he says.

"It's also impacting children here, because they're seeing the word 'bet' on the front of shirts and whether or not that website is accessible to UK customers doesn't matter - they're still creating a connection in the minds of young people that football is associated with betting."

Gambling companies are recommended to donate 0.1% of the money they make in the UK after paying out winnings, to fund Gamble Aware, a charity which provides addiction support to problem gamblers and resources to the NHS.

The problem gambling rate, as assessed by the Gambling Commission remains stable at 0.3% of gamblers, but participation both online and in person continues to grow each year.

Gamble Aware publish their list of donations each year on their website and recently published figures for April 2021 to March 2022.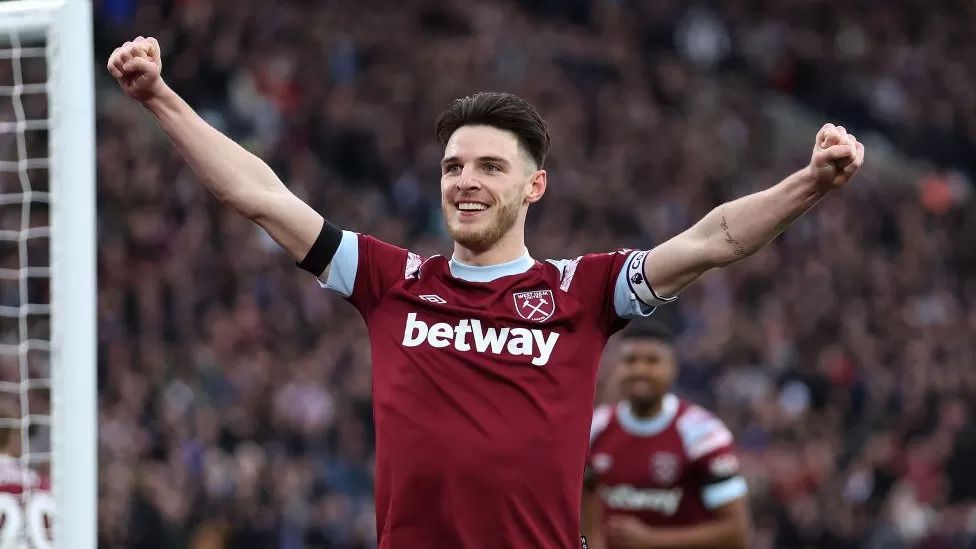 Premier League side West Ham have Betway as their sponsor - the Malta-based company target the UK gambling market.

TGP Europe, who operate the websites for 12Bet, 8XBet, BK8, Fun88, SBOT0P, Stake and Sportsbetio.uk are listed as having donated £2,000.

In comparison, Betway, who sponsor West Ham's shirt donated £60,200 and Unibet, sponsor of Championship side Middlesbrough FC's shirt, paid £92,000.

The parent company of Bet365, who sponsor the shirt and stadium of championship side Stoke City, donated £2.69m in the same period.

Zarb-Cousin says TGP Europe's figures are "disappointing" as it means money is not being invested into helping gambling addicts in the UK.

The BBC has approached TGP Europe for comment on the size of their donation but they declined to comment.

A spokesperson for the Premier League told the BBC: "Gambling partners of Premier League clubs are regulated and licensed by the Gambling Commission and are required to adhere to the rules of the Advertising Standards Authority."