European Union officials return to work on Tuesday after basking in a balmy bank holiday. But, just over the border, the EU's future is being fought over in the French presidential election.
Far-right candidate, Marine Le Pen, insists she has no secret "Frexit" agenda.

But opponents claim her policies would put France's place in the EU at risk.

Supporters argue that Brussels has failed to learn the lessons from Brexit.

Voters will choose on Sunday between Ms Le Pen and incumbent Emmanuel Macron, who leads centrist movement La République En Marche (Republic on the move).

Le Pen, the head of Rassemblement National (National Rally), has notably toned down her approach to the EU at this election.

In 2017, her manifesto promised a referendum on EU membership, following six months of talks to try to radically reform the bloc.

But read through this year's document, "22 measures for France", and the EU doesn't even get a direct mention.

Gone, too, is talk of pulling France out of the single currency, the euro.

French government minister and En Marche member Jean-Baptiste Lemoyne believes her softer stance is down to her desire to "conquer the presidency".

"But she's questioning some fundamentals of the EU," he says.

What's undisputed is that a Le Pen win would send shockwaves through Brussels.

Unlike the UK, France was a founding member of what eventually became the European Union and is now its second largest financial backer.

Marine Le Pen wants to slash France's contributions to the EU, tighten border controls and hold a referendum on stopping "uncontrolled" immigration.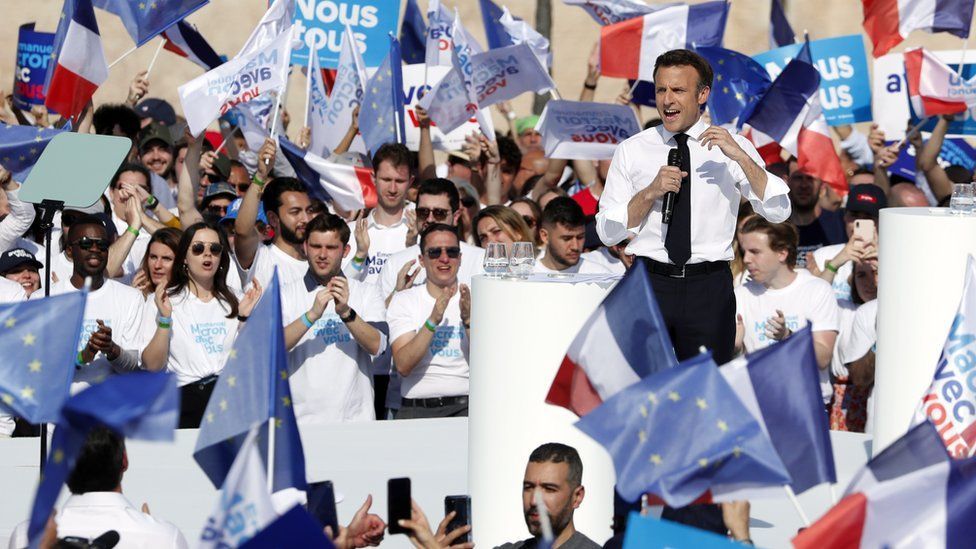 Emmanuel Macron says the election run-off is a referendum on Europe

That would include prioritising French people's access to welfare, social housing and jobs.

Such policies appear to be in direct contradiction with free movement and the primacy of EU law.

It's the quest for an "à la carte" membership, says Jonathan Eyal, Associate Director at the Royal United Services Institute (Rusi) think tank.

Her plans could lead, he says, to EU "paralysis" if other member states, like Poland and Hungary, join forces with France in trying to curb the powers of the European Commission.

It's an idea that would look more like "a gaggle of nations states rather than a unified concept".

New life for EU or perpetual revolution?

But a looser alliance of nations or "opt-in, opt-out" system would, says one Le Pen supporter, breathe "new life" into the EU.

National Rally councillor Patricia Chagnon from Abbeville says Le Pen wants to "unshackle" member states from a "big bureaucratic machine".

And, she argues, it's those who "don't agree with reforming the EU" who characterise Le Pen's policies as Frexit by the back door.

"Marine Le Pen is in favour of respecting the sovereignty and the independence of each member state" while realising the importance of "close co-operation", she says.

Emmanuel Macron has described Sunday's vote as a "referendum on Europe".

A Marine Le Pen win would indeed be an "earthquake" for the EU, says Sylvie Kauffmann, editorial director of French daily Le Monde.

However, she points to Mr Macron's persistent lead in the polls and the fact that, were Marine Le Pen to defy the current odds, she'd also have the challenge of pulling off a majority in June's parliamentary elections.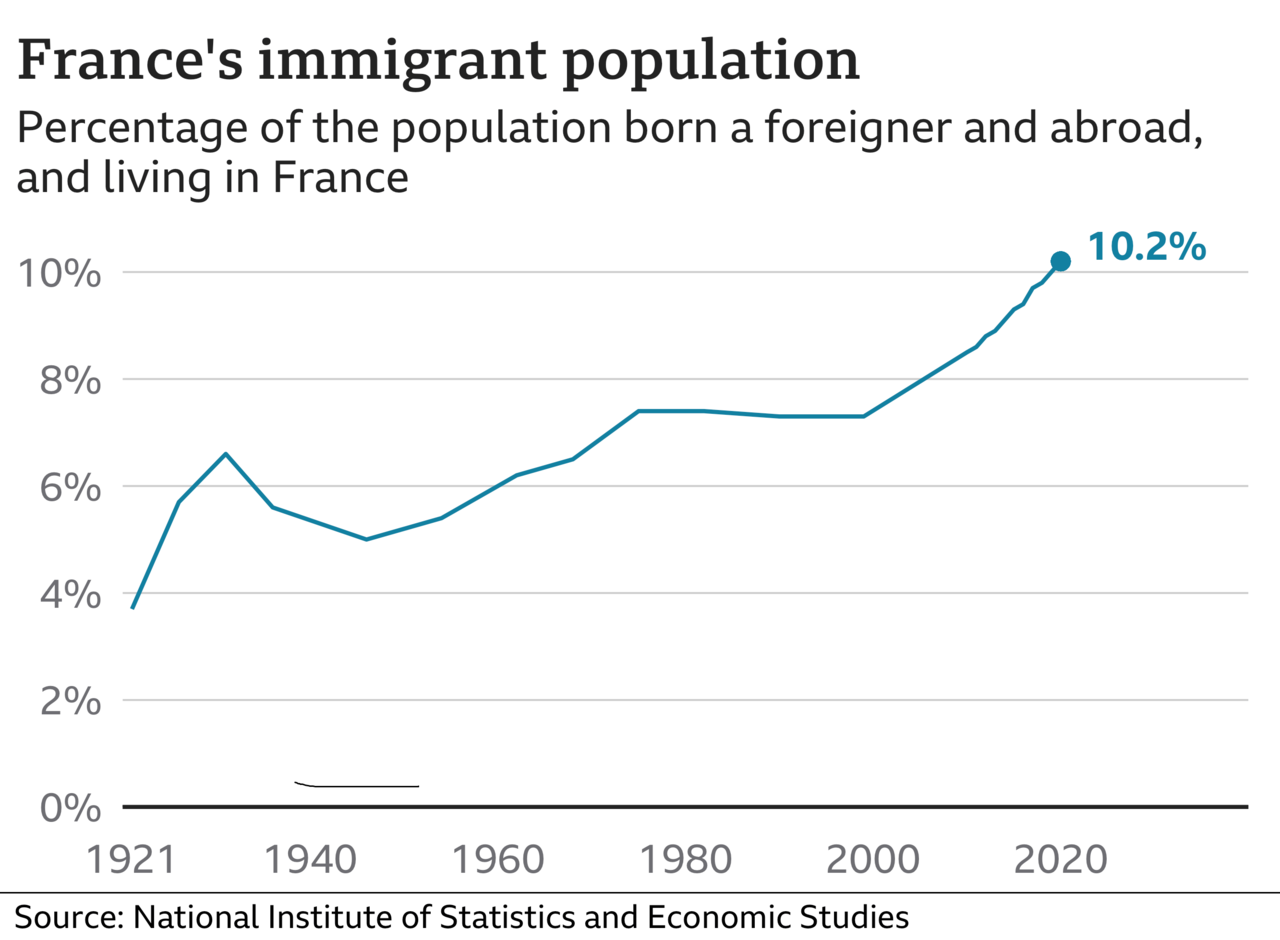 Even so, Jonathan Eyal says a Le Pen presidency could prove highly disruptive for the West.

She would "be in a state of perpetual revolution" with both the EU and the Western military alliance, Nato, he says.

A former member of the European Parliament, Marine Le Pen is no stranger to clashes with Brussels.

On Monday, she hit back at reports that the EU's anti-corruption body Olaf has accused her and senior colleagues of embezzling more than €600,000 (£500,000) while serving as MEPs.

She described it as "low blows from the European Union, just a few days from the second round… I absolutely deny these allegations, which I wasn't even aware of".

All eyes in Brussels now turn their eyes to Wednesday's crucial live TV debate between the two rivals, ahead of Sunday's vote.

Race for the French Presidency
Watch: Could Marine Le Pen win the French elections?