A primary school is offering every pupil free lunches for the rest of the school year, after it was flooded with donations following a BBC News report.
Families at Dixons Marchbank Primary, in Bradford, last month told BBC News they were cutting back on children's hot lunches - because of rising bills.

Since then, the school has received almost £50,000 in donations - which will pay for lunches until the summer.

"The kindness of people has been unbelievable," the head teacher said.

Two donors wanted to give extra help to the family of Alishah, who featured in the report, on television, radio and online. And the eight-year-old will now receive free hot meals for as long as she remains at the school.

Head teacher Helen Haunch said staff had been crying as they had received hundreds of emails and calls from the UK and abroad offering to donate.

The kindness was "just lovely", she told BBC News. "It restores your faith in humanity."

The cash will save families that take up the offer £280 per child.

Among those to have given money are pensioners, some raised in poor families themselves, and one man who had just lost his job.

Alishah's father, Ali Raza, told us the kindness had made him "really emotional, because it's a very hard time now".

With rising food prices going up, even working parents were "just surviving" and he was pleased the school could now help many families.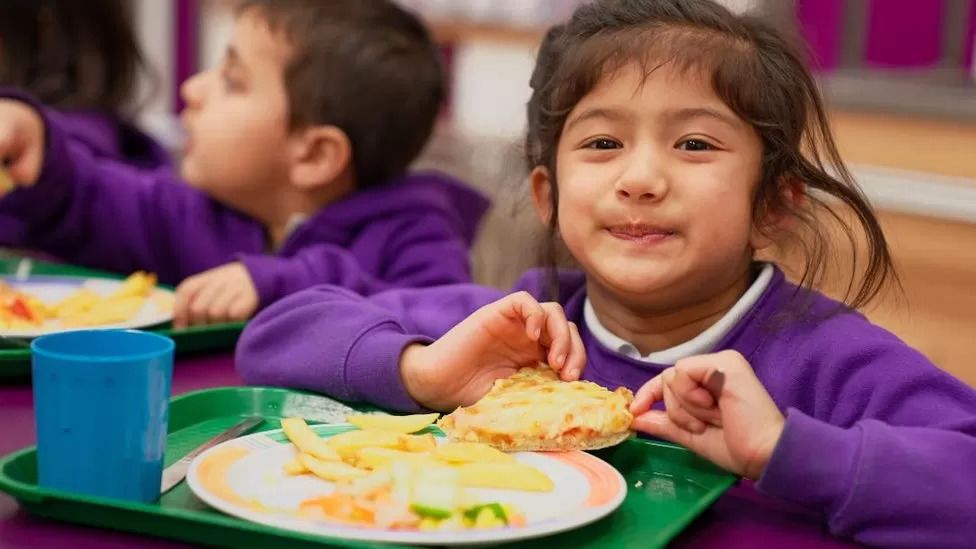 The school has written to parents to offer all pupils free meals
Amy Ismay, from Cumbria, told BBC News the Raza family's financial struggles had resonated with her own childhood memories of seeing her parents finding it hard to provide.
"The situation now, with a cost-of-living crisis, is even worse. You can be working but still really struggle with the basics, which a lot of us can relate to," she said.
Lots of people in work might not have much but would support others having the basics, Miss Ismay said.
She would be giving up a few coffees and lunches at work, as an auditor, to do something "more important" and had offered her local primary similar support.
Some big companies have also offered Dixons Marchbank donations over several years. So instead of scaling back its breakfast club because of rising costs, it will double the number who attend - and make it free.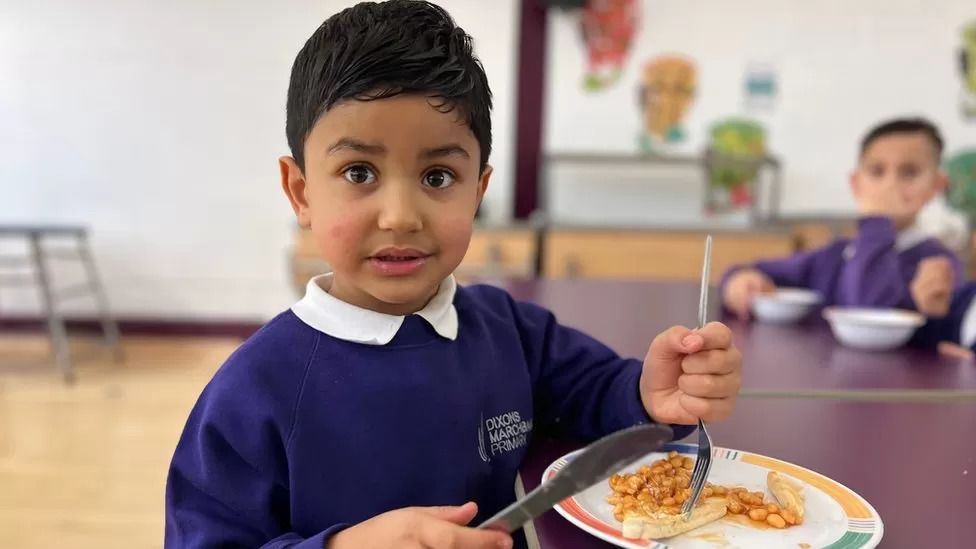 Dixons Marchbank Primary can now expand its breakfast club too

Mrs Haunch said the donations offered some security for working families who are not eligible for free school meals because of the "extremely low" threshold.

"It's unbelievable that in this day and age, in a country that is full of riches, that children are still living in this situation," she said.

And while she would rather the school did not have to rely on donations from the public, she was "blown away" and wanted to say "an unbelievably massive thank you" to the BBC News audience for providing her pupils a reprieve that would make a difference to their education and long-term health.