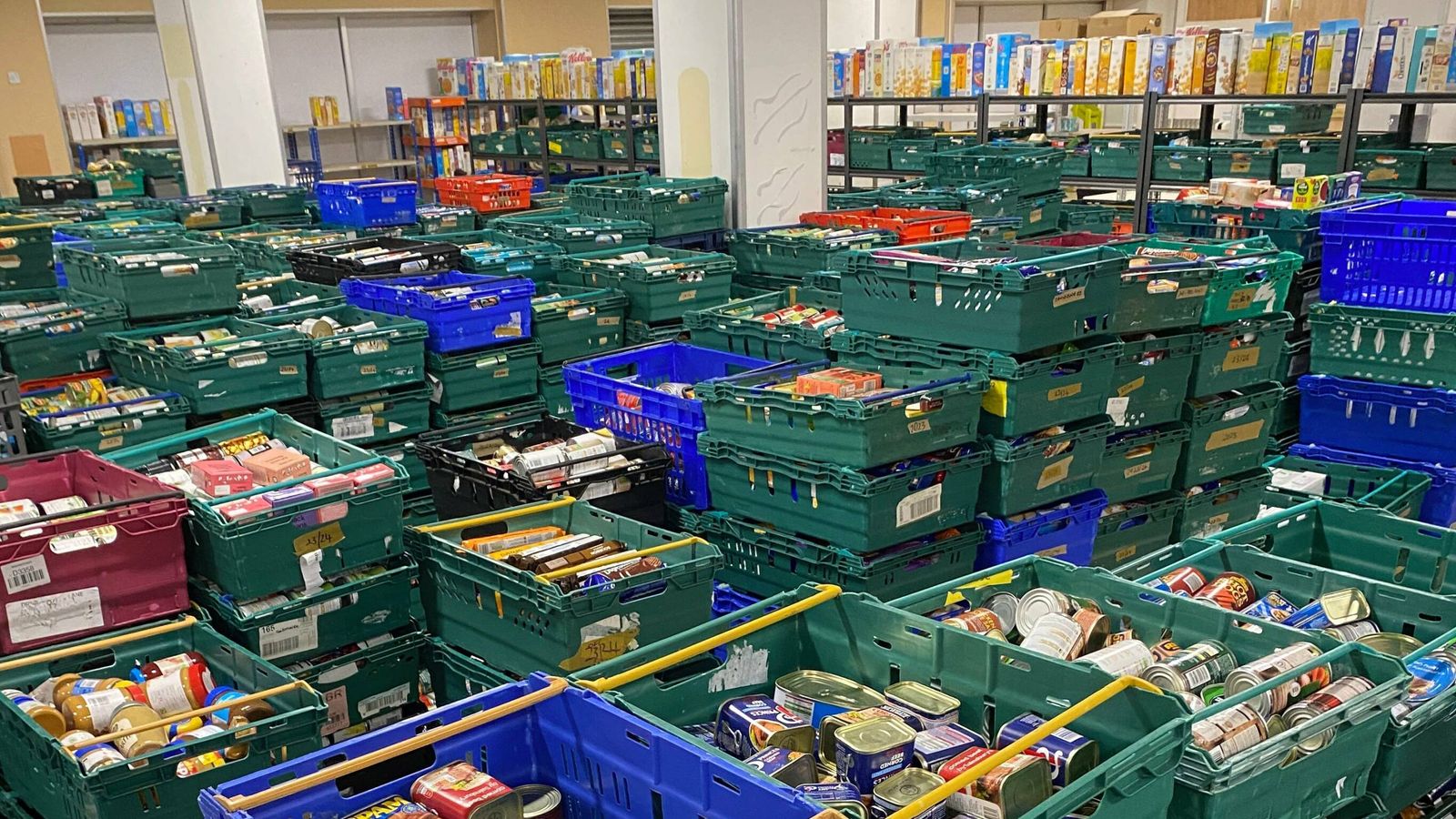 Food inflation 'hit record high' ahead of Christmas led by fresh produce as spend £1bn higher than 2021
The cost of food continues to mount, as £12.8bn spent, but a retail body says inflation across the sector as a whole is being held back by discounting in a bid to shift stock.
Food inflation hit a record annual rate in December as cash-strapped households prepared for Christmas, according to a retail sector report.

The latest British Retail Consortium-NielsenIQ shop price index showed typical food grocery costs up 13.3% last month compared with December 2021.

The rate had stood at 12.4% in November.

The data showed fresh food costs contributed most to the rise, through a 15% hike on an annual basis.

Even so-called ambient food - such as pasta and tinned goods - were up 11% by the same measure.

The BRC report noted that away from food there were some savings to be had for shoppers, as the overall shop price inflation rate eased slightly to 7.3% for the month.

This was mostly a consequence of some discounting among non-food retailers in the run-up to Christmas, according to the BRC.

A separate report demonstrated the extent to which inflation inflicted a brutal toll on supermarket shoppers during the festive season.

Kantar Worldpanel data showed a record amount spent over the four weeks to 25 December, despite a stampede towards value ranges.

The total spend of £12.8bn was £1.1bn higher than last December's sum.

Sales volumes - the amount of goods bought - actually fell by 1%.

BRC chief executive, Helen Dickinson, said the festive season had clearly been "challenging" for families given the scale of the cost of living crisis.

"Not only did the cold snap force people to spend more on their energy bills, but the prices of many essential foods also rose as reverberations from the war in Ukraine continued to keep high the cost of animal feed, fertiliser and energy," she said.

"Non-food price rises eased as some retailers used discounting to shed excess stock built up during the disruptions to supply chains, meaning some customers were able to bag bargain gifts.

"The combined impact was that price increases overall plateaued, with the reduction in non-food inflation offsetting the higher food prices."

The New Year is not set to deliver any major turnaround in economic fortunes, with demand held back by high inflation and rising interest rates to help tackle the pace of price rises.

It is hoped that the rate of consumer price inflation has peaked - for the foreseeable future at least - but it is expected to remain stubbornly high throughout the winter.

While supermarkets are thought to have benefited from more people eating at home, hospitality and retail store jobs are seen as being at risk in the months ahead as belts are tightened.

A string of well-known names - Greggs, B&M and Next - report trading updates on Thursday. Each is likely to be very cautious on the outlook for sales ahead.

Mike Watkins, head of retailer and business insight at NielsenIQ, said: "Consumer demand is likely to be weak in Q1 due to the impact of energy price increases and for many, Christmas spending bills starting to arrive.

"So the increase in food inflation is going to put further pressure on household budgets and it's unlikely that there will be any improvement in the consumer mind-set around personal finances in the near term.

"With shoppers having less money to spend on discretionary retail, having paid for their essential groceries, there will be little to stimulate demand across the non-food channels."